NEWS - THE TALISMAN
Posted: July 7, 2022, 20:06:42
Netflix confirms The Talisman Series.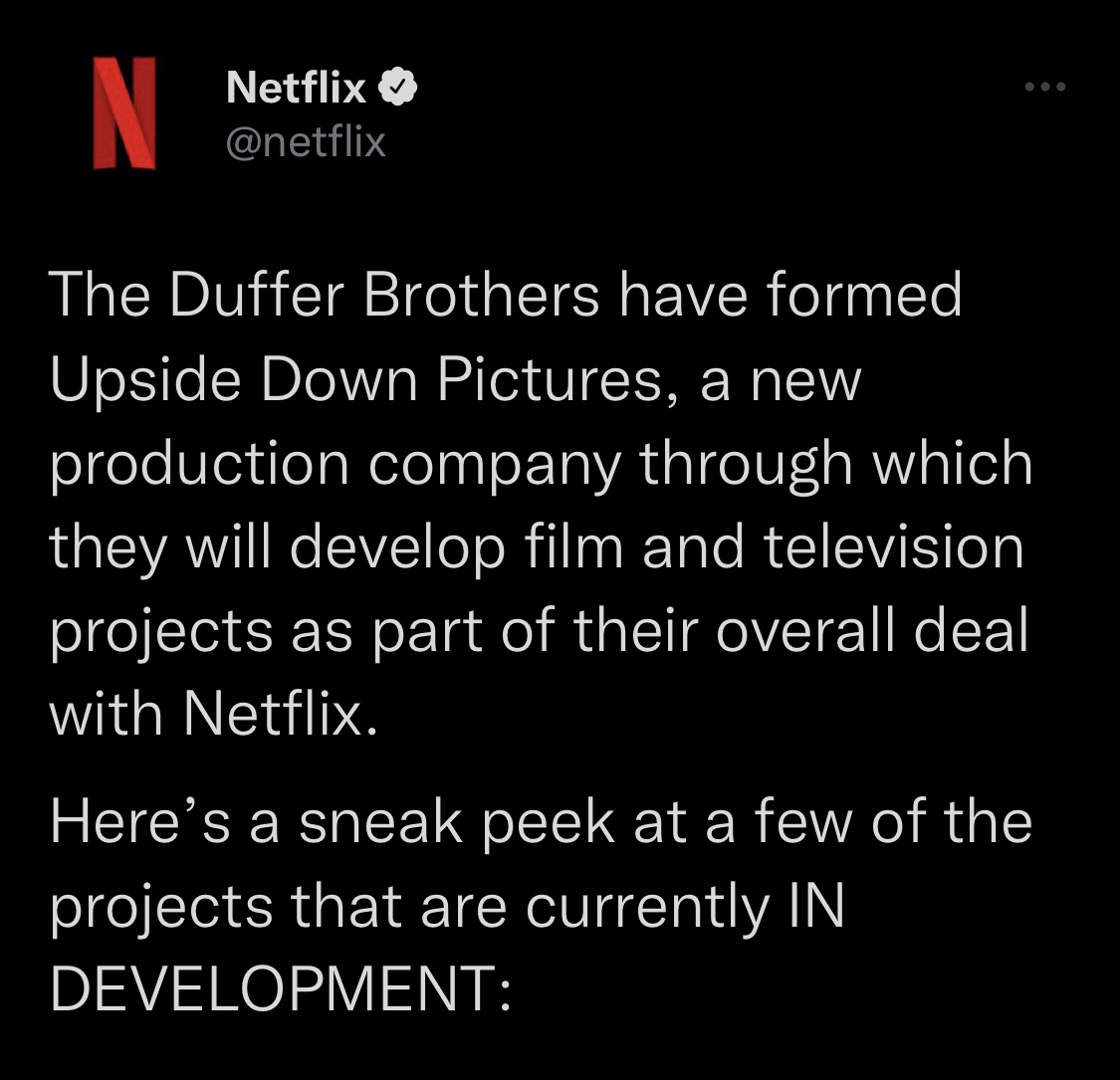 Thanks to Jimmie Rudolfsson
Posted: February 25, 2022, 09:01:54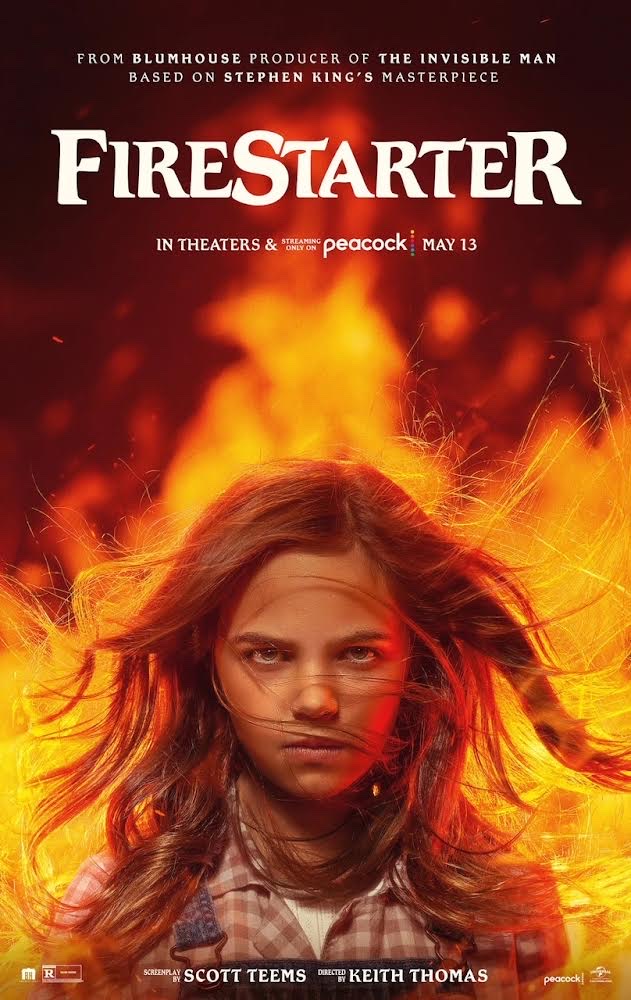 In an interview with Bangor Daily News King said he had seen the new version of Firestarter and that it was good and that he think Zac Efron makes a better Andy than David Keith.

He also said he didn't want to see The Shawshank Redemption and The Green Mile remade and that he is doubtful about the proposed Christine remake.

He is looking forward to Mr. Harrigan's Phone The Boogeyman and the proposed streaming version of The Talisman (presently in the works at Netflix with Steven Spielberg as an executive producer).
Posted: March 5, 2021, 23:52:34
Looks like Spielberg is trying one more time to bring The Talisman to the screen, this time as a series. Here is what The Hollywood Reporter say:

Now, Talisman may finally be ready to reach screens but, as befits the times, as a series.

And, as it sometimes takes a village to raise a project, Spielberg has assembled some mighty collaborators to help him make the adaptation a reality.

The Duffer Brothers, whose own Stranger Things owes more than a few debts to King's work, will executive produce a series adapting the book, that will be produced by Netflix in association with Spielberg's Amblin Television and Paramount Television Studios.

Curtis Gwinn, who worked as a writer-exec producer on Duffers' Stranger Things, will act as writer and showrunner of the project, which is in development. With deals still being sewn up and in negotiations, Netflix and the production parties involved had no comment.

Posted: March 12, 2019, 19:48:23
Collider reports the The Talisman has found it's director:

Collider has exclusively learned that Mike Barker, who has directed numerous episodes of Hulu's Emmy-winning series The Handmaid's Tale, is set to direct a big-screen adaptation of King and Peter Straub's bestselling 1984 fantasy novel The Talisman for Steven Spielberg's Amblin Partners and The Kennedy/Marshall Company.

Frank Marshall will produce on behalf of Kennedy/Marshall, while former Amblin CEO Michael Wright will serve as an executive producer on The Talisman, which will be adapted by veteran genre scribe Chris Sparling (Buried).

Posted: November 5, 2017, 00:22:54
Josh Boone posted this storyboard from The Talisman on Instagram today.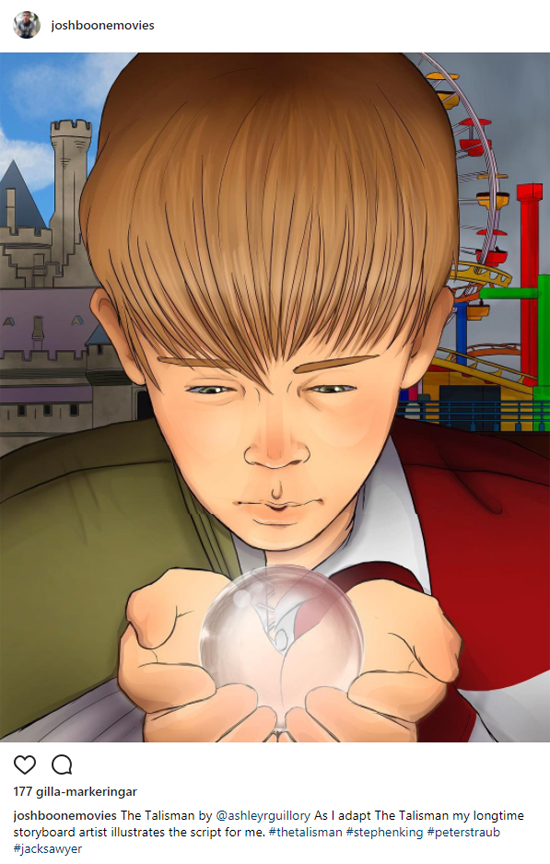 Posted: October 12, 2017, 10:27:29
Josh Boone just posted on Instagram that he is adapting The Talisman for Steven Spielberg and Amblin Entertainment.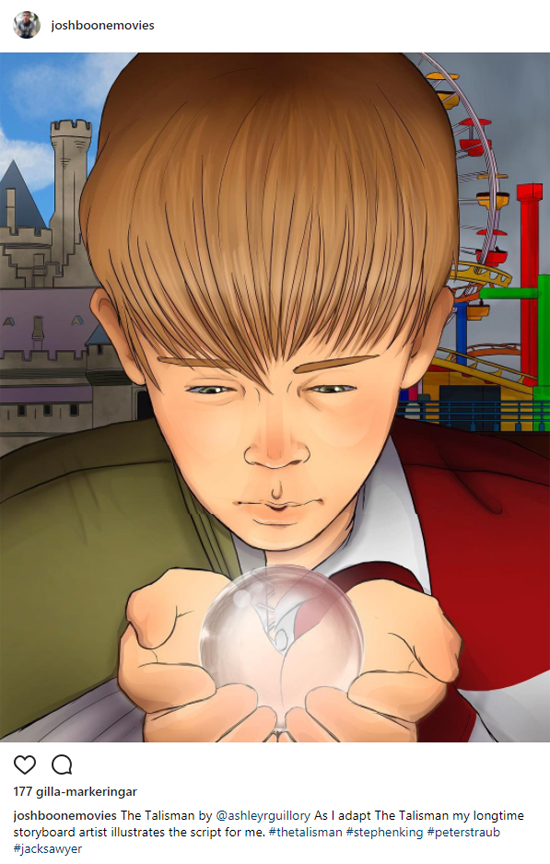 Posted: October 13, 2008, 14:32:09
IGN has talked to Frank Marshall and also checked with him about the movie version of The Talisman. Here is what he said:


IGN: And I have to ask this because I'm a huge fan of the book. Any word on that long-in-development adaptation of Stephen King's The Talisman?

MARSHALL: Yes, there is! It's back to being a movie. It's kind of on the backburner since we're waiting to see how everything shakes out with the DreamWorks, Paramount, Amblin thing.

Thanks to Bev Vincent
Posted: July 17, 2008, 22:36:05
Here is a short film based on The Talisman made by Canadian director Mathieu Ratthe. Maybe this one can get some attention so that this movie eventually be made.

SlashFilm came across an impressive demo reel created by Canadian director Mathieu Ratthe who took it upon himself to write, direct and produce a 6:30 minute demo reel based on the opening chapter of "The Talisman" written by Stephen King and Peter Straub. The rights to the film adaptation have been held by Stephen Spielberg for what seems like forever with directors such as Vadim Perelman (House of Sand and Fog) and Ed Zwick (The Last Samurai) dropping off the project in the past. In 2006 TNT announced the book would be turned into an epic, six-hour adaptation of the story with Ehren Kruger (The Skeleton Key, The Ring) adapting the story. Word was that the adaptation would hit television screens in summer of 2008, but I can only assume if that was actually the case that the writers' strike put a huge kink in the works.
So, this leaves everything in limbo as far as I know, but with Ratthe's short, which actually runs only 4 minutes before the 2:30 minute credit sequence, some eyes may once again open.
He managed to get Cameron Bright (X-Men 3, Birth, Godsend) to star as Jack Sawyer, a boy who goes on a quest through this world and through a parallel world known as The Territories, experiencing both good and evil in each. His goal is to obtain a mysterious talisman that will save his dying mother's life, as well as the life of her twinner, the Queen of The Territories.
Check it out
here
.
Thanks to everyone who sent me this news.
Posted: September 13, 2007, 23:38:23
The Talisman has been delayed again...


Steven Spielberg's latest attempt to bring "The Talisman" to the screen has hit a snag.

TNT's six-hour adaptation of the Stephen King-Peter Straub novel, executive produced by Spielberg and Kathleen Kennedy, has been put on hold because of budgetary issues, sources said.

The limited series, from DreamWorks TV, was announced by TNT with big fanfare in December and slated for a summer 2008 premiere.

After all scripts were recently completed, it became clear that their execution would require a larger budget than previously allocated, sources said.

The fantasy-horror project, about a boy's quest through this world and a parallel world known as the Territories to find a talisman that will save his mother, is said to involve elaborate special effects. TNT and DreamWorks are now addressing the financial issues and looking for ways to make the series, sources said.

"Talisman" has been a passion project for Spielberg and Kennedy, who have developed it since optioning the book about 25 years ago though Spielberg's Amblin Entertainment.

Originally, "Talisman" was envisioned as a feature, with Richard LaGravenese writing a draft in the early 1990s.

In 2000, the project was set up at ABC as a four-hour miniseries executive produced by Spielberg and Kennedy. Mick Garris was brought in to write and direct the mini, but after he delivered the script to the network, ABC opted not to proceed with the project because of what was reported at the time as budget issues.

"I got a call from Kathleen Kennedy saying the network said they can't afford it," Garris told IGN FilmForce in a 2003 interview.

"Talisman" was resurrected as a feature again at Universal Pictures and DreamWorks. After a series of writers, including Ehren Kruger, Carlo Bernard and Doug Miro; directors, including Vadim Perelman and Ed Zwick; and production start dates, including July and then September 2004, the project was put on the back burner until Spielberg mentioned it to TNT's Michael Wright in summer 2005 after TNT and DreamWorks TV's collaboration on the 12-hour mini "Into the West."

Thanks to all of you that sent this in.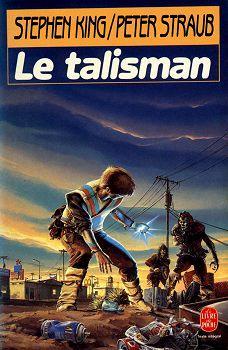 Posted: March 15, 2007, 09:24:07
It looks like Spielberg has gotten the poster for The Talisman from a French edition of the book. Here is the book cover.

Thanks to Jerome Luc Paulin
Posted: March 14, 2007, 22:48:37
The Talisman is now listed on Spielbergs site and there you can also find the following illustration.

Thanks to Bev Vincent
Posted: March 14, 2007, 11:37:32
The Talisman may be both a miniseries and a TV series:


Turner Broadcasting System executives told advertisers that The Talisman, a limited series from Steven Spielberg and DreamWorks Television that will air on TNT in 2008, could become a series in 2009, according to The Hollywood Reporter.

The announcement was made March 6 at New York's Museum of Modern Art. It was part of a presentation on TBS, TNT, Court TV, Turner's broadband site Super Deluxe and Turner Sports.

Spielberg will executive-produce a six-hour miniseries based on Stephen King and Peter Straub's best-selling supernatural thriller The Talisman for the summer of 2008, with DreamWorks Television producing. Spielberg, who produced Into the West for TNT, will be joined by his longtime partner Kathleen Kennedy as executive producer, along with Ehren Kruger (Skeleton Key, The Ring), who will adapt the King/Straub novel. Darryl Frank, who heads up DreamWorks Television, will be co-executive producer, along with Justin Falvey.

The Talisman, which was published in 1984, marked the first collaboration between King and Straub. It tells the story of Jack Sawyer, a boy who goes on a quest through this world and through a parallel world known as "The Territories" on a mission to obtain a mysterious talisman that will save his dying mother's life and that of her "twinner," the Queen of the Territories.

Thanks to Bev Vincent
Posted: January 22, 2007, 12:59:00
Ehren Kruger discusses The Talisman:


CS: How have things been going on "The Talisman"? Have you actually been working with Stephen King or Peter Straub on that at all?
Kruger: I haven't worked with those guys, the authors. I've worked heavily with Steven Spielberg and Katherine Kennedy, who are the producers on the project, so we've had years of creative meetings on it. Now it's moving ahead in a mini-series version, since we're having trouble getting the feature off the ground. So I'm working on that now, and the good news about having six hours to tell the story instead of two is there's a lot more of the book that can now be part of the movie.

CS: Did you have a script for a two-hour movie at one point that you're embellishing with four more hours of story?
Kruger: We're using some of the elements of the feature script and then, there's a lot to add and expand. The core structure of the feature was always that of the novel, but there was just no way we could include a lot of what's in the novel, so now we're able to go back and cherry-pick the best sequences and plotlines and subplots of the novel again.

CS: Have you found a director for that and will it be the same director for the whole thing?
Kruger: I don't know. Probably will be one director for the whole thing, but we'll have more of a sense of that later in the spring.

Thanks to Bev Vincent
Posted: December 15, 2006, 11:17:41
Ehren Kruger spoke to Fangoria about The Talisman, here is what he said:


Ehren Kruger talks TNT's TALISMAN

Fango recently spoke to screenwriter Ehren Kruger about his script for TNT's six-hour miniseries based on THE TALISMAN, the 1984 horror/fantasy novel by Stephen King and Peter Straub. Steven Spielberg serves as an executive producer on the project, which is expected to air in 2008, and Kruger (whose credits include the RING films and the upcoming BLOOD & CHOCOLATE) has been involved with a Spielberg-produced film adaptation of THE TALISMAN for several years, though initial drafts envisioned the end result as a theatrical feature. However, like all previous attempts to bring the book to the screen (film versions have been announced since its initial printing), Kruger says that the two-hour version he was involved with "didn't quite get its act together with actor and budget. But Steven Spielberg and [fellow executive producer] Kathleen Kennedy really wanted to take another crack at the project, so we held some meetings to sit down and take another look at the material."

The creative team discovered that the best approach for the book's vast storyscape—which concerns a boy's epic journey to a parallel world in order to retrieve the title object, which will heal his dying mother—was to expand the production to a miniseries. In doing so, Kruger says that he "was able to put a lot of the scenes from the source material back into the story, and that's all for the good." Kruger adds that the project is "still in the scripting phase—we're not there yet in terms of director or cast." We'll be keeping you posted as THE TALISMAN gets closer to rolling.

Thanks to joshxrt22
Posted: December 5, 2006, 22:26:00
Today it was announced that TNT will develop The Talisman into a 6 hour series that will premier in the summer of 2008. TNT is teaming once again with DreamWorks Television and executive producer Steven Spielberg for this series. Frequent Spielberg partner Kathleen Kennedy will join him in executive-producing along with Ehren Kruger who will adapt the novel. The Talisman will be co-executive produced by Darryl Frank and Justin Falvey. You can read the full press release here.
Posted: August 24, 2006, 23:40:49
It's rumor time. I have no confirmation that this is actually true but since it would be very good news if it where I choose to tell you about it.


A big, no make that giant, rumor has surfaced this morning over at Cinescape online as they've reported some really amazing news (if it's true). According to their sources the great Michael J. Fox is up for a role in DreamWorks' long-delayed The Talisman, which is based on a Stephen King story. The story concerns a 12-year-old boy who goes on a supernatural journey in order to find the talisman that can save his dying mother. Watch for more news as confirmation comes in.

Thanks to Bloody Disgusting
Posted: February 17, 2006, 23:42:10
Spielberg co-producer Frank Marshall says that The Talisman, the film version of the novel by Stephen King and Peter Straub, "is on a back burner. There's no signs of immediate progress on that one, but it is still ours if we want to produce it."

Thanks to Rocky Wood.
Posted: March 21, 2005, 23:28:12
Ehren Kruger hopes that The Talisman will get back underway later this year. Here is what he said in an interview:


"It looked like it was going to happen with a couple different directors, but creative differences intervened for the moment," says Kruger. "Hopefully, it will get back underway later this year. It was quite difficult to adapt as my mandate was to craft a two-hour movie from an 800-page book. A miniseries might be more faithful, but you'd miss the feature-film scale. So there was a constant struggle to determine what could be kept and what had to go. Some other writers have since worked on it and hopefully it'll all get solved. There's a wonderful story and characters at its core."

Thanks to Anders Jakobson.
Posted: February 14, 2005, 23:25:59
There is now some news about The Talisman. Not much but it's always something. In an article Coming Soon reports the following:


And finally, IGN Filmforce says Kennedy assured the press that David Fincher's Benjamin Button is moving forward this summer. She said they will eventually get around to making Stephen King's The Talisman, but right now there's no director or start date for production.
Thanks to .

Here is part of an interview with Kathleen Kennedy that Dark Horizons did and this is what she had to say about The Talisman.

Dark Horizon: What's going on with Talisman? Is there a director attached?
Kathleen Kennedy: I wish there was. Well eventually get around to doing that. We love that story.
Dark Horizon: How long?
Kathleen Kennedy: We couldn't speculate because its all about finding the right person.

Thanks to Johnny Flynn, David Sjödin, Rocky Wood and Joe.
Posted: September 29, 2004, 23:25:01
Ehren Kruger talks about The Talisman in an interview with Dread Central.


So what can you tell us about your work on The Talisman script?

EK: I wrote a few drafts of The Talisman (an adaptation of the Stephen King/Peter Straub novel) last year. A couple writers worked on the project before me, and a couple writers have worked on it since. However, the producers and studio were pleased enough with my version to expose it to filmmakers. Two directors signed on and later signed off, after being unable to agree with the studio and producers on what the precise tone and style of the movie should be. This is usually called "creative differences," which is not a euphemism but a very real and worthwhile reason to part ways on a project.

The reason the project has spent such a long time in development is that it is no easy task to condense an 800-page odyssey of a horror-fantasy novel into a single two-hour movie. To adapt the book faithfully would require an 8 or 10 hour miniseries. And yet there is a wonderful, simple story at the novel's core that a feature film could certainly do justice to. Hopefully the right director will come along and make the project a reality. As for now, I've moved onto other things and am not actively involved with the script.

JB: Since you're not actively involved as of now, can you give us an idea of what was different in your version, or what you had focused on the most in your draft?

EK: In my drafts, a lot was changed from the book. The focus was on the book's strength (in my opinion) – Jack's cross-country quest to save his mother's life and his unlikely alliance and friendship with Wolf. The time frame was condensed to a few days to get from the Atlantic to the Pacific, and so a number of Jack's stops along the way and many secondary characters were excised entirely. The novel is a horror/fantasy hybrid and my drafts emphasized the latter. My mandate was to write a two-hour PG-13 movie, so most of my story choices were made with that in mind. If my mandate had been to write an R-rated cable miniseries, my drafts would have been notably different.

JB: I had heard a lot of the quest stuff was removed from your draft, like you said some of the stops made and so forth. What about The Territories? Was there any action taking place there or was it more focused on our side of things?

EK: Sounds like you are pretty familiar with the book. In my drafts, the Territories were visited on several occasions, but not as often as in the novel. It covers much more ground than we possibly could. Some of this was for budgetary reasons, and some was due to the fact that the novel's "parallel world," of course, affects the real one. Since the movie's focus was to be on Jack and Wolf, many of the most valuable parts of the book for our purposes involved those where Wolf was a stranger in Jack's world. And of course, I can only speak to the drafts I was involved in; subsequent writers may have changed my choices of what to keep or discard quite thoroughly.

JB: I really hope that if and when it does get off the ground they're able to treat it with the respect it deserves. From the sounds of it you had the right idea for condensing it to its barest essentials, which would be necessary to make such a long book into a two-hour film...

Thanks to Bev Vincent.
Posted: June 24, 2004, 23:23:59
"Variety says that just one month after director Ed Zwick replaced Vadim Perelman on DreamWorks' mystical The Talisman, he, too, is dropping out of the project. The problem was that the film wasn't creatively together in time for the start date. Shooting was originally slated to start in July, then September, then October.

The script, in particular, was a sticking point, adds the trade. Adapted by Ehren Kruger from Stephen King and Peter Straub's novel, the screenplay was reworked by Carlo Bernard and Doug Miro, but rewriting continues.

Steven Spielberg secured rights to the book, about a young man's journey to find a talisman that will save his mother's life, in the 1980s. The October shoot date has been cancelled and no other start date has been set. It was to be released in theaters next year."

Thanks to Rocky Wood, David Sjödin and John Flynn.
Posted: May 27, 2004, 23:22:23
Filming of The Talisman has been pushed back to September. This is because of the rewrite Ed Zwick is currently doing on the script. The new shooting dates are September 13th to December 7th 2004.

Thanks to Anders and David Sjödin.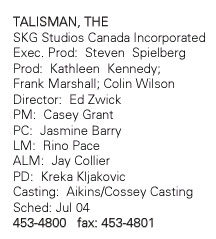 Posted: May 15, 2004, 23:21:05
The Talisman start shooting in July. It will be shoot in Vancouver and Ain't it Cool News has a link to the BC Film Commission's PDF filiming schedules (see image) where it's listed.

Thanks to David Sjödin.
Posted: May 9, 2004, 23:19:13
Aint It Cool News reports that Ed Zwick has taken over the director's chair for The Talisman after Vadim Perelman. They also have a review of Ehren Kruger's adaptation dated July 13th, 2003.

Thanks to David Sjödin.
Posted: May 3, 2004, 23:18:00
Vadim Perelman is leaving The Talisman.

Thanks to Bev Vincent.
Posted: April 10, 2004, 23:17:22
The Talisman is set to start shooting in August. Here are some info from yesterday's LA Times:


AT LONG LAST: After 20 some years in development hell, Stephen King's "The Talisman" is finally set to start shooting in August. Now the search is on for the crucial lead character, a young boy named Jack who travels to a parallel universe known as the Territories to find the talisman that will save his dying mother.

Universal originally bought the rights to King's novel for Steven Spielberg, who first became enamored with the project in 1984. When Spielberg's interest in directing the project waned, it stayed in limbo for several years until he and producer Kathleen Kennedy resurrected "The Talisman" as a miniseries for ABC, but it stalled.

Now the third time seems to be the charm for "The Talisman." Spielberg's DreamWorks is producing the project. Vadim Perelman, who helmed the company's recent Ben Kingsley starrer "House of Sand and Fog" is on board to direct. The good thing about the length of time it's taken to bring the popular novel to life is that in the interim, King and co-writer Peter Straub wrote a best-selling follow-up to the first tome called "Black House," which will make a perfect big-screen sequel to "The Talisman."

Thanks to Bev Vincent.
Posted: February 2, 2004, 23:14:11
What is happening to the movie version of The Talisman? Ain't It Cool News have a disturbing report about how they plan to leave the scene from Sunlight Home out of the movie...big mistake!

Thanks to Anders and Mike Cahill.
Posted: January 21, 2004, 23:13:12
It seams that a release date sometime in 2005 ins't that impossible after all. Coming Soon reports that Ehren Kruger is working on The Talisman and that film is set to shoot this summer.

Thanks to Bev Vincent.
Posted: November 13, 2003, 23:12:21
Sci Fi Wire reports that The Talisman begins production next year for a 2005 release.


Russian-born director Vadim Perelman, who will helm the film version of Stephen King and Peter Straub's best-seller The Talisman, told SCI FI Wire that DreamWorks honcho Steven Spielberg personally asked him to take the project based on Perelman's first film, House of Sand and Fog. "He called me after he saw the movie for the first time," Perelman said in an interview. "I felt very honored."

Perelman said that he is currently working on the screenplay adaptation of the novel, about a boy who searches through a parallel universe to find a talisman that can save his mother from cancer. "I find an emotional way in," Perelman said of the story. "I have to. It's about this boy that's saving his mother's life. It's my emotional door into the story, and then I'll make it my own."

The Talisman begins production next year for a 2005 release.

Posted: November 11, 2003, 23:10:55
Fangoria reports that Vadim Perelman hopes to start shooting The Talisman in the summer of 2004.


Longtime commercial/music video director-turned-feature helmer Vadim Perelman chatted with FANGORIA about the long-in-development Stephen King/Peter Straub adaptation THE TALISMAN, which he'll direct for DreamWorks following the release of his directorial debut, HOUSE OF SAND AND FOG. THE TALISMAN has had a long road to the big screen, and was at one time set to be produced by Steven Spielberg and adapted/directed as a television miniseries by Mick Garris (currently busy helming another King feature project, RIDING THE BULLET).

"We're hopefully starting it this coming year and shooting it in the summer," Perelman tells Fango. "Ehren [THE RING] Kruger is adapting, and it was already in process. I'm excited about it. My emotional road into this film was literally this 14 year-old boy—the story is about this boy who travels across two parallel universes, ours and a different one, in order to save his mother's life."

Perelmen, who was born in Russia and came to the West with his mother to escape horrific poverty, related to the story on a personal level. "A 14 year-old boy travels a long distance to save his mother's life...I said, 'Alright, I can get into this,' because the last thing I want to do is sell out," he explains.

As for reuniting with Spielberg and DreamWorks after SAND AND FOG, Perelman couldn't be happier. "They're very hands-off—they're great," Perelman reports. "They're a wonderful place to be—if they trust you and they know what you're doing. They always take chances on first-time directors. When Steven saw my film, one of his comments was, 'This is why I started this studio—to make films like this."

Thanks to BFoehl.
Posted: October 15, 2003, 23:09:49
Reuters reports that Steven Spielberg once again is gearing up to make a movie version of The Talisman.


Perelman Comes Aboard Spielberg Pet Project
Wed Oct 15, 3:35 AM ET
By Chris Gardner

LOS ANGELES (Hollywood Reporter) - Vadim Perelman, who made his directorial debut on DreamWorks' upcoming Oscar hopeful "The House of Sand and Fog," is near a deal to take the helm of "The Talisman," a longtime pet project of Steven Spielberg.

Based on the 1984 fantasy novel by Stephen King and Peter Straub, it centers on 12-year-old Jack Sawyer, who goes on a quest in the living world and a parallel world known as the Territories to acquire a talisman that will save the life of his dying mother and the queen of the Territories.

The book, which marked the first collaboration between King and Straub, spawned the sequel "Black House."

Spielberg and producer Kathleen Kennedy have been developing the project for nearly 20 years, back when she was an executive at Spielberg's Amblin Entertainment. It has taken on various forms throughout that time and recently was close to being made into a four-hour miniseries at ABC.

Spielberg will take executive producer credits on the feature, with Kennedy handling producer chores on the Ehren Kruger-penned "Talisman." The film is a co-production of Universal Pictures and DreamWorks.

Perelman's "Sand and Fog," which stars Jennifer Connelly Ben Kingsley and Ron Eldard will have its worldwide debut Nov. 9 at AFI Fest 2003 in Hollywood. It opens in theaters Dec. 26.

Thanks to Bev Vincent, Bob I and BFoehl.
Posted: January 27, 2003, 23:08:21
Film Force recently did an interview with Mick Garris and there he got a question about what happened to The Talisman miniseries. Here is his answer:


GARRIS: Talisman is an interesting thing. I had written the script for the four-hour mini-series – this is something Spielberg was going to do as a feature for a long time. It had been decided, "Let's do it as a mini-series," everybody was excited. Kennedy/Marshall were producing, Spielberg was involved tangentially at DreamWorks – and I wrote the script and I really enjoyed doing it. I put a lot of heart and soul into that. It was, again, a very personal one. I was really happy with the script, and the studio really was happy with the script. Kennedy/Marshall thought it was terrific, Spielberg had given it his blessing – ABC read it, "We love this." And then I didn't hear from them for weeks. "What's going on? We've got to set our dates and do all this." Finally, I got a call from Kathleen Kennedy saying the network said they can't afford it. Spielberg had only given his blessing for one network. Both NBC and CBS have told me they would go with it tomorrow. But Spielberg got excited about it again, and was considering doing it as a feature. So maybe working with some of the people he's working with now, to rewrite it as a feature. I don't think anything has happened since then. There is the possibility that it will come back as a mini-series or as a feature. Who knows?

Posted: October 22, 2002, 23:07:24
Dark Horizons reports that there may be a chance that The Talisman will se it's way to the silver screen after all. Here is what they say:


Skeleton Key & The Talisman: Variety reports that "The Ring" screenwriter Ehren Krueger has signed a two-picture deal with Universal including his New Orleans gothic thriller spec script "Skeleton Key" which Iain Softley ("K-Pax") is being sought after to direct. The other is an adaptation of Stephen King's "The Talisman" for Spielberg and Kennedy-Marshall.

Thanks to Jake Cox.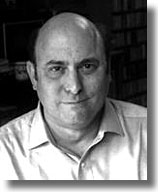 Posted: May 6, 2002, 23:03:49
Here is a recent interview with Peter Straub from www.scifi.com in which he talks about the future for The Talisman on the big screen.


There's been talk of turning The Talisman into a miniseries over the years. Any progress?

Straub: I have some very interesting news about that.

The Talisman was bought by Universal as a vehicle for Steven Spielberg. Universal bought it because Spielberg told them to. In 1984, Spielberg had tremendous clout. So they bought, gave it to him and he lost interest. It was no longer the sort of thing he felt he wanted to do. He wanted to do more mainstream, more worthy projects. It vanished.

The miniseries idea was floated. Spielberg liked the idea of having a miniseries. He had people in mind to direct it. It went through various revisions and that died.

Five or six years later, Kathleen Kennedy and Spielberg were back to being partners, decided once again to do it as a miniseries for ABC. That sounded like it would work (Mick Garris had written a screenplay and had planned to direct the project). They had a very good script and that died.

Now there's a friend of mine, who is a very, very good writer. I won't name him. But he told me he got a call from his agent, who asked if he would be interested in doing a screenplay for a movie of The Talisman. My friend said, "Who would direct it?" And his agent said, "Spielberg." My friend said, "Yeah, I'd like to give that a crack." Who knows, it might happen. I would be very, very pleased to see that particular combination.

--------------------------------------------------------------------------------

The Talisman was re-released shortly before Black House. Both novels ended up on the best-seller list at the same time. Were you surprised that there is still a lot of interest for The Talisman?

Straub: It was very gratifying to see that. Random House was especially gratified because they had sold a lot more copies of the new version of The Talisman then they had expected to, both in hardback and paperback. It was warming and rewarding the book would get a whole new audience all over again. I don't think that happens very much.

I had very mixed feelings about The Talisman for a long time. But when I read it in preparation for starting work again with Stephen King on Black House, I surprised myself on how much I liked it. I thought it was really, really a nice book.

--------------------------------------------------------------------------------

Did the Internet and electronic media make the collaboration of Black House easier?

Straub: Yeah, that's right. Though we had one of the first modems in the early '80s. The modems were big machines with telephones on top of them. You had to dial the number, we didn't have hard disks then. The floppys were like 78 records. This was before Windows, so you had to punch in a certain DOS code. Then you could hear your computer make these digesting sounds. Grumble, click, growl. It went on for half an hour while it sent a hundred pages.

When I got the pages from Steve [King] I could see them come onto the empty floppy. Line by line down the page of my monitor. They scrolled by past, but you could still read them.

There were all sorts of glitches in codes. He was using a Wang and I was using an IBM. They had different codes for italics, for bold, all that kind of thing. Even for paragraphing. We had to figure out little symbols to use in place of the ordinary symbols and inform the machine that those symbols were codes: italic, indent, etc.

After I wrote the whole thing, I'd then do a global search and replace for italic, quotation marks. And Steve would do a reverse global replace.

This time around, of course, it was much, much easier. It took seconds to send 100 pages through the Internet. It is vastly more convenient.

Thanks to Terry Warrick.
Posted: November 6, 2001, 23:01:36
Creature Corner reports that ABC has dropped the miniseries version of The Talisman. Here is what they says:


With the success of 'The Black House' novel, the latest collaboration from Stephen King and Peter Straub – and sequel to 'The Talisman', you'd think that the ABC miniseries adaptation of 'The Talisman' would be going full steam ahead without a hitch. Right?

Wrong.

After lingering in development hell for years, it seems 'The Talisman' has been stopped at the gates yet again. The Creature Corner learned today that ABC has dropped the Mick Garris-directed miniseries which would have become the network's third King project in the works after 'Rose Red' (which airs in '02) and King's 'The Kingdom' remake (presumably due in '03). "This does not mean that there will be no 'Talisman'. There are other potential homes," says Garris. "and a theatrical version is not out of the question."

'The Talisman' chronicled the adventures of young Jack Sawyer, a boy forced to cross into another dimension to save his mother. With the help of Wolf, Jack took on many strange beasties while trekking across a bizarre land. No doubt 'The Talisman' would have been epic television. The Kennedy-Marshall team was set to produce. Mick's screenplay adaptation was well-received. What went wrong? Most likely money issues, perhaps on the network's end, but who really knows? This business is strange.

Posted: May 24, 2001, 01:15:28
In an article Smilin Jack Ruby reveals that he thinks that this miniseries will air as soon as next year. Great news!
Posted: May 4, 2001, 01:13:31
Mick Garris have now commented on the news that he will be doing the TV version of The Talisman. Here is what he said:


Yes, TALISMAN is real. The deal was just made. It's with DreamWorks, Kennedy-Marshall, and ABC. Don't know when, since the strikes might happen, but I'm about to begin the script, working from the feature draft by Richard LaGravenese. No cast yet.

Garris have also talked to Smilin Jack Ruby. In that talk Garris also spoke about Riding the Bullet, The Sun Dog and Desperation. Here is his report (from Dark Horizons):

The Talisman: 'Smilin Jack Ruby' talked with Mick Garris about his upcoming adaptation of Stephen King's "The Talisman" that he'll be doing once he returns from a trip to Cuba with his wife. The four-hour mini-series will begin production on a date depending upon the length of the upcoming strikes, and after he plans to turn King's "Riding the Bullet" (which Garris has already adapted into a screenplay) into a theatrical feature. "The Sun Dog" IMAX project is on hold, whilst "Desperation" may become a miniseries as CBS has approached him about it (but he usually works with ABC so will give them 'first dibs' as they say).

Thanks to Bev Vincent.
Posted: May 3, 2001, 01:12:12
Creature Corner reports that Mick Garris will direct this 4-hour miniseries based on The Talisman. No release date or update on how far into production they are is mentioned though.
Posted: December 27, 2000, 01:11:10
Steven Spielberg brings King's novel The Talisman to ABC as a four-hour miniseries.

Spielberg and Kathleen Kennedy will serve as executive producers of the project. Neither ABC, Spielberg's DreamWorks or Kennedy-Marshall Co. would comment on the project, which is in the early development stage.

There's no official word yet on an airdate for the TV adaptation, and sources stressed that ABC has yet to see a script for the mini. My guess is that it'll be out in late 2001 or early 2002. King, who was seriously injured in June when he was hit by a car near his home in Maine, is not believed to be involved with the production. Neither is Peter Straub.