NEWS - DESPERATION
Posted: September 18, 2006, 12:13:12
My review of Desperation on DVD is now online for you to check out.
Posted: July 7, 2006, 00:12:40
The Emmy nominations are out and Desperation got two:


Art Direction for a Miniseries, or Movie: "Bleak House (Masterpiece Theatre),'' PBS; "Elizabeth I,'' HBO; "The Girl in the Cafe,'' HBO; "Into the West,'' TNT; "Stephen King's Desperation,'' ABC.

Sound Editing for a Miniseries, Movie or a Special: "Category 7: The End of the World: Night 1,'' CBS; "Flight 93,'' A&E; "Into the West: Manifest Destiny,'' TNT; "Sleeper Cell: Youmud-Din,'' Showtime; "Stephen King's Desperation,'' ABC.

Thanks to Bev Vincent
Posted: June 8, 2006, 08:23:29
Now you can pre-order your copy of the DVD edition of Desperation. The release date is August 29.
Posted: May 28, 2006, 00:24:36
So, with this Desperation Week has officially ended. I want to thank all of you that participated either by entering the contest, sending in comments, donating prizes, giving interviews for making it a success. Maybe there will be another week that is dedicated to something special later on as well.

With that said, here is the answers to the last two questions.

Thursday:
Question: The 1st Japanese edition of Carrie was copyrighted in what year?
Answer: 1975

Friday:
Question: What does it say on the note on which the Can Tah stands when Steve (Steven Weber) and Cynthia (Kelly Overton) is caught under it's spell (you don't have to include the name of the person who has signed the note)?
Answer: Hey Jim! What the hell is this? Any idea?

And…the winner of the authentic Can Tah from the movie is Anrie van Dyk from The Netherlands, congratulations!
Posted: May 26, 2006, 22:57:16
OK, Desperation Week is about to come to an end. Today I have another interview for you. This time I have talked to the great actor Steven Weber and you can read what he had to say here.

Don't forget to check in tomorrow when I'll present the winner of the grand prize. A real Can Tah.
Posted: May 26, 2006, 00:37:05
The moderator of King's message board confirms that there will be an interview but no commentary (by King) on the DVD edition of Desperation.
Posted: May 25, 2006, 22:39:46
The atrocious decision of ABC to run 'Desperation' against the 'American Idol' finals Country Music Awards got the expected result.


LOS ANGELES (Hollywood Reporter) - The first half of the "American Idol"
finale Tuesday drew more than 30 million fans to see the last lap of the
sing-off between Taylor Hicks and Katharine McPhee.

The 8 p.m. edition of "Idol" drew 30.7 million viewers and 11.8 rating/33
share in the adults 18-49 demographic, which amounted to the highest marks
ever for the first half of an "Idol" finale, according to preliminary
estimates from Nielsen Media Research. At 9 p.m., Fox was still on fire with
the sophomore season finale of "House" (25.8 million, 10.3/25).

"Idol's" fearsome start left the competition in the dust. CBS was the
closest competitor to Fox for the night with its 8-11 p.m. telecast of the
Academy of Country Music Awards (12 million, 3.5/9).

ABC and NBC were pretty well pummeled with their made-for-TV movies. The
second half of NBC's "10.5: Apocalypse" disaster mini pulled in only about 6
million viewers and 2.3/6 in the key demo from 9-11 p.m.. ABC's three-hour
"Stephen King's Desperation" was only a little better off with 7.5 million
viewers and 2.5/7 in adults 18-49.

Thanks to Rocky Wood.
Posted: May 25, 2006, 22:09:57
Here is what all of you thought about Desperation:


Overall, it was a pretty good adaptation, and probably the best we're going to get. That being said, sometimes I think it went over the top and it nowhere matched the raw intensity of the book.

DESPERATIONS, chilling, grab you by the seat, and wonderfully created.

It was a letdown when Tak had to leave Perlman (was perfect, by the way!), but at least we still had Skerritt to hold the weight up. The "Ghost Pie" thing was pretty dumb, but thank God (har-de-Har) they didn't skimp on the touchy religious aspects and they sure as HELL didn't skimp on the violence, so I'll give this a thumbs up. The kid (Shane Haboucha) did a pretty good job, and c'mon, how can you not like the Frewer?
This was one of the better ones folks! Pretty close to the book as I remember, and scary fun.

Loved it! Great gross-outs, good moral story!

I thought it was very good- true to the novel. Fantastic!

Mick Garris needs to stop making Stephen King movies!!! They all look and sounds the same, we need some new blood to interpret the master King's work.

Ah, it was alright. A bit too preachy with all the God stuff, but that was how the book was too. I thought it was enjoyable in a B-movie kind of sense. Not great, but not completely terrible either.

I was a little worried before, but Desperation the movie is the absolute best film adaption of the book to Date. Action packed, raw, gritty and scary. Mick Garris really fucks the devil in this one.

I watched the show last night and overall I gave it an A-. It's very difficult to condense a book the size of Desperation into a three-hour movie.

FANTASTIC! Ron Perlman was PERFECT! Best King Movie EVER MADE!!!

I thought the movie was good,, IMO it was petty faithful to the book and as in the book I thought the best part was the beginning and then weakened at the end.

While we don't watch a lot of King movies, we enjoyed it. Not too scary and a good story line. Well done!

Overall, I enjoyed seeing how the book was adapted, but did not experience any of the fear or uneasiness brought on by reading the book. As with almost all of Stephen King's adaptions for television, the lighting in the scenes are way to bright which minimizes the fear and dread that something is lurking around the corner.

I thought it was really good, exactly how I pictured things when I was reading them. Loved some of the camera angles that Garris chose, they added to the tension. Very true to the book.

Loved the movie! Collie Entragian character was exactly as I had pictured he would be.

Overall for a TV movie I thought it was very well done. The constant commercial breaks really broke up the flow of the movie. This should have been done as an HBO movie, not a broadcast network movie.

It was great. Definitely worth the year we all waited to see it!

I thought the movie was very well done, very true to the book itself which is rare. The special effects were awesome and it had just the right amount of humor and gore to keep even the jaded horror fan tuned in.

I thought Desperation was an excellent and very true adaption. Yes, there were some things left out, but understanding the limitations of the medium, I would rather have things left out than added or (worse) changed.

The problem with "Desperation" isn't with the actors. They're simply as stranded in the material as their characters are in the town itself. The true problem with "Desperation" lies in King's general inability to adapt his own material - a complete lack of understanding as to what works best on the page and what works best on the screen. Couple that with Garris - a director who historically excels at mediocrity - and you have a product that is faithful to the content, but not the spirit, of the novel. Second-rate dialogue, an unimpressive visual style and an overall hard-to-translate story make "Desperation" a fairly desperate attempt at primetime television.

Possibly Mick Garris' best film adaption of Stephen King's work yet! Loved the lighting, cast, effects and a brilliant performance by Ron Pherlman, he stole the show for the first half.

Loved Desperation. A mixture of Tommyknockers, The Stand and Children of the Corn.

Desperation was great, loved it!

I thought it was very good but think the level of suspense was much higher in the book.

SK's comment that Desperation is "probably the best TV movie to be made from my work" didn't set the bar very high, considering how good It and The Tommyknockers (the novels) were, and how awful their TV adaptations were. But he's absolutely right. Given the restrictions of time and budget, Desperation was quite a bit better than I'd dared to hope.

Watched it-LOVED it!!

The choice of location was a little off. The landscape was far too green to look like the Great Basin of Nevada. But that's minor.
The animal handling/training (particularly the mountain lion) was terrific. The actual story never made me feel any emotions, much less mae me think I was discovering some new insight into the story's theme of faith. I felt a little queasy at the special effects, but that's about it. Maybe removing the interior monologue of the characters, all that remained was this puzzle of forced motivation, lame gross-out scenes and corny dialogue. Eh.

Saw Desperation last night and I loved it! Ron Perlman did an excellent job as usual! Not as gorey as I thought it would be, great movie.

I'm glad I didn't watch American Idol (which I never do anyway) because that was a very good adaptation of the book.
My wife was scared again but she kept watching, which is a very good sign. We loved it!

I enjoyed the movie. The only thing I didn't like was the boy who played David Carver...he was a hooooorible actor. I never once felt his pain on the deaths of his loved ones. Looked so fake.

I didn't like it. It was a cheap, shoddy, half-hearted effort.

The best TV adaptation yet.

Good overall but poor acting on the part of many characters greatly reduced the enjoyment…best character portrayals were that of David, Mary and Collie…Ron Perlman was right out of the book!!!...fabulous…I expected better from Tom Skerrit…

Entertaining movie, for sure, especially the sets. I expected more from David's character than Shane delivered but the movie on the whole was very good.

I haven't read Desperation since it first came out in Canada, so, I wasn't sure what to expect of the TV Movie that aired this week but, I was pleasantly surprised. I thought the acting was good, steady, throughout and the "story" was well paced. It was a fun ride.




Thanks to all of you that sent in your comments.

Posted: May 25, 2006, 22:04:21

The second winner in Desperation Week has been selected. I will announce the winner after giving you the right answer to Tuesday and Wednesday's question.

Tuesday:
Question: Who was Philtrum Press publisher who also produced the limited edition of Eyes of the Dragon, The Ideal Genuine Man, and The Plant , along with Six Stories?
Answer: Michael Alpert.

Wednesday:
Question: What is the police officer's name who abducts the traveler's in Desperation?
Answer: Collie Entragian.

The first one was a bit harder then the second one that was really easy. And the winner (drawn from all the correct entries between Monday and Wednesday) of a limited edition copy of Desperation is Simon McNamee from the Australia. Congratulation!

The next question is already online so if you haven't already, head over there and enter.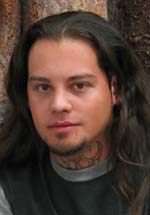 Posted: May 24, 2006, 08:48:11
Here is a very interesting interview with Brandon Kihl who did the sculpting and props on Desperation. Brandon has also done the Can Tah that is the grand prize in the Desperation Week contest.
Posted: May 24, 2006, 08:42:09
I hope you all saw Desperation yesterday... If not the DVD will be out on August 29 in the US. Now I want to ask all of you that did see it to Please mail me your comments about it. I will then put them all on my site tomorrow so you can get an idea of what everyone thought about it.

BUT, I don't want a review, only shorter comments in one or two sentences, OK? Just click here to send a mail
Posted: May 23, 2006, 08:18:32
My review of Desperation is now online. It doesn't contain any spoilers (if you have read the book) so you can read it when you have the time.

And when you have seen Desperation tonight as I'm sure most of those who can will, Please mail me your comments about it. I will then put them together so you can all see what the fans thought about it tomorrow. Oh, and I don't want a review, only shorter comments in one or two sentences, OK? Just click here to send a mail
Posted: May 23, 2006, 08:17:25
The first winner in Desperation Week has been selected. I will announce the winner after giving you the right answer to Monday's question.

Question When was Desperation published?
Answer 1996.

This one was an easy one and most of you got it right. And the winner of a first edition copy of Desperation is Shayne Sullivan from the US. Congratulation!

The next question is already online so if you haven't already, head over there and enter.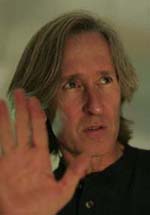 Posted: May 22, 2006, 08:41:07
OK, Desperation Week has now officially kicked of. The contest is up and running (enter by clicking the link on your right) and believe me, you don't want to miss this one.

Today I also have a brand new interview with Mick Garris, director of Desperation for you to check out. Enjoy!
Posted: May 22, 2006, 00:00:12
This week is Desperation week here at Lilja's Library and believe me you don't want to miss out on this. All week there will be different Desperation related things happening here…and there is also a contest with prizes that will make your eyes pop out!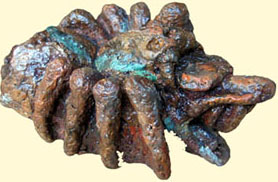 Here is the schedule for Lilja's Library's Desperation week:

Monday
- We'll start of the week with an interview with the director of Desperation, Mick Garris

Tuesday
- On Tuesday Desperation airs on ABC and you will also be able to read my review of it here on the site.

Wednesday
- Here is where you all come in. After you have seen the movie I want you to send me your opinion of it. I don't want a review, only shorter comments in one or two sentences. On Wednesday you will also get an interview with Brandon Kihl who did the sculpting and props on Desperation.

Thursday
- Today I'll present all your opinions of Desperation.

Friday
- On Friday you'll be able to read an interview with Steven Webber who stars in Desperation.

And as if this wasn't enough there will also be a contest. It will run from Monday to Friday with a new question each day (you can answer each question once) and there will be three winners drawn during the week.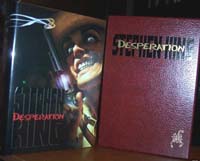 On Tuesday there will be one winner drawn from all entries that came in during Monday. The prize is a US first edition of Desperation donated by Very Fine Books.

On Thursday there will be a second winner drawn. He or she will be drawn from all entries that came in during Monday, Tuesday and Wednesday (yes, that is correct you can win more then once on some of your entries). The prize is a copy of the limited edition of Desperation from Donald M. Grant Publishers (unsigned). This was limited to 4,000 copies. Donated by Very Fine Books.

On Saturday there will be a third winner drawn. He or she will be drawn from all entries that came in during Monday, Tuesday, Wednesday, Thursday and Friday. The prize is an authentic Can Tah that was used during the filming of Desperation. It's done and donated by Brandon Kihl.

So, make sure you sign up for the news letter so you don't miss out on all the fun!

Posted: May 21, 2006, 23:52:09

I talked to Mick Garris about Desperation being longer on DVD and he told me that that is not the case. He doesn't think there will be any substantial differences between the movie that airs and the film on the DVD, except that that DVD will be in widescreen 16:9 format, and without the commercial breaks. And the DVD will also have the 5.1 surround sound track, which really delivers the full orchestral score and sound mix the way it was intended.

There will however be some extra material on the DVD.

Posted: May 19, 2006, 23:19:02

The moderator of King's official board had the following to say about the DVD edition of Desperation:



I've been told the DVD will be more of a "director's cut" version so will have scenes deleted from the ABC broadcast.

Posted: May 18, 2006, 19:42:26

King comments on ABC's scheduling Desperation against American Idol...



Dear Web Site Visitors,

Those of you who are familiar with the wonderful world of television may have noticed that Desperation — probably the best TV movie to be made from my work — has been scheduled by ABC to run, not just against American Idol, but against the American Idol finals! When I see this kind of scheduling, my heart is warmed by how well I have been treated by all my friends at ABC. One can truly say that with friends like this, one doesn't need enemas. Little joke there. But am I bitter? HELL, YES, I AM BITTER! Oh, well, good work always finds a place in time, and ours may be in the DVD racks eventually. For now, please remember that Desperation airs on ABC May 23rd. Those of you who watch will get a gold star. Those of you who don't, and watch American Idol instead…well, just remember: I have strange powers. I have been watching you all for some time through your computers. (This is actually a power conferred upon me by the Bush Administration.) I watch you when you eat, I watch you when you sleep, and I watch you when you undress. In regard to this last comment, some of you need more stylish underwear, but never mind; the point is, I will know if you watch American Idol and if something bad happens to you, it will be your own fault.

Cordially,

Steve


Posted: May 18, 2006, 16:38:00

Here you can see 1½ minute of Desperation.

Thanks to Daddysshorty

Posted: May 11, 2006, 12:08:47

The Horror Channel has an early review of Desperation up on their site, check it out.


Posted: April 27, 2006, 00:48:12

If you want to see Desperation early, here is your chance:



The Tucson Film Office and Fox Tucson Theatre are presenting an exclusive prescreening of Desperation, a made-for-TV adaptation of Stephen King's book of the same name, on Saturday, May 6. Desperation was filmed in and around Tucson and Bisbee in the fall of 2004. Several cast and production members are scheduled to appear and get a red-carpet welcome, including director Mick Garris, producer Mark Sennet and actors Steven Weber, Annabeth Gish and Ron Perlman. The red-carpet opening event starts at 6:30 p.m., followed by opening comments by the director and producer at 7:15, and the film screens at 7:30. Tickets are available for $25 at the Fox Tucson Theatre box office at 17 W. Congress St.





Thanks to Bev Vincent.

Posted: April 26, 2006, 16:16:19

A first review of Desperation has appeared online. There are a few small spoilers so read it on you own risk.

Thanks to Bev Vincent.

Posted: April 20, 2006, 23:25:24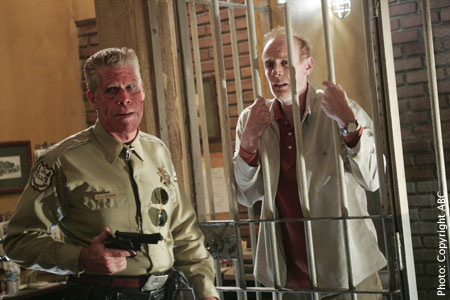 Fangoria had gotten this new image from Desperation and also had the following report about the DVD release:


Fango got the scoop that Lionsgate Home Entertainment will release the desert-set story of evil and redemption August 29. No word yet on special features, or whether this cut will be more extreme than the one ABC broadcasts.

Thanks to Ari.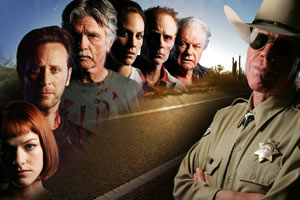 Posted: April 7, 2006, 13:38:45
Horror Channel reports that ABC now has a site for Desperation. It's not much there at the moment but hopefully there will be…

Thanks to Johnny Butane.
Posted: April 6, 2006, 17:28:17
I just got an email from Mick Garris in which he told me that ABC has moved the airdate
for Desperation to Tuesday, May 23rd. They are getting wonderful feedback to the film, and apparently that would be a stronger night for it.
Posted: March 19, 2006, 21:38:39
Reports say that the first trailer for Desperation has started to air on ABC. I haven't seen it (I do live in Sweden) but word is that it's looking good.
Posted: February 25, 2006, 00:16:58
Today I had the chance to see Desperation and all I can say at the moment is that I loved it and that May 18th can't come soon enough...

Posted: January 10, 2006, 00:39:15
Fangoria published these cool pictures from Desperation today!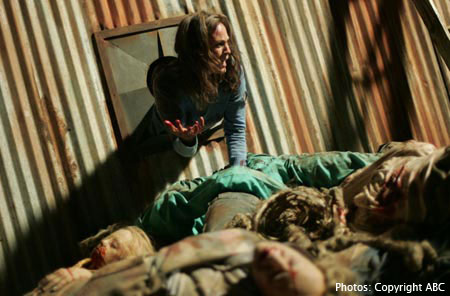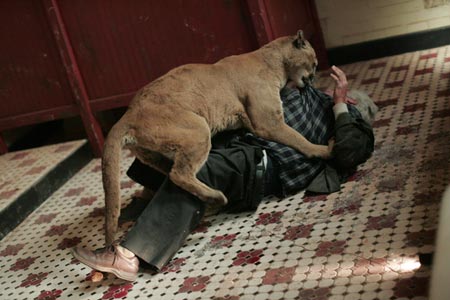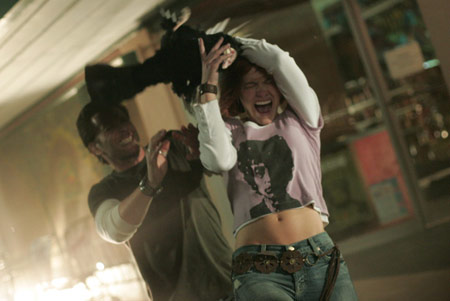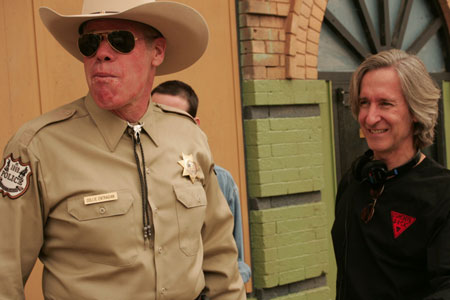 The images are (from left to right, up and down) Annabeth Gish with some KNB EFX-created corpses, Charles Durning sharing a scene with a real live cougar, Kelly Overton and Steven Weber fighting a vicious bird and Garris himself with Ron Perlman, who plays the nasty Collie Entragian.



Thanks to Mike Cahill.

Posted: January 5, 2006, 00:32:10

Good news! The official airdate for Desperation is Thursday, 18 May 2006.

Thanks to Bev Vincent.

Posted: November 22, 2005, 23:11:00

A DVD called ABC Fall Preview Disc DVD (2005) is now given to everyone that gets season 1 of Desperate Housewives at Walmart. On this DVD there are previews for upcoming shows and movies on ABC. And as you may have guessed by now one of the movies is Desperation. So remember this if your thinking of buying season 1 of Desperate Housewives. And if anyone gets this DVD, please let me know.

Posted: September 28, 2005, 23:10:00

As I have reported earlier Desperation will air in May 2006 and Lion's Gate is probably releasing the DVD the following July.

Posted: July 19, 2005, 23:09:00

I talked to Mick Garris again today and he told me that Desperation is in fact 100% done. Now it's just waiting around for ABC to air it in May 2006.

Posted: July 18, 2005, 23:09:00

Sad news for all of you out there that (like me) is waiting to see Desperation. I just talked to Mick Garris and he told me that it probably wouldn't air until May 2006.

Posted: April 10, 2005, 23:07:00

Really Scary has a report from the exclusive sneak peek at the first 15 minutes of Desperation that was shown at the World Horror Con in NYC. And judging from their description of the 15 minutes it seams to be very true to the book.

Posted: March 1, 2005, 23:03:00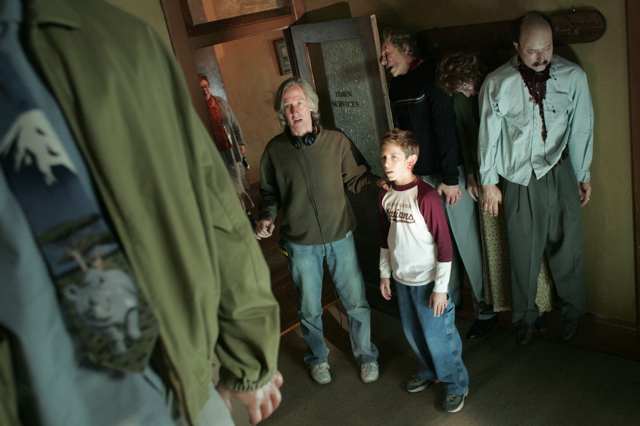 Fangoria.com reports that Desperation WON'T air in May. The good news is that Mick sent me this really cool photo from the set.


Despite what you may have read elsewhere, Mick Garris' ABC telemovie version of Stephen King's DESPERATION won't be airing during this May's sweeps period. "We don't deliver until June, and ABC has used up their promotional budget for the season, so it ain't going to be pushed for May," Garris tells Fango. "It's possibly going to be November. Or the following February…or May 2006."

Advance word on DESPERATION, which the author himself praised at www.stephenking.com, is running high. "Both King and the network got the finished cut, and both are extremely enthusiastic," adds Garris, who begins prepping his next dream project, the all-star MASTERS OF HORROR series, tomorrow in Vancouver. —Tony Timpone, Fangoria.com

Thanks to Jonathan Reitan.
Posted: February 25, 2005, 23:02:00
I talked to Mick Garris today about King's comments on Desperation and he said that they had gotten a reaction from the network, and that they absolutely love the film, and none of the violence that King mentions in his piece is going to be lost. How about that?
Posted: February 24, 2005, 23:01:00
King put this comment about Desperation yesterday:


Comments on Desperation from Stephen King
I ordinarily don't comment far in advance on films based on my work, especially TV films, but in the case of Desperation I am going to make an exception because my old partner in crime, Mick Garris, has produced an extraordinary piece of work, and the ensemble cast is outstanding. Ron Perlman as Collie Entragian will haunt your dreams. You might want to consider making time in May (tentative) for this one, which is when ABC plans to run it.

One word of warning: this is TV and it's impossible to tell in advance how much of a given piece of work will be cut. The version of Desperation I saw was graphic and very frightening. This may make the network uneasy.

Stephen King
Posted 23 February 2005

Posted: February 3, 2005, 23:00:00
On King's official site they have posted 9 images from Desperation. Like the once Garris sent me they look really cool.
Posted: January 25, 2005, 22:58:00
Fangoria reports that Desperation will be released from Lions Gate Home Entertainment on July 12 and premiere during the May sweeps on ABC.

Thanks to Mike Cahill.
Posted: January 16, 2005, 22:57:00
Mick Garris told me today that Desperation has completed principal photography.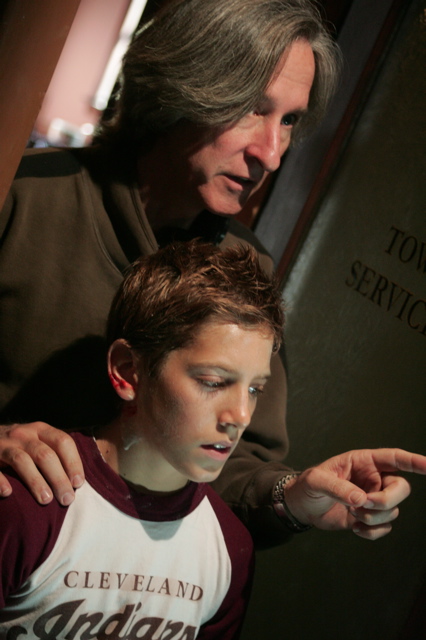 Posted: January 12, 2005, 00:11:00
Today I got these pictures from the filming of Desperation from Mick Garris. As you can see this movie looks really cool. Just check out the picture of Ron Pearlman as Collie Entragian below!

The image to the right shows Mick Garris himself along with Shane Haboucha who plays David Carver.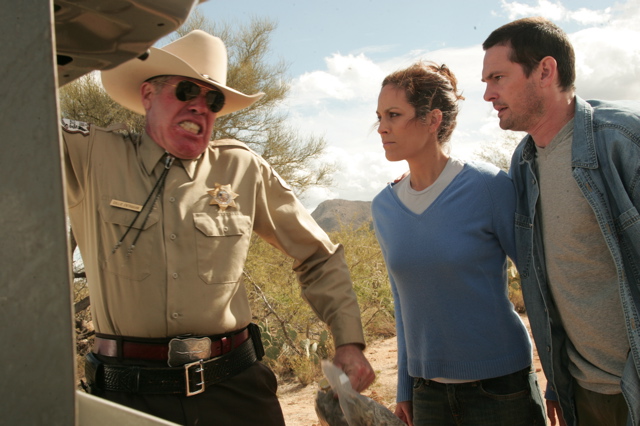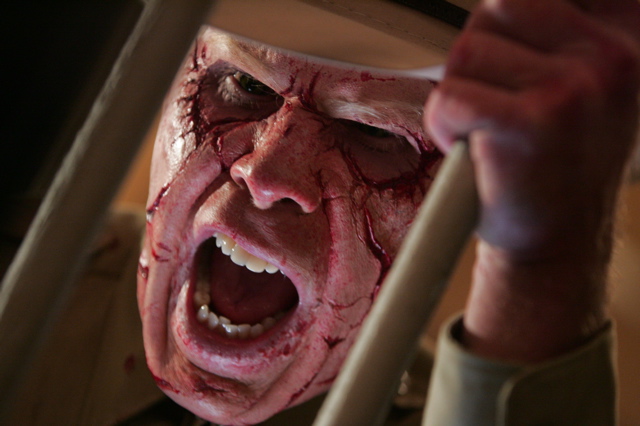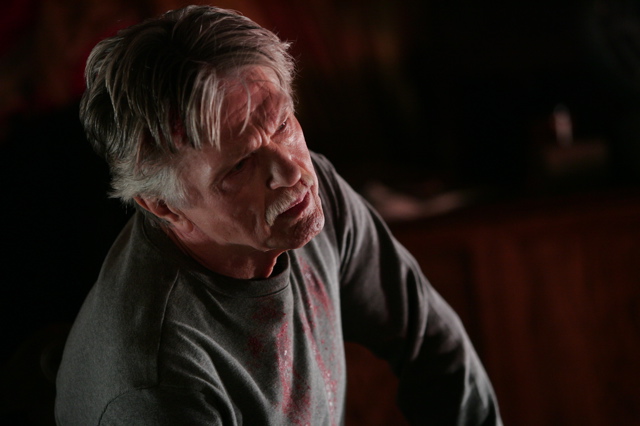 Posted: December 12, 2004, 00:06:00

A fire started at the set of Desperation on Friday and reports say that 5 people where injured and 2,000 evacuated. Here are some articles about it:

- Arizona Daily Star
- Arizona Daily Star
- 4 KVOA (with clips)

Thanks to Audrey* and Carla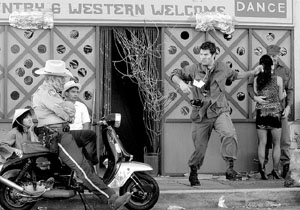 Posted: December 2, 2004, 00:03:00
Here are even more articles with photos (and clips) about the filming of Desperation:

- Kold News
- KVOA (with clips)
- Arizona Daily Star
- Arizona Daily Star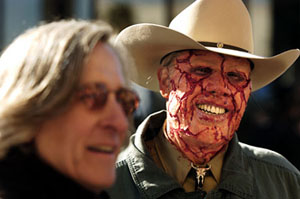 Posted: December 1, 2004, 00:00:00
Here are some really cool photos from the filming of Desperation:

- An article
- and another one

Thanks to Bev Vincent and Rocky Wood.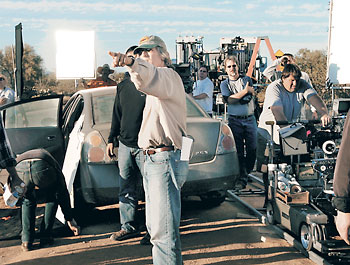 Posted: November 29, 2004, 23:57:00
Here are some interesting articles about the filming of Desperation, both from Tucson Citizen.

- STEPHEN KING MINISERIES: 'Desperation' sets in downtown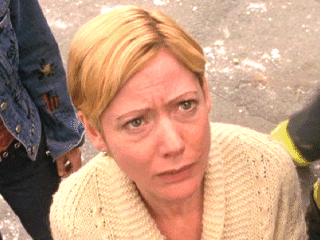 Posted: November 18, 2004, 23:56:00
Sylvia Kelegian joins the cast for Desperation. She will play Ellie Carver.

Thanks to Bev Vincent.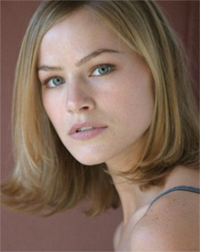 Posted: November 11, 2004, 23:54:00
Kelly Overton has joined the cast of Desperation. She will be playing Cynthia Smith.

Thanks to Gary Shaw.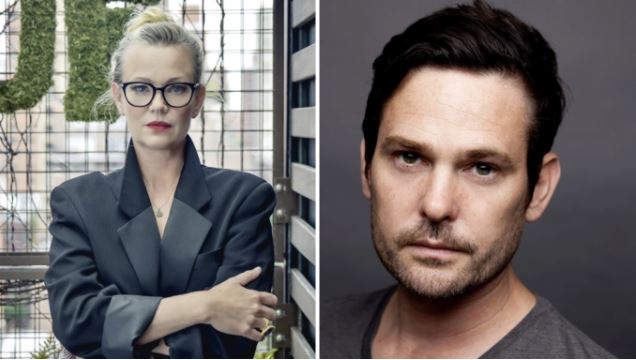 Posted: November 8, 2004, 23:53:00
King's official site states that Henry Thomas (E.T.) will play Peter Jackson in Desperation.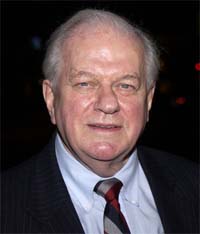 Posted: October 29, 2004, 23:52:00
I just spoke to Mick Garris and he confirmed what I thought. That Tom Skerritt will play Johnny Marinville in Desperation. He also told me that Since Cliff Robertson recently had back surgery, and is recovering, he has been replaced by Charles Durning.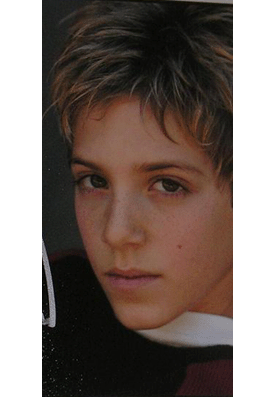 Posted: October 28, 2004, 23:46:00
The cast for Desperation is starting to take shape. Here are the first names. Ron Perlman (Hellboy) will play Collie Entragian, Tom Skerritt (don't know who he will play) Steven Weber (The Shining) is Steve, Annabeth Gish (The X Files) takes the female lead as Mary, Cliff Robertson (Riding the Bullet) is Tom the veterinarian, Shane Haboucha (THE O.C.) stars as young David and Matt Frewer (Riding the Bullet, The Stand) is Ralph. There are also some articles available online.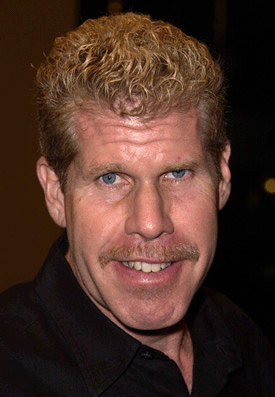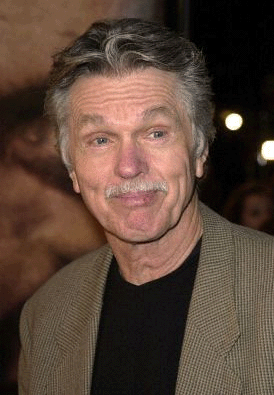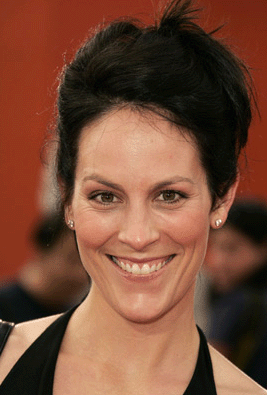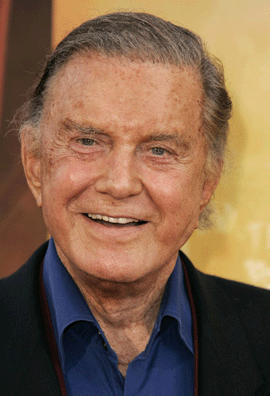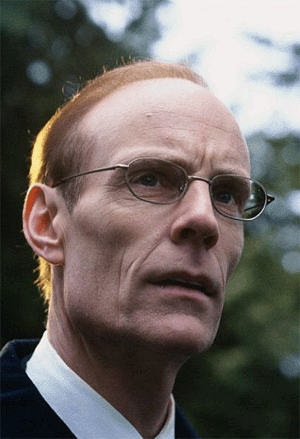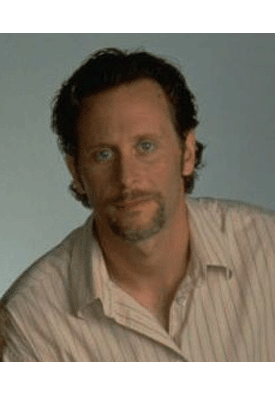 Thanks to Randy Ford and Jonathan Kennedy.
Posted: October 6, 2004, 23:44:00
An article about Desperation as well as an interview with Mick Garris is now online. In the interview he talks about Riding the Bullet and Desperation.

The article state that shooting will begin in November.

Thanks to Bev Vincent and David Sjödin.
Posted: August 3, 2004, 23:43:00
Mick Garris told me that Desperation should start shooting in Arizona in mid-to-late September. No casting yet though.
Posted: June 28, 2004, 23:42:00
I spoke to Mick Garris today and he told me that he will start shooting Desperation, which has gotten its official green light, for ABC in September. He continued by saying that the casting director starts working today, so there is no cast yet. The script however is written by King and finished and it will all result in a three-hour movie for ABC, not a miniseries.
Posted: April 9, 2004, 23:39:00
Creature Corner reports that Mick Garris is moving ahead with Desperation.

Garris told Creature Corner "We're working from King's feature script. "Though I'm putting it into the television 'acts' format. But very little is being changed."

Thanks to Mike Cahill.
Posted: December 15, 2003, 23:38:00
ABC has picked up a three-hour adaptation of King's Desperation.

Here is the entire article from Variety:


King fling for Alphabet
Garris to helm horror scribe's 'Desperation'
By MICHAEL SCHNEIDER

ABC has given in to "Desperation," picking up a three-hour adaptation of the apocalyptic Stephen King novel. Mark Sennet ("K Street") is on board to exec produce, while Mick Garris ("The Stand") will direct.

King, who is currently recovering from a serious case of pneumonia, has already written the screenplay. "Desperation" is the latest in a string of King projects at the Alphabet, including the upcoming midseason series "Kingdom Hospital."

Based on King's 1996 book, "Desperation" follows the plight of a man who winds up in a bizarre mining town in Nevada (named Desperation, natch) after being pulled over by the strange local sheriff.

The man eventually discovers that a mysterious force has killed the town's residents -- and that he must either kill this thing or escape.

Sennet said "Desperation" boasted "a whole different, early Stephen King feel to it."

"It's one of those core, scarier-than-hell Stephen King novels," he said. "It's the antithesis of 'The Shawshank Redemption' or 'The Green Mile.' It's bizarre, scary humor and has great characters in it."

Project has been in development for some time, having originally been optioned as a feature by New Line.

Sennet said he hopes to begin production in March or April. Garris must first complete his helming duties on the adaptation of another King project, a feature take on the novelist's ebook "Riding the Bullet."

A principal in Sennet-Gernstein Entertainment, Sennet most recently created and exec produced HBO's "K Street," which he oversaw along with Section 8's Steven Soderbergh and George Clooney.

Sennet has two other longforms in development at the Alphabet net: "The Go-Gos" (which he said may also be redeveloped as a low-budget feature) and "Touch the Top of the World: The Erik Weihenmayer Story." Other credits include ABC's "Inside the Osmonds" and CBS' "Martin & Lewis" (along with Storyline Entertainment).

Garris, meanwhile, has partnered with King on several projects, including the TV adaptations of "The Shining" and "The Stand."

Posted: April 23, 2003, 23:36:00
E! Online now has an article about Kingdom Hospital. In the article it also says that King is currently working on the script for the miniseries version of Desperation. You can read it here.

Thanks to Bev Vincent.
Posted: January 1, 2003, 23:30:00
In an interview with Lilja's Library Mick Garris says that he hopes Desperation will air on ABC in 2004. Yes, that is correct. Desperation will be a 3-hour movie for TV. It will air on ABC.
Posted: December 22, 2002, 23:29:00
Mick Garris next movie is Riding the Bullet but after that it's Desperation's time. Here is a quote from Creature Corner:


After that project, Garris is said to be moving on to something I've wanted him to direct for a long time now, 'Desperation'. The King novel, in case you're unfamiliar, concerns a group of people that get stuck in a small Nevada town called Desperation and have to ban together to fight a manifestation of pure evil known as Tak. It's a great story, and the script was originally written by Stephen King himself (read my review of it here).

'Desperation' has been sitting over at New Line for countless years, but I guess it's been moved somewhere else since the movie that Garris will direct is set to be a 4-6 hour miniseries (on ABC, I'm sure). That also means the script I read many moons ago will probably not be used, but here's hoping we get something of the same quality.

Posted: May 4, 2001, 23:28:00
Smilin Jack Ruby talked about Desperation with Mick Garris. Here is his report (from Dark Horizons):


The Talisman: 'Smilin Jack Ruby' talked with Mick Garris about his upcoming adaptation of Stephen King's "The Talisman" that he'll be doing once he returns from a trip to Cuba with his wife. The four-hour mini-series will begin production on a date depending upon the length of the upcoming strikes, and after he plans to turn King's "Riding the Bullet" (which Garris has already adapted into a screenplay) into a theatrical feature. "The Sun Dog" IMAX project is on hold, whilst "Desperation" may become a miniseries as CBS has approached him about it (but he usually works with ABC so will give them 'first dibs' as they say).

Posted: December 6, 2000, 23:27:00
Seams I jumped the gun here. Josh Bingham from Winchester Films told me in a mail that they no longer control the rights to Desperation. I'm sorry for this.
Posted: December 1, 2000, 23:26:00
According to the site 4filmmakers.com Winchester Films will produce the movie version of Desperation. No word on when though...
Posted: May 1, 1999, 23:24:00
King has completed the screenplay for Desperation. Originally they planed to start shooting in early July, 1999 but unfortunately the project has now, for different reasons, been put on hold.

Posted: February 6, 1999, 23:23:00
King's official page reported that the movie Desperation is currently making progress in negotiations with a film studio. Great news!