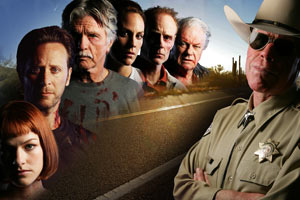 What can I say? Mick Garris has done it again. He has taken a King book, turned into a movie and done a superb job.
Desperation
is probably one of the movies based on King's books that are truest to the book itself. Garris version of
Desperation
is extremely close to the book. Some things are missing or shortened but still it's very close.
Desperation
is about a group of people that for different reasons (mostly the sheriff) ends up in the small town Desperation where the dark force of Tak is present. For a very long time it has been trapped in the old mine but now it's out and it's determent to not letting anyone leave Desperation alive…
As early as April last year Garris showed the first 15 minutes of
Desperation
at World Horror Con in New York. The reports from that showing was very positive and after seeing it for myself I can only agree. Ron Perlman as Collie Entragian is perfect. He is just as I imagined him to be when I read the book…maybe he's a bit slimmer then I imagine but otherwise perfect…
The rest of the cast is also very good. In fact there isn't anyone that doesn't deliver what's expected from them. The biggest names are Steven Weber (from
The Shining
miniseries) as Steve, Annabeth Gish (from the
X Files
) as Mary and Matt Frewer (from
Riding the Bullet
and
The Stand
) as Ralph Carver.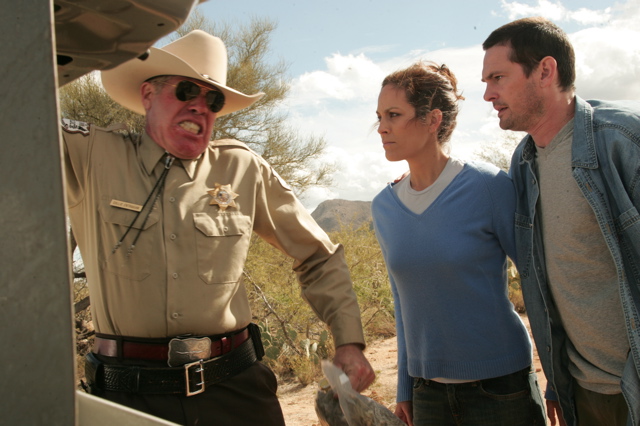 The movie is just over 2:10 without commercials and that feels like a pretty good length for this one.
Desperation
in itself is a sort of slow book so if the story had been stretched out it would probably have felt to long. I know that there are some King fans that feels that Garris stretched the story in
The Stand
or
The Shining
and some of you will probably think so here as well but given the type of story
Desperation
is I think it's perfect.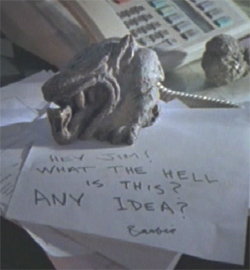 What surprised me the most is that it's so gory. If it had been done for the big screen or for DVD I wouldn't have thought about it but this is for TV and that usually means no gore. So, thank you ABC for not stepping in with the big scissors and instead letting Garris do his thing!
Lilja's final words about Desperation:
So, what ever you do, don't miss Desperation when it airs tonight! I know it'll be out on DVD later this summer but trust me, you don't want to wait that long.