NEWS - KING TOURING THE UK 2006
Posted: November 15, 2006, 08:38:17
Here is a 40 minute podcast with the Q&A from press conference that King gave at the FPA while in London. If you listen closely you can hear me ask my question about the new Bachman book about 41 minutes into the podcast.
Thanks to John Thornburn
Posted: November 14, 2006, 23:53:35
Check out John's site for all the info you need on King's Lisey's Story tour. Both in the US and the UK. You can find it here.
Posted: November 13, 2006, 00:26:15
Here is a site where you can see King's reading and listen to the interview he did at the Battersea Park reading.

Here are some good articles about it.

ABC (Australia)

The Independent

Telegraph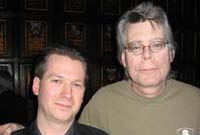 Posted: November 11, 2006, 21:44:13
Read all about King's visit to the UK in November 2006 here. I have collected my experiences and other info you need about the visit in this one place. I hope you enjoy it.

                                                       Lilja
Posted: November 11, 2006, 20:47:44
Here are scans of the paperweight that was given out at the publisher party, arranged by King's UK publisher Hodder & Stoughton, in London. Later I found out that there where only 500 copies done.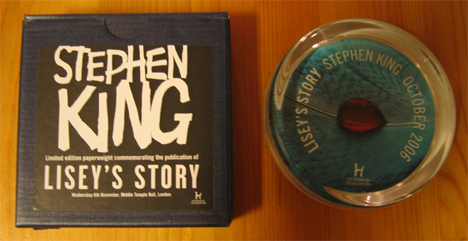 Posted: November 11, 2006, 20:45:05
Here is a BBC radio interview with King in witch he talks about movie version of The Dark Tower, that there where 3,000 people at the Battersea Reading and what he thinks about the people rushing for an autograph at the same event.

Here is a podcast from King's Battersea Reading. It's in three parts and include an interview, King reading from Lisey's Story and in the final part King answers the questions submitted by fans through Times Online.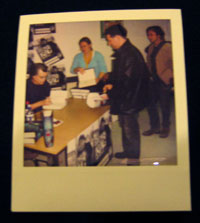 Posted: November 9, 2006, 21:24:42
The after noon was spent at the ASDA supermarket where King would do a signing. There wheren't that many people there until about an hour before the signing started but then there where a lot...and I meen A LOT.

I got to meet up with a lot of old and new friends and we had a really good time. At 5PM King entered and the line started to move. When we got to King we where told no cameras where alowed. At first bumed out we soon found out that there where a lady taking photos of us with a polaroidcamera and then giving out the photo as we left. A very good idea!

This time I didn't say anything to King except "Thanks" and extracted my hand. At the same second he reached for his glass of Coke and there where a second of total confusion. Then he put forward his left hand and I shook that...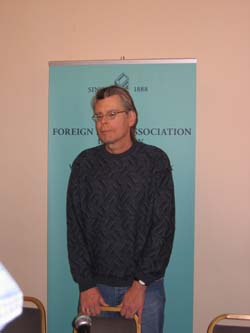 Posted: November 9, 2006, 21:22:40
So, today started with a press conference arranged by the FPA. I was offcourse there in good time and got a front row seat, just about 2 meters from King. There where a photosession for 2 minutes, a Q&A for about 40 minutes and then King signed books (I got the ticket for the Battersea Park reading signed).

I also got to ask King a question and I decided to asked him about the new Bachman book that he mentioned at the reading. He then said that he found it in his basement, that it's from 1973 and that the title is Blaze. This book has been known to fans for quite a while and it's nice that King has finally decided to publish it.

No date has been set but King said it would need some updating first so it may be a while...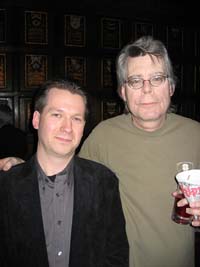 Posted: November 9, 2006, 10:02:27
Yesterday I was at a publisher party, arranged by King's UK publisher Hodder & Stoughton, in London. And yes, you guessed it, King was there as well and I got a chance to speak with him for a few minutes. Since the conversation was a lot longer then at the signing I can't recap it all here but I can tell you what we said when I got a second chance to talk to him just as he was leaving.

Lilja: It's a real honor to finally meet you!

King: It's an honour to meet you to.

And with that he was of in the night. I was left with a very nice feeling, a copy of Lisey's Story, a promotional paperweight (they where giving them away at the party) AND a picture of King and me!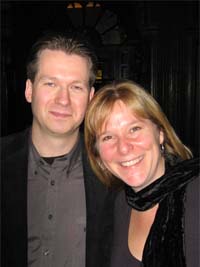 Just as I was planning on leaving I ran into Robin Furth and got a VERY nice chat with here. She told me that 3 issues of The Dark Tower comic was already done and that it looks amazing. No one will be disapointed with it, that is for sure.

I also got a chance to talk to a lot of people from Hodder & Stoughton, including King's proofreader...and it turned out to be an extreamley nice evening.
Posted: November 8, 2006, 10:11:03
King's reading at Battersea Park in London is over. King was first interviewed for about 45 minits. Then he read two sections from Lisey's Story and answered questions that the reader of The Times had sent in through their site.

King then ended the the whole thing by signing books for a lot of happy fans.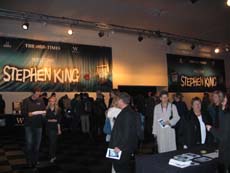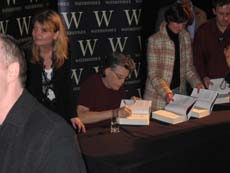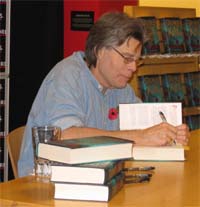 Posted: November 8, 2006, 10:03:46
Finally, 12 hours after I left Sweden I stod face to face with King. It was at Borders in London and I think I pulled it of without sounding to crazy.

King: Hi How are you?

Lilja: Fine and you?

King: Fine.

Lilja: Are your hand tired?

King: No it's OK, it's on autopilot.

And then it was over...


Posted: November 7, 2006, 00:07:57
In just a few hours I'm leaving for London to cover King's visit there. I'm going to try (depending on if I can get my hands on a computer with Internet access) to keep you up to date on everything that's happening there. Believe me, it will be a very interesting few days so check back often.