NEWS - FROM A BUICK 8
Posted: June 15, 2022, 18:08:21
Interesting post from Instagram about the adaptation of From a Buick 8.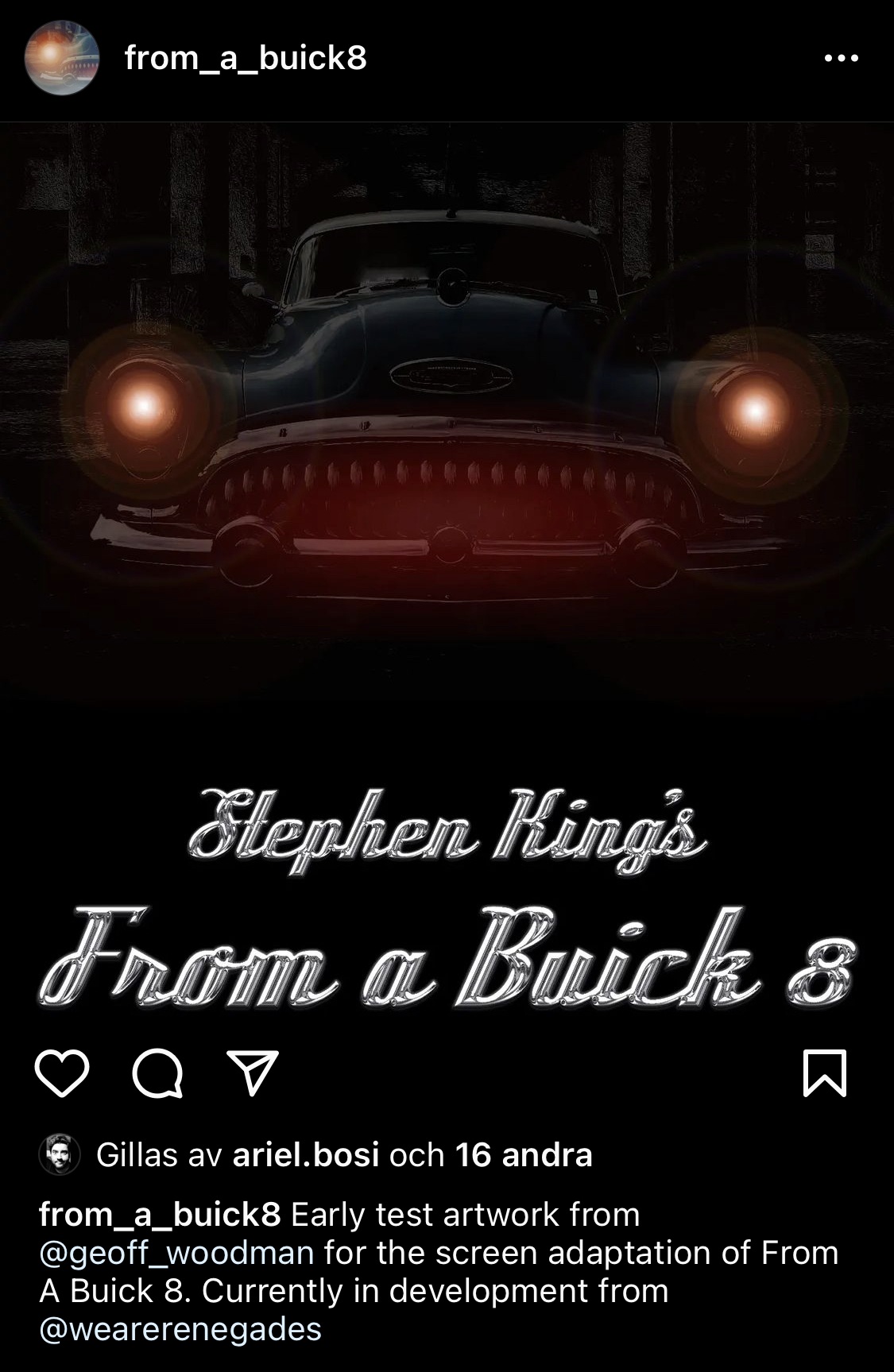 Posted: April 11, 2022, 16:49:14
Thomas Jane posted this message on Twitter. Not sure what that means but hopefully something is happening with the adaptation of From a Buick 8…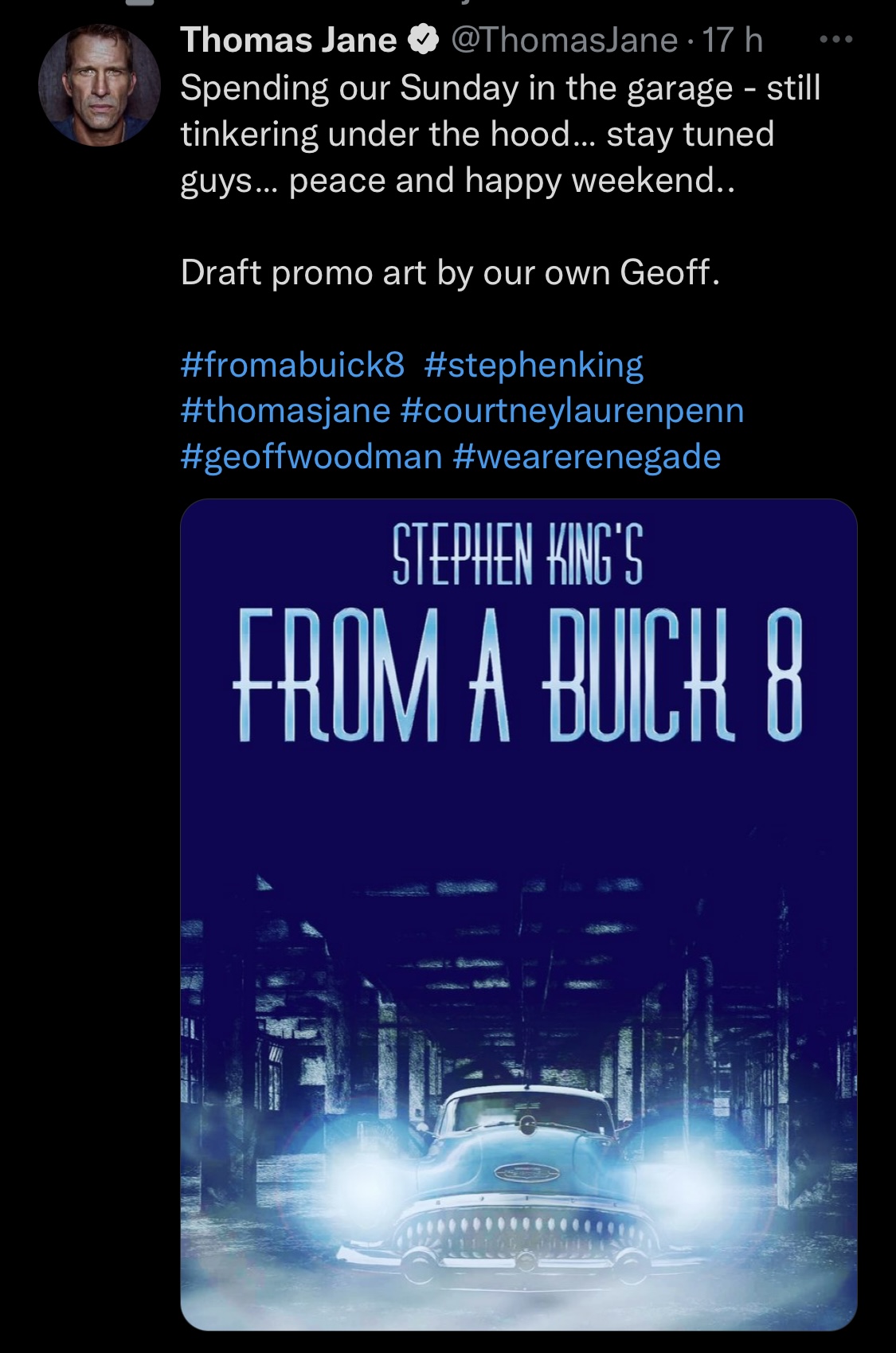 Posted: August 15, 2020, 09:32:57
In the latest episode of podcast The Kingcast Thoms Jane mentioned that Jim Mickle has signed on to direct From a Buick 8. Let's see if the movie really happens this time...

Posted: December 5, 2019, 20:36:28
Deadline reports that Thomas Jane and Courtney Lauren Penn will film From A Buick 8.

Actor Thomas Jane (The Predator) and producer Courtney Lauren Penn (Altitude) are teaming up to form LA-based content company Renegade Entertainment with Stephen King novel adaptation From A Buick 8 their first movie project on the docket.

Renegade, which will develop and produce film, TV, games and immersive content, is partnering with King to adapt and produce his 2002 thriller novel about a car which is a door to another dimension.

Read more here.

Thanks to Rick Urban.
Posted: July 23, 2018, 19:58:00
Deadline reports that From a Buick 8 has been optioned by Hyde Park Entertainment.

EXCLUSIVE: Stephen King's bestselling novel From A Buick 8 has been optioned by Ashok Amritraj's Hyde Park Entertainment. Amritraj has set William Brent Bell to write the script and direct. Bell last helmed the STX release The Boy, and his other credits include the Paramont genre hit The Devil Inside, Wer, and Stay Alive. Amritraj will produce. Addison Mehr and Priya Amritraj will be executive producers.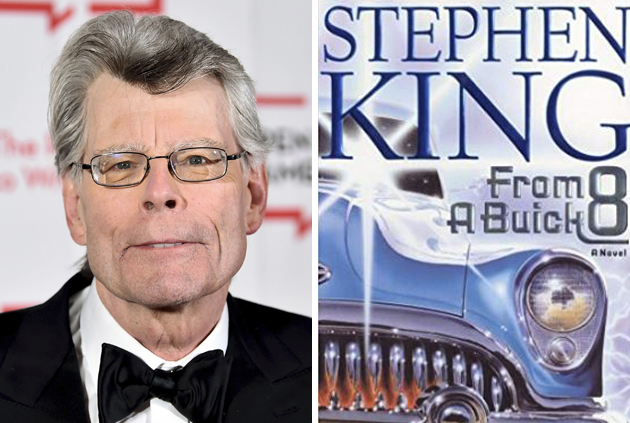 Thanks to Lou Sytsma
Posted: October 8, 2010, 23:32:26
From www.StephenKing.com:


Stephen has changed his mind and agreed to do a book signing for Full Dark, No Stars on Thursday, December 2nd at RiverRun Bookstore in Portsmouth, NH. This is the only book signing scheduled at this time for the release of this book, but we will let you know if he does decide to add more. For full details see the link below.

And the link
.
Posted: September 22, 2009, 23:49:06
Here is an update on the movie version of From a Buick 8 from the moderator of King's board:


I received this update from Rich Chizmar (owner of the film rights) on Friday (9/18):

"Tobe Hooper still attached as director, along with Amicus Films as our producing partner, as well as Mick Garris. Script is good shape. I know some of the funding is in place. They are still shaking the trees for the rest."

Posted: April 24, 2009, 18:37:41
It looks like From a Buick 8 might be in trouble:


Writer (and actor) Jonathan Schaech has been trying to get a feature film version of Stephen King's classic "From a Buick 8" up for a couple of years now. Despite the fact Tobe Hooper - director of classics like "Texas Chainsaw" and "Poltergeist" - is attached to direct, he's had no luck.

Schaech, who most will remember for his role as the chauvinistic lead singer in Tom Hanks' "That Thing You Do!", tells Bloody Disgusting that King himself loves the script for the film version, but that doesn't help get the movie made.

"It's a shame, man. It would be so much fun to make that movie and everyone will love it, too. Its not an easy time right now to make any kind of film in the business. The economy is piss-poor and film production is down 57 percent. I hope that we can make the movie. We really need this chance. It will get made one day. I'm pretty certain of it."

Read more
here
.
Thanks to Rocky Wood
Posted: April 22, 2009, 22:39:26
Here is the latest news about the movie version of From a Buick 8:


Bloody-Disgusting

caught up with writer/actor Jonathan Schaech, who has two projects hitting DVD this week. Poker Club, which Schaech co-wrote with Richard Chizmar, and Rob Hall's Laid to Rest, in which Schaech makes a brief cameo before being brutally offed, both hit DVD today. We'll have more on those two projects later this week, but for now we've got an update on Schaech and Chizmar's adaptation of Stephen King's From a Buick 8 and word on another upcoming King project from the writing duo.

"The [BUICK 8] script is scarier than ever," Schaech tells BD. "It's more of a horror film than the novel. King has granted us the right to make this version of the screenplay and he loves this one a lot more. He is very excited by it. We are hoping that it goes in front of the cameras in fall. I know that they're out to a couple of actors now, Tobe [Hooper] is attached to direct. Hopefully I'll get a part in it, but it doesn't matter. They are going after really big names right now."

"I will put my reputation on the line about the adaptation we just did. If King liked it, I feel like we can do no wrong."

Unfortunately, the recent economic crisis is hitting film production pretty hard of late. Schaech admits that he thought the project was practically a done deal after getting King's approval and signing on director Tobe Hooper. "That's what we thought," says Schaech, raising his voice and laughing.

"Nothing's definite," Schaech adds. "It's a shame, man. It would be so much fun to make that movie and everyone will love it, too. Its not an easy time right now to make any kind of film in the business. The economy is piss-poor and film production is down 57 percent. I hope that we can make the movie. We really need this chance. It will get made one day. I'm pretty certain of it."

Although the financing is currently at a standstill, Schaech says the early prep work on the script and talks with Hooper have been very positive. "Working with Tobe has been such a gem. The guy knows horror. I've had fun trying to articulate what's in his mind. Sometimes he can't get it out as clearly as he would want, but eventually we got there. He's very happy with what we've been able to do with this version. He's excited."

Horror fans have been quick to offer the actor-turned-writer advice upon the news that he was attached to the King adaptation. So far, he says he doesn't mind. "A lot of the [fans] are really helpful. People are big King fans and I really respect that stuff. When we were adapting it, I was looking for hints of where everyone wanted us to go with it, stuff about other King adaptations and how far to go away from the book. As long as you make the decisions correctly, it will fit."

Schaech and Chizmar are also closing in on another King adaptation. Schaech could reveal the lead, but not which King story the film will be based on. "We're working with Sam Jackson on a Stephen King short story," Schaech tells BD. "We [haven't] cleared it through the studio yet. Once we do, there will be an announcement."


Thanks to Bev Vincent
Posted: February 25, 2009, 16:22:42
Here is a small update about the movie version of From a Buick 8:


While co-writer Johnathon Schaech's FROM A BUICK 8 Stephen King adaptation still looks for financing, he and co-writer Richard Chizmar are continuing to tweak the script for the Tobe Hooper film. "We've done 15 rewrites," Schaech said of the project, "and Stephen King loves it. He says it's a great screenplay, which is sort of THE GREEN MILE meets STAND BY ME meets FRIDAY THE 13TH."

Thanks to Bev Vincent
Posted: July 3, 2008, 00:33:11
Here are some info about the movie version of From a Buick 8:


CHIZMAR/SCHAECH: We have been working on FROM A BUICK 8 for so long and are finally so close to a "go" that we are afraid to talk too much about it and jinx it. What we can say is that we are currently working on one final rewrite for director Tobe Hooper and producer Mick Garris and the good folks at Amicus (producers of the recent STUCK and forthcoming IT'S ALIVE remake). Once the rewrite is completed, they are prepared to go right into pre-production with plans to film on the East Coast.

Posted: November 5, 2007, 09:07:56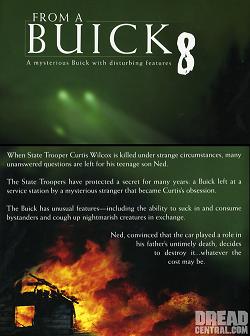 Dread Central reported some good news about the upcoming movie version of From a Buick 8:


The first is From a Buick 8, which you see some early art for on your right. Kasch talked to producer Etchie Stroh of Moonstone Entertainment, who said the script for Buick is in the hands of director Tobe Hooper as we speak, who's giving it a once-over to tighten it up. It will go to Stephen King, who wrote the novel the film is based on, before cameras roll for final approval.

They're hoping to have everything ready to go for a shoot date in early 2008 and though no casting's been done, they will be filming in Pennsylvania which only makes sense, as that's where the book is set.

Posted: October 11, 2007, 08:44:19
Shock till you drop has this to report:


It was back in April when we first told you Tobe Hooper was possibly going to direct Stephen King's From a Buick 8 based on a script by Johnathon Schaech and Richard Chizmar.

Variety has confirmed Hooper is ready to roll on the project and that Moonstone Entertainment chairman-CEO Etchie Stroh and Amicus Entertainment prexy Robert Katz are producing. Amicus is behind Stuart Gordon's recent thriller Stuck. Schaech, Chizmar and Mick Garris will co-produce.

Set in Pennsylvania, the story concerns a otherwordly Buick Roadmaster that was obtained by the state police of Troop D. The relic becomes the fascination of a young man whose father, an officer, was killed in a terrible accident.

"From a Buick 8 will not be your stock horror film by any means. There's a really cool, layered quality to the story," Hooper tells the Hollywood trade. "The producers, writers and I shared the same sensibility about the project and responded to it in a similar way."

Posted: August 12, 2007, 23:25:33
Mick Garris will produce From a Buick 8. Here is what he told Fangoria:


I also have a deal to produce FROM A BUICK 8, which Tobe Hooper would direct.

Thanks to Bev Vincent
Posted: October 25, 2006, 01:14:49
Mick Garris has been interviewed by Bloody Disgusting and here are some interesting news about Bag of Bones and From A Buick 8


BD: You are quickly becoming The King of the Stephen King miniseries – any more coming up?

MG: We're looking at "Bag of Bones" as well as "From A Buick 8" – there's a character in that one named after my wife, who played the dead woman in Room 237 in "The Shining". It would be a lot of fun if Cynthia were to play a character named after her. And Eli Roth is still going to be adapting "Cell" for the big screen.

I checked with Garris and he wanted me to tell you that they don't have either project set up yet, but that they are pursuing them.
Posted: May 19, 2006, 21:10:13
Fangoria reports about the Black House movie and that From a Buick 8 might be a miniseries.


While on location in New Mexico a couple of weeks back for Dark Lot's LIVING HELL, actor/scriptwriter Johnathon (THE FORSAKEN) Schaech was more than happy to tell Fango about the two Stephen King movie scripts and MASTERS OF HORROR teleplay he's done with partner Richard Chizmar of CEMETERY DANCE. "Richard and I have written THE BLACK HOUSE, the sequel to THE TALISMAN, for [producer] Akiva Goldsman," Schaech reveals. "It's interesting, because we don't know what's going to happen with THE TALISMAN [movie] right now. It's gone through so many writers and directors, as all King fans know, and I hear all kinds of rumors. So our script had to stand on its own as well as be a sequel to THE TALISMAN. Richard and I did a very faithful adaptation [of the King/Peter Straub novel], and Akiva loved it."

If produced, the BLACK HOUSE film will use visuals in the opening scenes to explain what has gone on before. "It does stand on its own, but it also ties in beautifully through the imagery—even to THE DARK TOWER series," Schaech explains. "There is a lot of interest in it, but it depends on what happens with THE TALISMAN."

Goldsman took interest in Schaech and Chizmar after reading their miniseries script based on King's 2003 novel FROM A BUICK 8. "It's mystical and doesn't explain itself," Schaech says of that project. "It's a metaphor, and we tried to explain that in the screenplay. It has a deeper meaning, and it's a little harder for people to digest. It really is a masterpiece, and most people don't seem to realize that." Helping to launch the potential BUICK miniseries is Mick (THE STAND) Garris, no stranger to King films. "Mick is a wonderful guy, and we've been talking a lot recently," Schaech notes. "One of the networks is interested, and they've talked to King some. We'll see what happens there, too." In a separate interview, Garris admitted his BUICK interest to Fango: "It's something I'd be interested in being involved in, in one capacity or another. They wrote a really great script for it."

The Garris connection doesn't stop there for Schaech and Chizmar, though: The duo have also penned a script for the second season of Showtime's MASTERS OF HORROR. "We adapted this great Bentley Little piece called 'The Washingtonians,' " Schaech reveals. "It's so much fun, and it should be a great episode. We pitched a bunch of ideas to Mick and the guys over at Showtime, and they loved the one based on Little's short story. I think we wrote a really good screenplay, and I'm excited by it." Adds Garris, "We're working on finding the right director for it. I'm really hoping we do it this season, as it's a great script and a great story."

Schaech began writing screenplays while on location for various movies he's done, and then decided to team with Chizmar. "I'm not a master of horror, but Richard really knows his stuff," the actor says. "I'm really respectful toward anything I attach myself to in the horror genre. When I met Richard, we decided to really get involved and be very serious scriptwriters. We want to try to make an art and craft of it."

The busy team have also adapted Douglas Clegg's novel THE HOUR BEFORE DARK for possible production at MGM/Sony, plus Ed Gorman's thriller THE POKER CLUB. As with the King screenplays, Schaech says, "Hopefully HOUR BEFORE DARK will get off the ground sometime soon. And we'll have to see what happens with POKER CLUB."

Thanks to Bev Vincent.