2017: The Collaboration Year
Posted: February 13, 2017, 09:06:39
Two weeks ago I wrote that 2017 would be a great year for King adaptations. Well, it will also be a great year for King collaborations. Earlier King has only released books with two authors, Peter Straub (The Talisman and Black House) and Stweart O'Nan (Faithful). He has also released two short stories with his son Joe Hill (In the tall Grass and Throttle).

In 2017 two King books will be released and both are collaborations. The first one we learned about just two days ago and is a collaboration with Richard Chizmar. We don't know anything about this story or when it will be released but based on what Rich wrote about it on his facebook page it will be released soon as a standalone hardcover. My guess is something like when CD released Blockade Billy.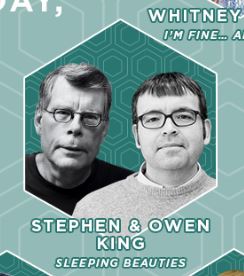 The second book is also a collaboration. This time King has collaborated with his son Owen and together they have written Sleeping Beauties that will be released in October 2017. And even though it's "only" 8 months until the book is out we don't know much about it.

The idea, a story about what would happen if all the women in the world fell asleep, came from Owen and it took King and Owen over two years to write the book. So far King has read two excerpts from it (they are NOT online though). One from a man's point of view, and one from the point of a view from a female character, who is existing in another dimension.

The official synapse is:



What would happen if all the women abandoned the world? A wildly provocative novel of supernatural suspense, SLEEPING BEAUTIES is the first father/son collaboration between Stephen King and Owen King.



I think 2017 will be a great King year! What are your thoughts?