NEWS - GERALD'S GAME
Posted: October 21, 2019, 21:04:55
This is the necklace worn by Carel Struycken as the character "Moonlight Man" at the end of Gerald's Game. The Jawbone was in the bag he carried and collected all his "treasures" in. The necklace is now in Marv's Museum, check it out.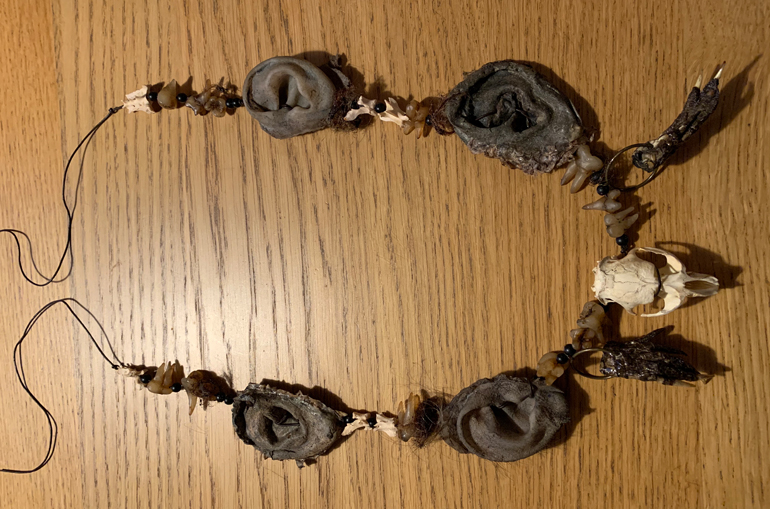 Posted: January 15, 2019, 10:42:40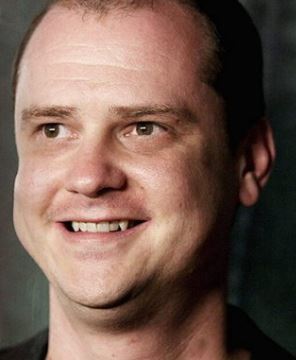 Here is an interview with Mike Flanagan done by Jason Sechrest.

I don't know if I was ever as nervous as I was sending that first cut to Steve. He was the first person outside of my editorial department who got to see the film, and I was terrified about what he'd think. He was my hero, and this particular movie was a high-wire act without a net. He loved the film, and sent me a long email about his thoughts. I'm not lying when I tell you that I printed it and framed it. It's still hanging in my office.

Posted: December 27, 2017, 11:43:31
Mike Flanagan is the filmmaker who took the "un-filmable" Gerald's Game and turned it into 2017 best (in my opinion) King adaptation. I got a chance to talk to him about the movie. How he did it and how it felt when King liked it.


I think he [Henry Thomas] said at one point that we were going to ruin E.T. and Sam Cooke in one fell swoop, and he was right. But man, what a wonderful (and horrible) performance.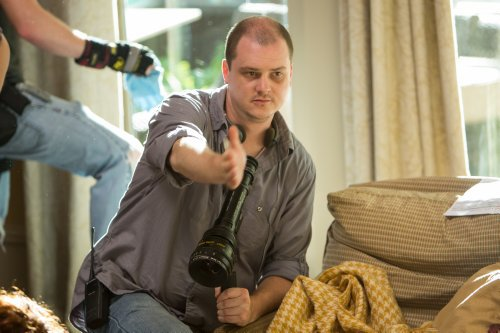 Posted: September 29, 2017, 08:00:19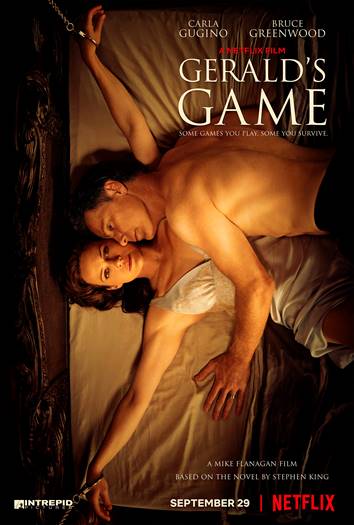 Here is my review of Gerald's Game that premiers today on Netflix.


Gerald's Game, has for a long time, been "the unfilmable Stephen King book". Then back in 2014 Mike Flanagan got attached to it. The years came and went and no film appeared. Until now. Three years after it was first announced Mike Flanagan has filmed the unfilmable book. And how did he do? I'm happy to say that he did great!

Posted: September 14, 2017, 08:29:12
Here is the Netflix poster for Gerald's Game.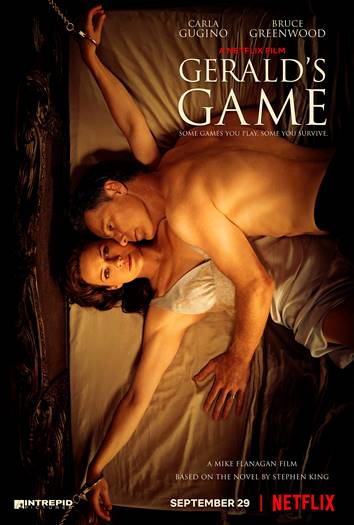 Directed by Mike Flanagan (Oclus, Hush), a woman (Carla Gugino) accidentally kills her husband (Bruce Greenwood) after being handcuffed to a bed, leaving her unable to free herself. As time passes and she realizes that rescue is an all but hopeless thought, she begins to slip into insanity, the voices in her head manifesting into visions.

Gerald's Game will be streaming on Netflix starting September 29th, 2017.

Posted: September 7, 2017, 01:08:38
Gerald's Game I now listed on Netflix. Premiers on September 29 and 1 hour and 43 minutes long.
Posted: September 6, 2017, 21:06:45
Here is the trailer for Gerald's Game.



Thanks to Lou Sytsma
Posted: August 23, 2017, 23:35:53
According to Bloody Disgusting Gerald's Game will premier on Netflix September 29.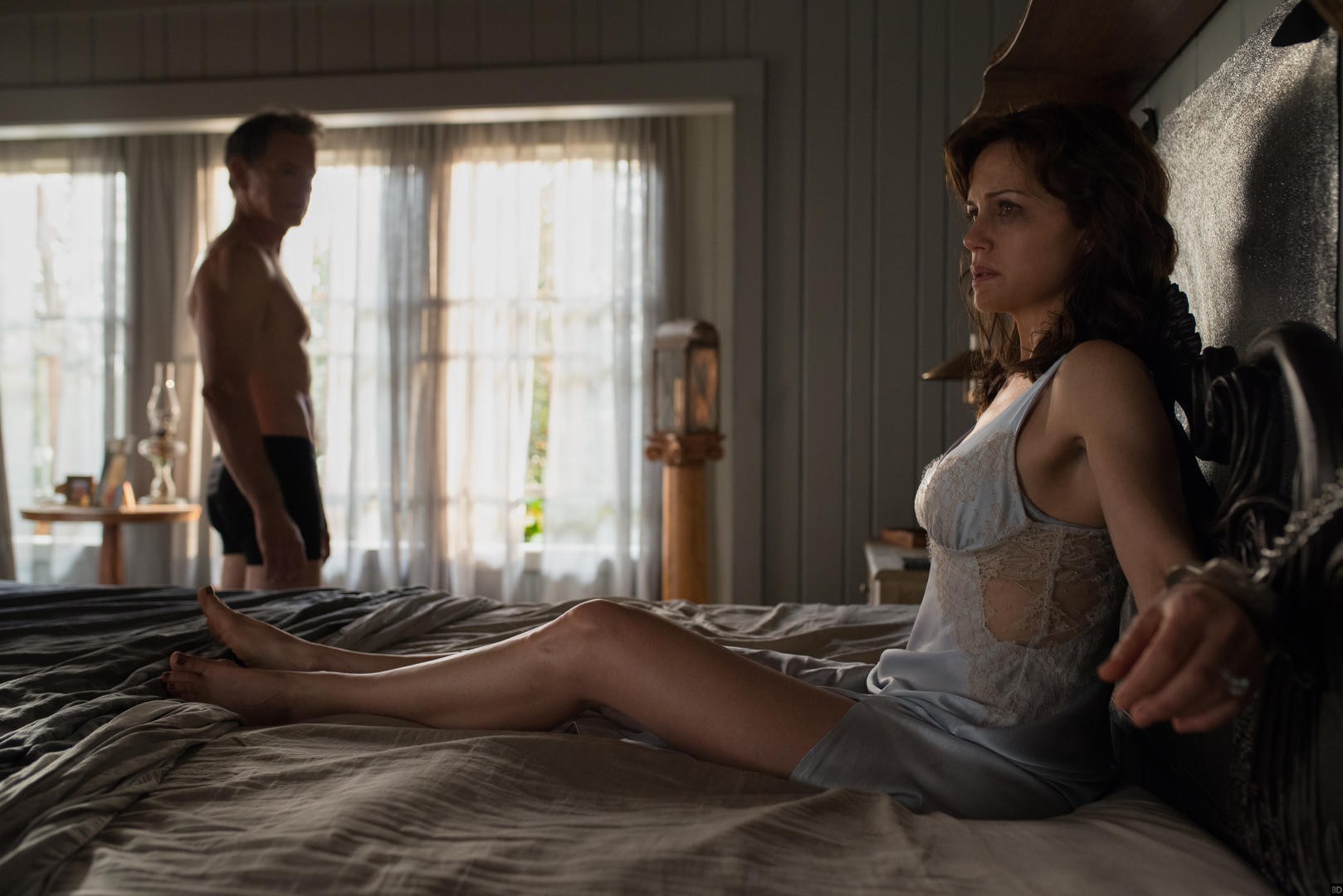 Thanks to Herbert West
Posted: August 13, 2017, 20:43:37
Here are some info about 1922 and Gerald's Game from Fantastic Fest 2017.


1922
USA, 2017
World Premiere, 101 mins
Director – Zak Hilditch
1922 is based on Stephen King's 131-page story telling of a man's confession of his wife's murder. The tale is told from from the perspective of Wilfred James, the story's unreliable narrator who admits to killing his wife, Arlette, in Nebraska. But after he buries her body, he finds himself terrorized by rats, and as his life begins to unravel, he becomes convinced his wife is haunting him.

Gerald's Game
USA, 2017
US Premiere, 103 mins
Director – Mike Flanagan
Flanagan unites with master of the macabre Stephen King for his cinematic interpretation of King's beloved GERALD'S GAME. Starring Carla Gugino and Bruce Greenwood, GERALD'S GAME delivers pitch-perfect performances in a faithful adaptation where the horrors of the mind are much worse than what's in front of you.

Thanks to Dimitris Tso
Posted: August 8, 2017, 23:03:08
Fantastic Fest, the annual genre cinema bonanza in Austin, Texas, and the largest film festival of its kind in the United States, is doubling down on Stephen King mania in its 2017 edition with Netflix's highly anticipated Gerald's Game and a feature adaptation of the author's horror novella 1922. Both King projects were announced Tuesday in the first wave of Fantastic Fest's 2017 programming lineup.

Source: LA Times.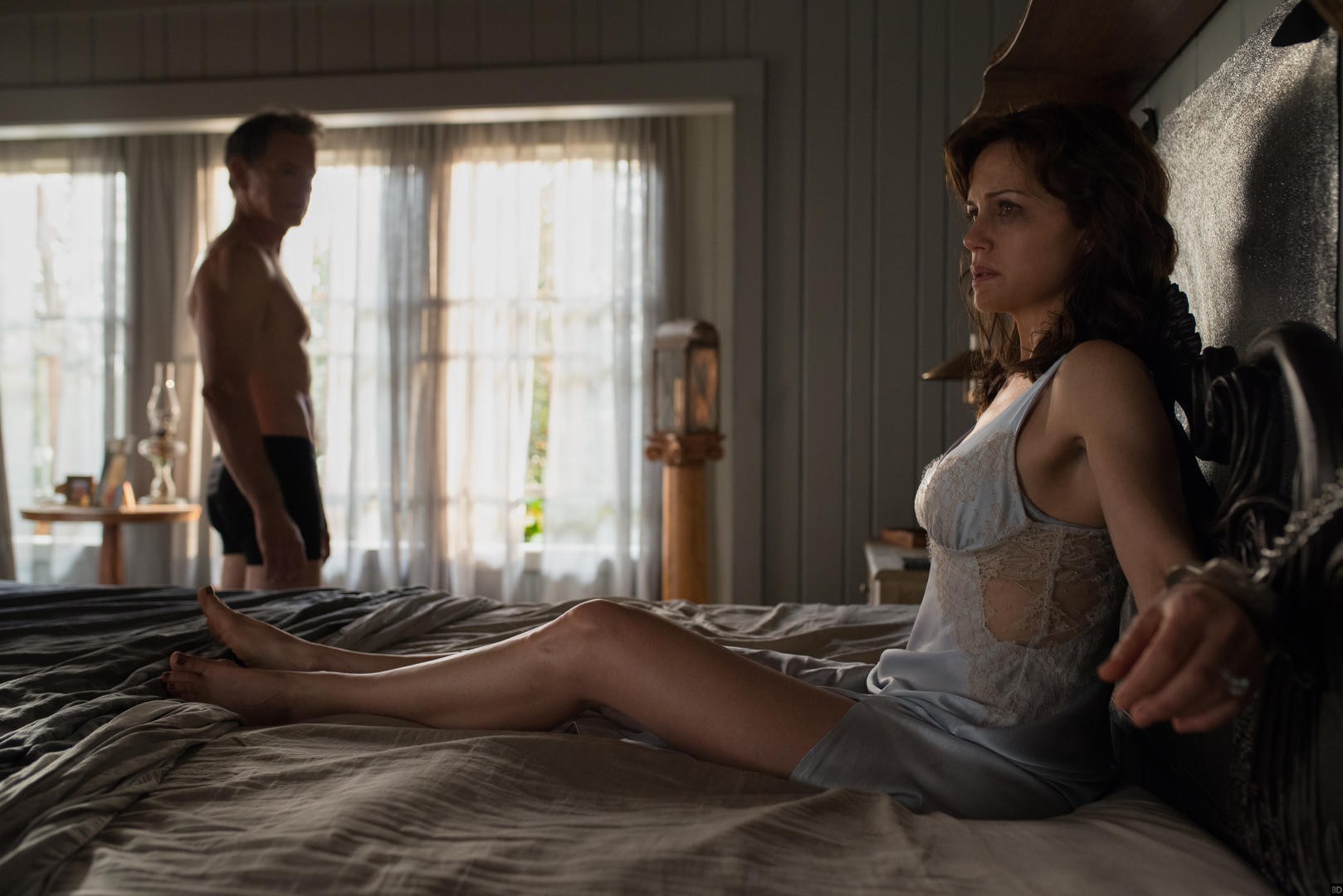 Thanks to Dimitris Tso
Posted: June 26, 2017, 05:40:13
Mike Flanagan confirms that Netflix won't release Gerald's Game on DVD or Blu-ray.
Posted: May 14, 2017, 01:00:16
Here is an interesting interview with Mike Flanagan where he talks about Gerald's Game and other movies.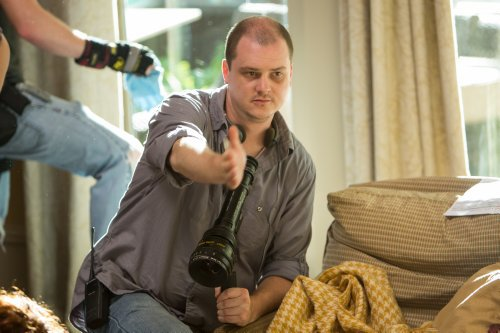 Thanks to Giorgia Camilla Stella
Posted: April 13, 2017, 01:11:26
Trevor Macy talks Gerald's Game in this interview.


Is it safe to say that even though it may not be a page-for-page adaptation, that it does keep that same tone from the book that worked so well?

Trevor Macy: It's a very faithful adaptation in that way, it's just that there's a—I don't mean to be too cryptic, but I don't want to give it away [laughs]. There's a storytelling device that we use that the book doesn't. It's really nice to get Stephen King's support in doing that, even at the script stage, so he feels and we feel that it's a very faithful adaptation.

Read the full interview
here
.
Thanks to Dimitris Tso
Posted: March 16, 2017, 00:29:19
King did a book signing at a bookstore in Sarasota on Wednesday. While there he talked about the upcoming Netflix adaptations Gerald's Game and 1922:


Netflix will also make two films adapting his novel "Gerald's Game" and novella "1922," both of which King has seen and said are terrific.
"And I've seen 'It' the film, and that's terrific," King said. "And I've seen 'The Dark Tower' and that's terrific."

This indicates that both movies are pretty much done…at least in rough cuts.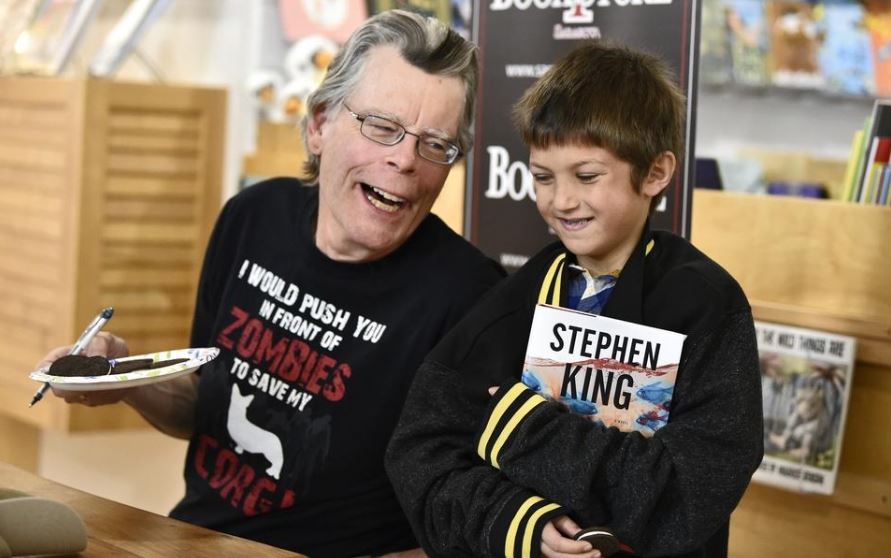 King also talked about his upcoming collaboration with his son Owen:

The story takes place in a world where all women have fallen asleep in a cocoon-like gauze and turn feral and violent if awoken, leaving men to themselves. King and his son had initially considered making a limited television series out of the premise, but believing that would bring too many other people into the process, spent two years writing it as a novel together.
"The way that it worked was we went back and forth, like tennis, like the book is the ball," King said. "I'd have it for three or four weeks and he'd have it for maybe three or four weeks or maybe a little bit longer. He's a slower composer than I am, but he's very, very good — very sharp, very funny."

Read more
here
.
Posted: February 11, 2017, 10:08:37
King has seen Gerald's Game and he like it!


Posted: February 5, 2017, 13:49:40
Mike Flanagan talked Gerald's Game with Dread Central.


"We're in post right now, and I'm so, so excited about this one," Flanagan tells us. "Carla and Bruce [Greenwood] were both amazing – it really is some of the best work I've ever seen from either of them. This has been a dream project for a long time, and I'm thrilled to report that it exceeded even my expectations. I can't wait for it to get out into the world."

Thanks to Lou Sytsma
Posted: January 31, 2017, 11:27:59
Here is a short interview with Carla Gugino about her role as Jessie in Gerald's Game.


"It was one of the hardest, most challenging shoots I've ever done, which is saying a lot," said Gugino about the project. "It's one of the most fulfilling things I've done," she continued. "I love this woman…you're dealing with something that has elements of horror, but also is really more of a thriller, in the vain of a Misery. And she is also dealing with this childhood sexual trauma with her father, and those are all tricky tones to find together."

Netflix has not yet set a premiere date for the film.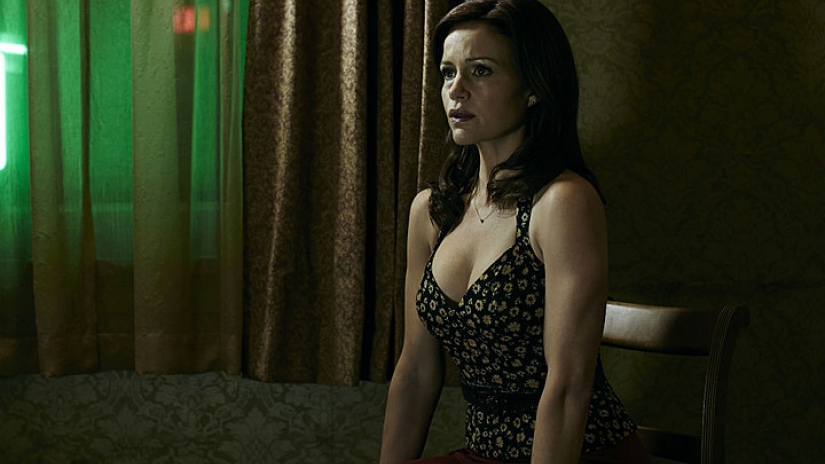 Read the entire interview
here
.
Thanks to Lou Sytsma
Posted: January 28, 2017, 11:37:25
In this podcast from mid-2016 Mike Flanagan talk a bit about Gerald's Game (nothing really new though).

If you just want the Gerald's Game part it starts at 2.24 in but Mike has a lot of interesting stuff to say before that as well so I recommend you to listen to the whole episode.

Thanks to Herbert West
Posted: December 2, 2016, 22:21:04
Looks like Gerald's Game Might be released early 2017.

Netflix will probably release "Gerald's Game" in the spring. Mr. Flanagan said the service may want to give it some festival exposure before offering it to subscribers.

Read more here.

Thanks to Dimitris Tso
Posted: November 14, 2016, 11:39:47
Gerald's Game has wrapped filming.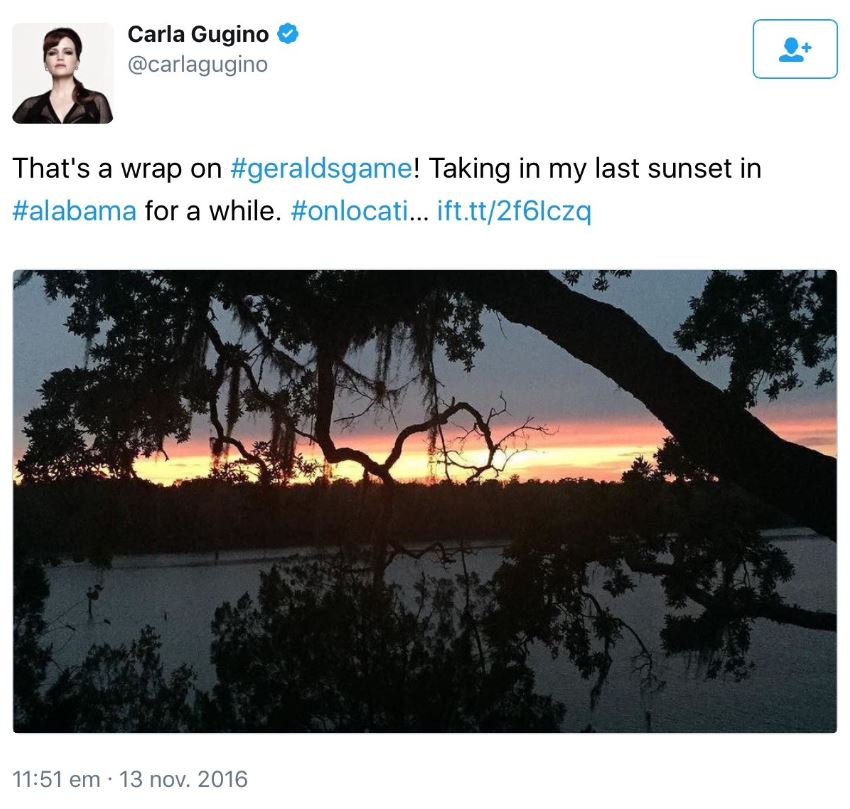 Thanks to Dimitris Tso
Posted: November 7, 2016, 14:02:32
Only one week of principal photography left on Gerald's Game.



Thanks to Dimitris Tso
Posted: November 1, 2016, 14:17:57
Carla Gugino and director Mike Flanagan on set of Gerald's Game.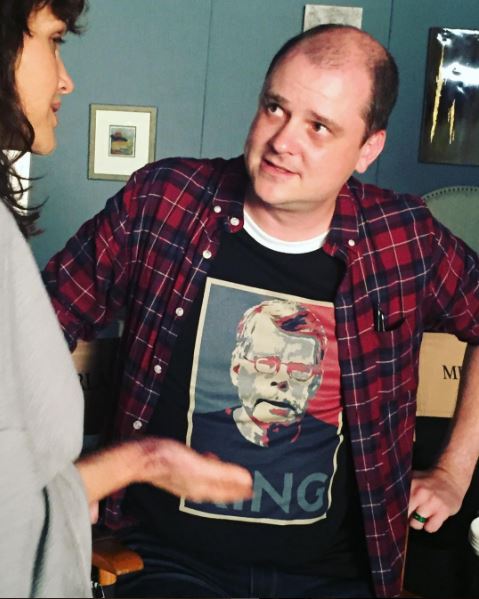 Thanks to Dimitris Tso
Posted: October 31, 2016, 12:28:10
Here are two photos from the set of Gerald's Game.


Posted: October 27, 2016, 23:43:13
Mike Flanagan reports on Twitter that he is 9 days into shooting Gerald's Game.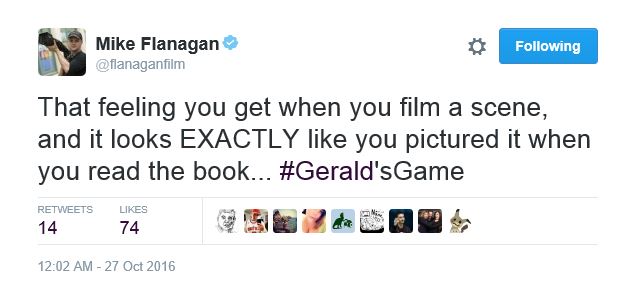 Thanks to Dimitris Tso
Posted: October 20, 2016, 08:54:50
Gerald's Game will be shot "90-percent in downtown Mobile.


Downtown Mobile is in for a fright greater than even the best Halloween revelers could muster, as the district will play home to the set of a Stephen King novel's film adaptation.

Executive Producer D. Scott Lumpkin, a Fairhope resident, confirms the project will be shot "90-percent in downtown Mobile."

"We are shooting Gerald's Game entirely in Alabama. From last week through the middle of November," Lumpkin, says via e-mail.

Gerald's Game is scheduled to forego a release in theaters, instead debuting as a Netflix Original.

Read more
here
.
Thanks to Dimitris Tso
Posted: October 18, 2016, 15:36:58
Gerald's Game is now shooting.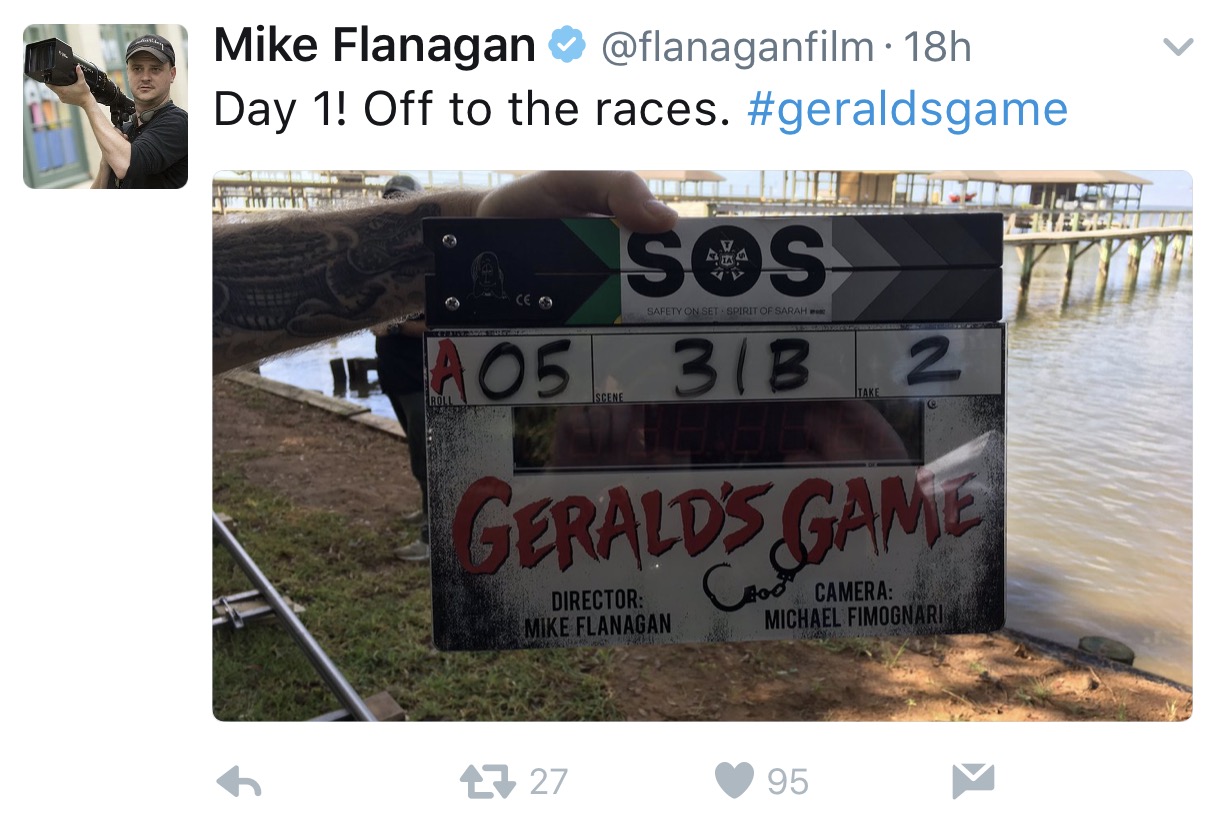 Thanks to Dimitris Tso
Posted: October 17, 2016, 23:13:43
Looks like we have our Gerald and Jessie for Gerald's Game.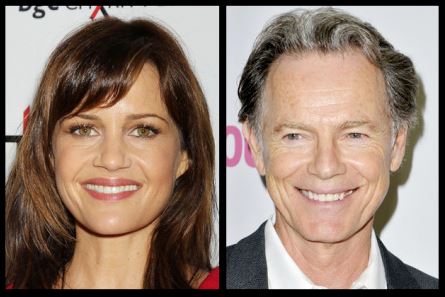 Carla Gugino and Bruce Greenwood have been set to star in Gerald's Game, an adaptation of the Stephen King 1992 bestselling novel that Mike Flanagan will direct from a script he wrote with Jeff Howard. Netflix will release globally.

Also in the movie are Henry Thomas, Carel Struycken, Kate Siegel, and Chiara Aurelia.

Thanks to Lou Sytsma.
Posted: September 6, 2016, 12:14:35
It's been a while since we heard anything about an Gerald's Game adaptation (back in 2014 to be more exact) but Mike Flanagan is still determine to make it happen. Rue Morgue recently spoke to Mike…


With OUIJA: ORIGIN OF EVIL ready for its October release, director Mike Flanagan is confident that his long-mooted adaptation of Stephen King's novel GERALD'S GAME will get off the ground next. And he's committed to doing right by the book—about a woman left handcuffed to a bed in a remote cabin after a sex romp with her husband goes awry—knowing that the track record of King movies has been the definition of uneven.

Read the entire interview
here
.
Thanks to Herbert West
Posted: June 2, 2015, 23:59:39
A couple of interesting tidbits came out of George A. Romero's Wizard World St. Louis Q&A last week.


Nobody will make his Stephen King movie adaptations

"...we haven't been able to sell 'The Girl Who Loved Tom Gordon' to anybody. I have been working on that, and recently wrote another draft of that, but nobody wants to do that. We can't get anyone interested. That and 'Gerald's Game.' Those are the two I was interested in, but we can't get anyone."

Romero adapted King's 1999 novel "The Girl Who Loved Tom Gordon" with an eye on Dakota Fanning to star, but the adaptation stalled out because, according to Romero, "Hollywood thought the story was 'too soft,' especially with my name attached to it..." (October 2005 interview with Bloody-Disgusting). As for "Gerald's Game," "Oculus" director Mike Flanagan was reported to have signed on to write and direct a film adaptation in May of last year, but no news has been reported since.

Posted: August 8, 2014, 12:02:55
Mike Flanagan talks Gerald's Game in this interview with Fangoria.
Posted: May 18, 2014, 22:00:41
Here are some breaking news from Cannes, found on Deadline

Cannes: Stephen King Novel 'Gerald's Game' To Be Adapted By 'Oculus' Helmer Mike Flanagan And Intrepid Pictures.

Oculus and Somnia director Mike Flanagan has geraldcommitted to next helm Gerald's Game, based on the bestselling novel by Stephen King. Flanagan wrote the script with his writing partner Jeff Howard. Trevor Macy and his Intrepid Pictures banner will produce, as he also did on Flanagan's two horror films.
Posted: October 31, 2006, 19:38:45
Seems Gerald's Game might be up for the movies...


Craig R Baxley (Kingdom Hospital, Storm of the Century) hopes to direct a film version of Stephen King's 1992 Gerald's Game starring Nicole Kidman, adapted by King himself.

Thanks to Bev Vincent
Posted: February 8, 2000, 23:09:00
King has plans to write and direct an adaptation of Gerald's Game. This is what King himself said about it in an interview in NEW YORK POST:


"I'd like to direct again, because I'd like to get it right. I don't know, but maybe that hope for perfection - in whatever - is what really drives me. It's a scary thought, isn't it?"