NEWS - THE MIST
Posted: May 26, 2017, 13:39:01
Here are some photos of Spike's beautiful press kit for The Mist.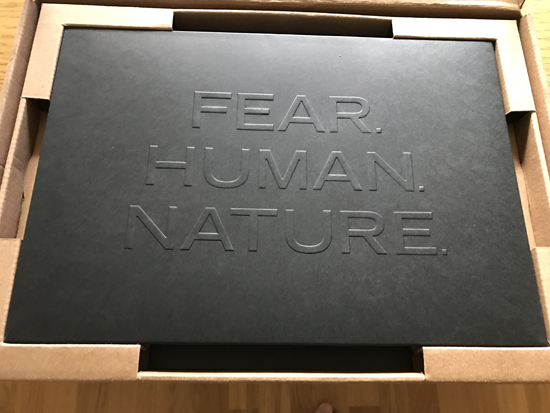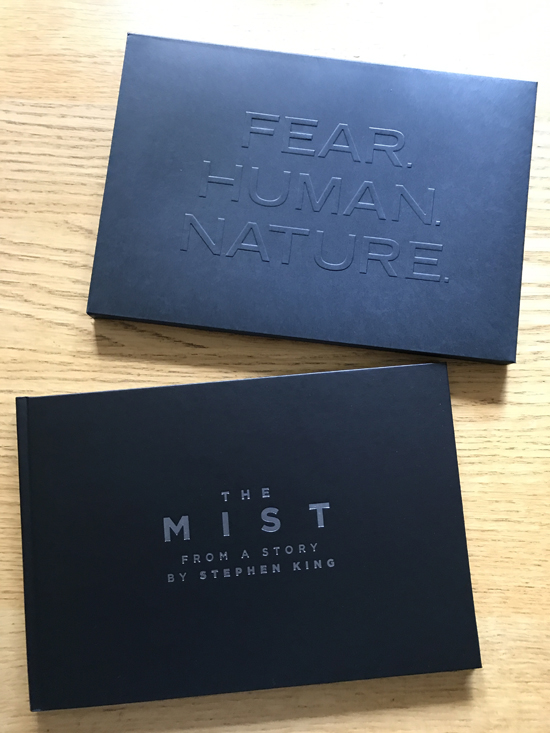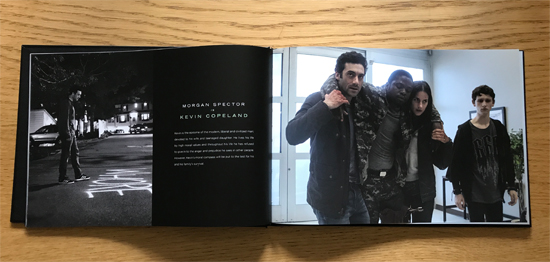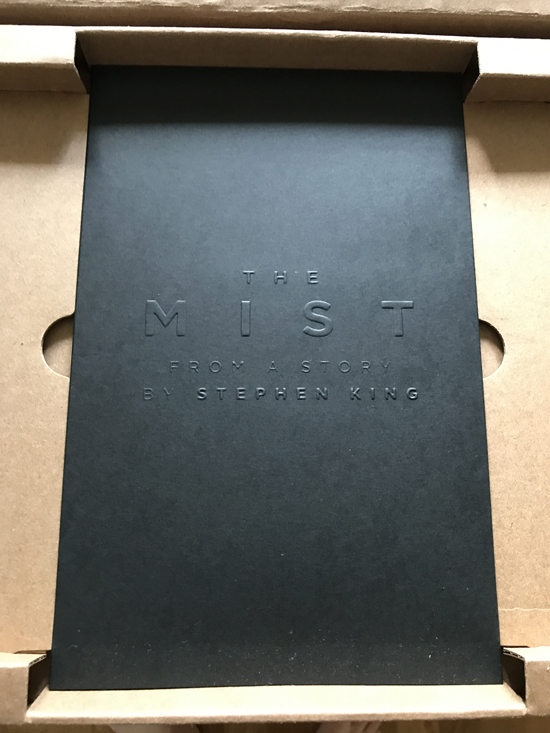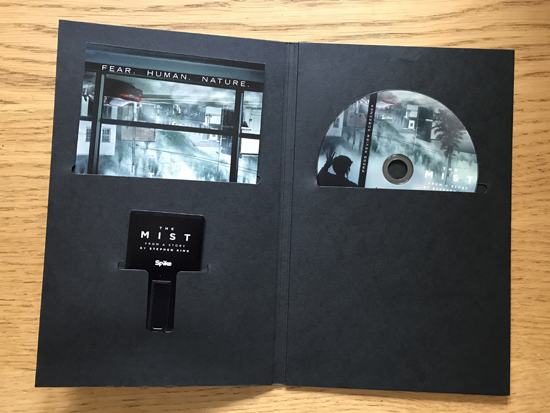 Posted: May 25, 2017, 20:01:00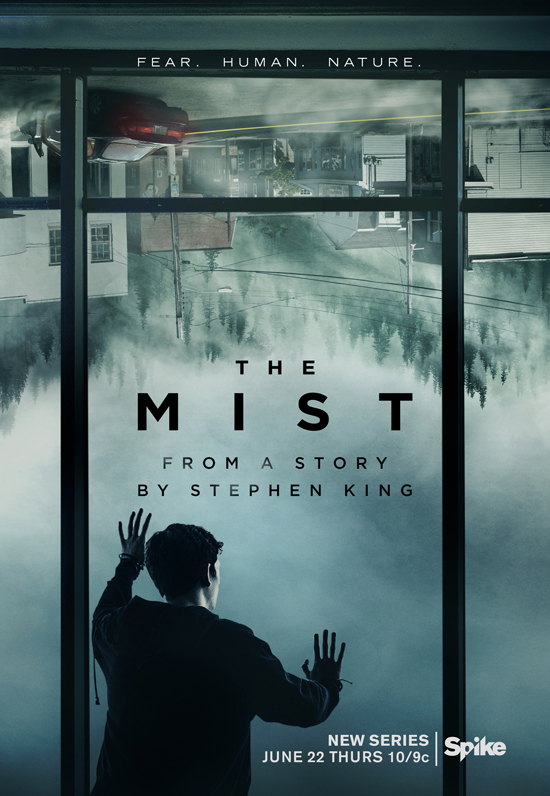 Here is my review (pretty spoiler free) of the first episode of The Mist TV series. It premiers June 22 on Spike.


The Mist is here! The TV series that is. And let's start with the elephant in the room. Is it a straight adaptation of King's story?

Posted: May 24, 2017, 12:11:41
Here is a clip from the cast of The Mist in which they talk about how they have been influenced by King and his work. The Mist premiers June 22nd but already tomorrow you can see what I think about the pilot. Check back then.


Posted: May 22, 2017, 16:35:22
Go behind The Mist. There are spoilers, so watch it carefully if you want to remain surprised when the series premieres on June 22.


Posted: May 16, 2017, 15:30:21
The Mist will be out as an eBook next week (May 23) with a TV series cover. Get your copy here.


Posted: May 8, 2017, 08:22:14
Here is a second trailer from The Mist and if you think there was to little gore and blood in the first...well, then you're going to like this one!


Posted: May 5, 2017, 19:54:58
OK, the weekend is here. You're at home taking it easy after a week's work. What could be better than having a Stephen King trailer Marathon? Or at least 7 minutes of trailers? I guessed so. Here you go: The Mist (June 22), The Dark Tower (August 4) and IT (September 8).








Posted: April 25, 2017, 13:55:00
Okezie Morro is putting some finishing touches with ADR on The Mist.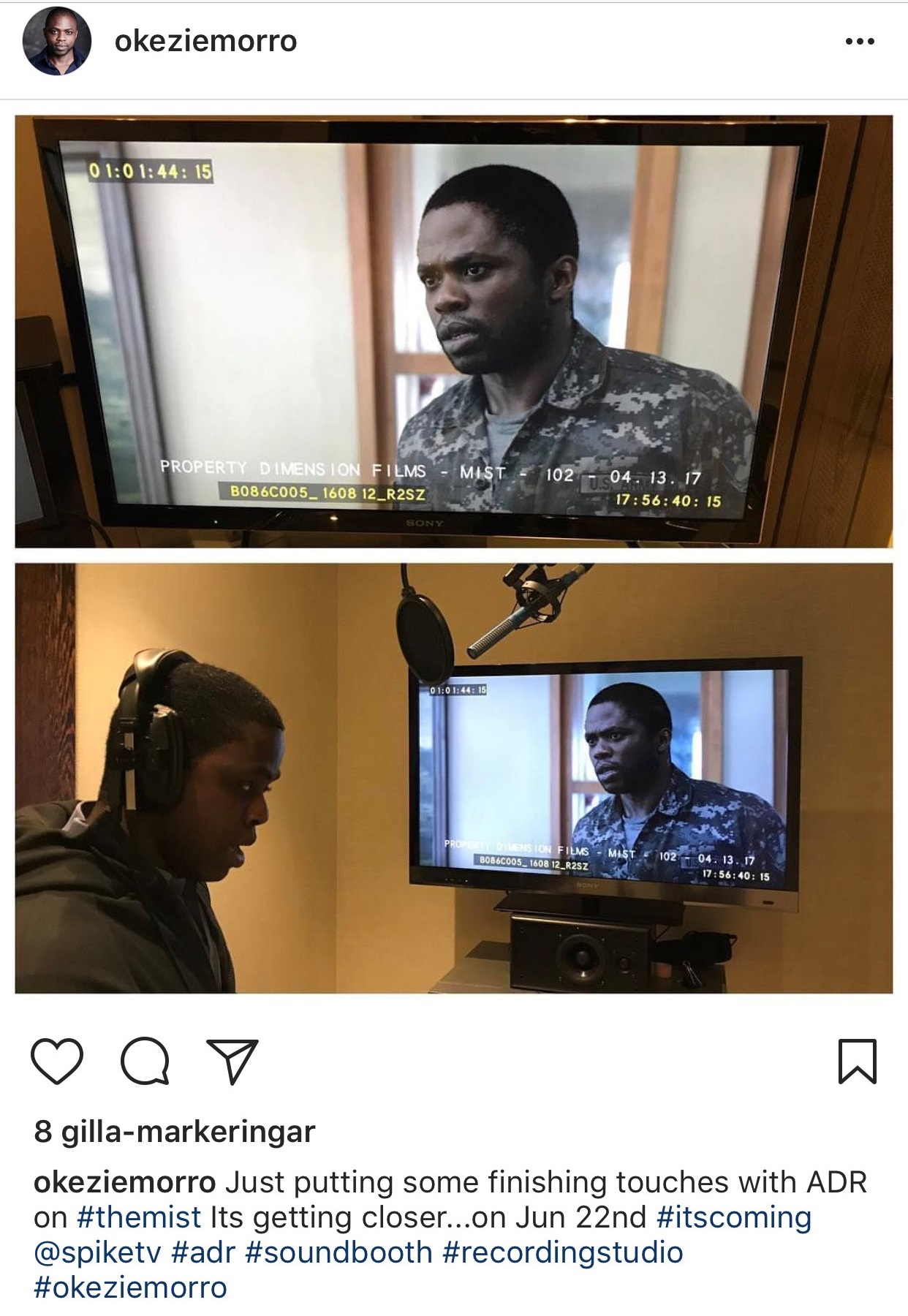 Posted: April 12, 2017, 15:01:27
Head over to Entertainment Weekly for loads of info about the upcoming The Mist TV series.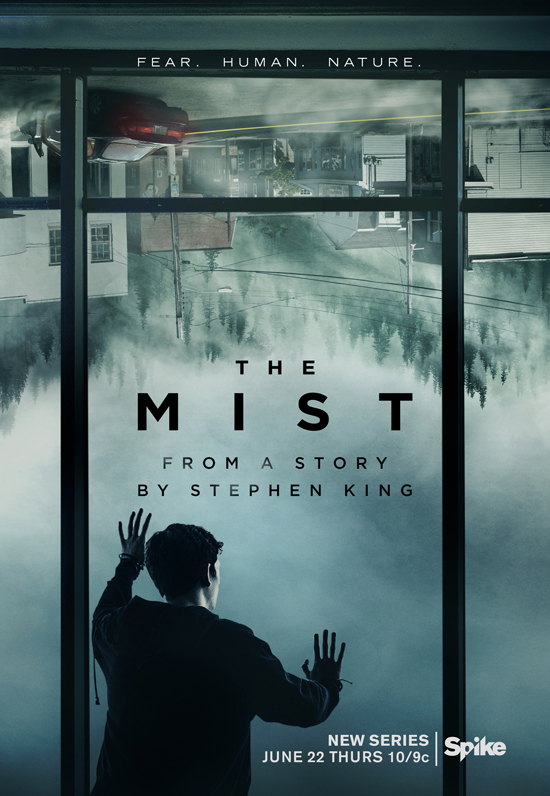 Here is how Christian Torpe sees it:


"I pitched it as 'Ingmar Bergman's Jaws,'"

"I wanted to be respectful to the source material, but my feeling was there was already a great adaptation out there by Frank Darabont. The novella is 200 pages and one location, and we needed to change that to make an ongoing series. But we wanted to remain faithful to the heart of the story,"

The TV series will be different compared to King's story and Darabont's film. It will be it's own but at the same time remain faithful to the heart of King's story.

While the series will try to establish a different story from the King novella and the Darabont movie, Torpe did hint at some possible crossover later in the show. "It's a weird cousin to the original material," he says. "It has a constant ebb and flow communication with the novella. But who knows? Maybe some of the original characters will make a cameo at some point."
For him, The Mist serves as a chance to use a horror story to explore real life dynamics, much as The Twilight Zone did decades ago.

Posted: April 12, 2017, 01:11:34
Here are the poster for The Mist as well as a bunch of official photos. If you want to know more about it, check out my review with Christian Torpe, the shows creator, executive producer and showrunner here.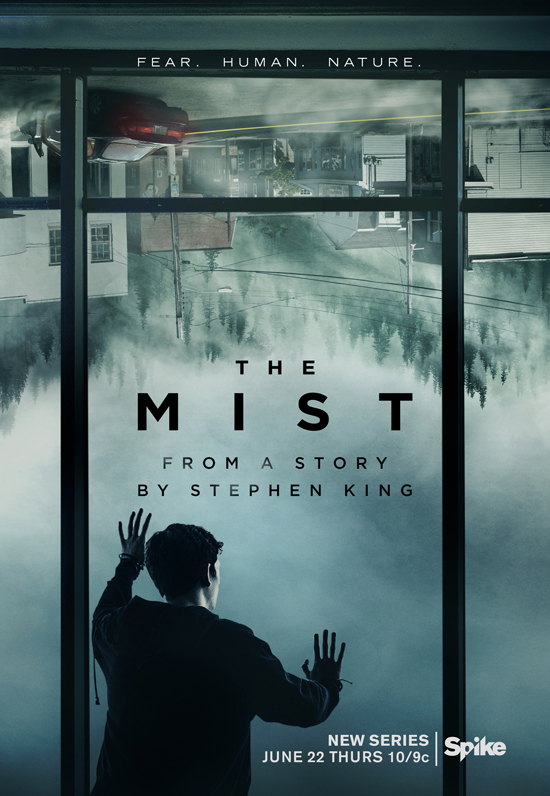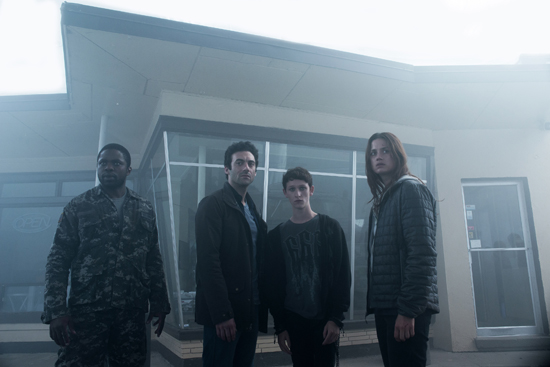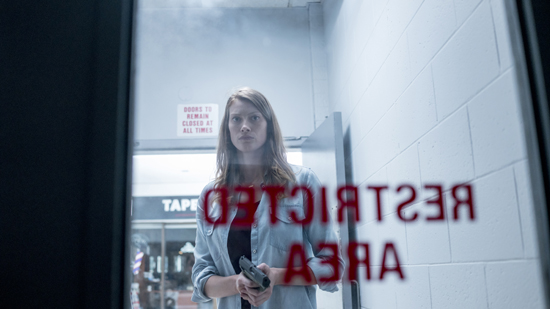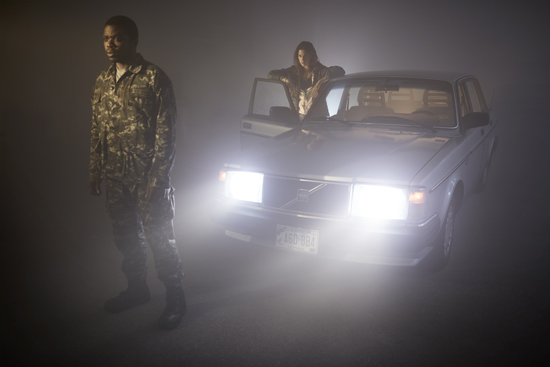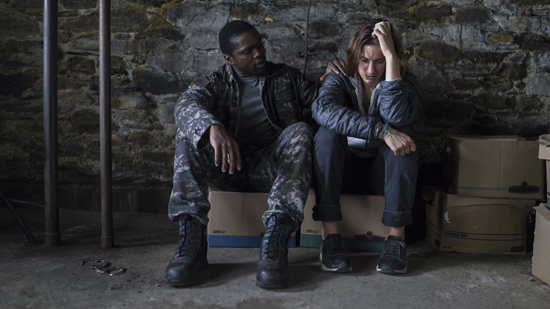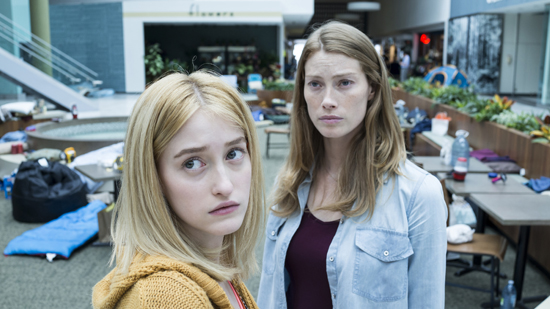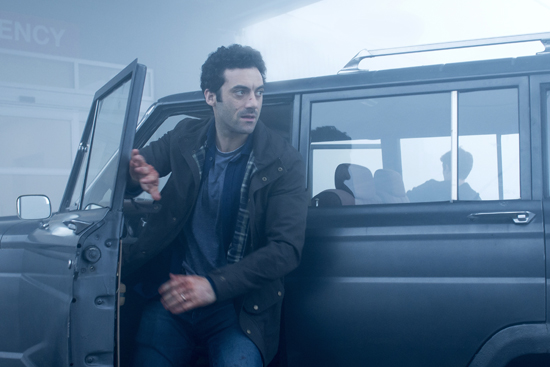 Posted: April 12, 2017, 00:37:18
Here is a first teaser for Spike's The Mist.


Posted: February 17, 2017, 12:58:29
Okezie Morro in the sound booth for some additional dialogue recording for The Mist. He also mentioned that he got a sneak peek of episode 5 & 7 and liked what he saw...

The Mist premiers June 22 on Spike.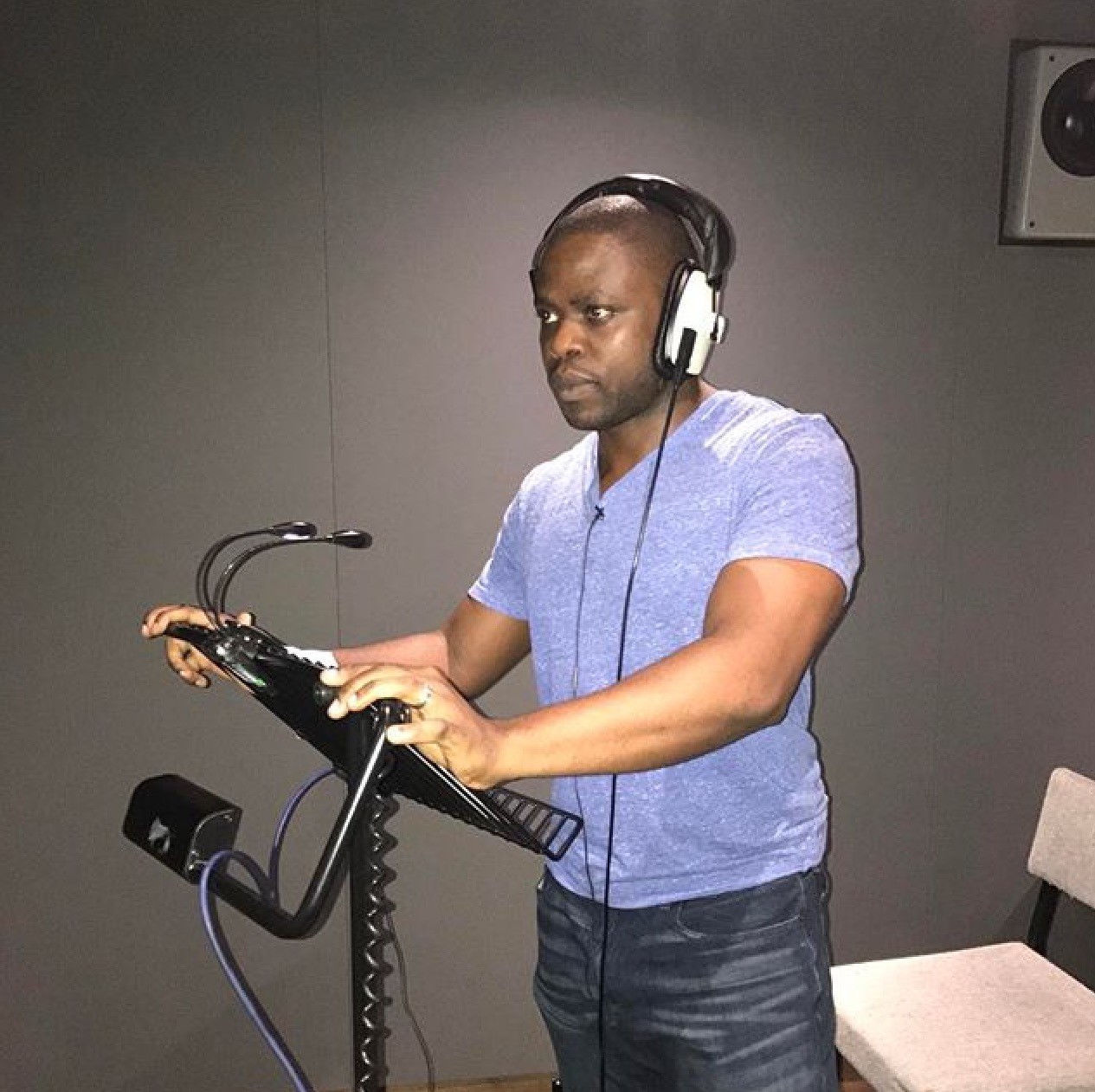 Posted: January 16, 2017, 08:46:30
Dread Central had the following to report about the plot of The Mist.


We also now have a better idea of the first season's structure and who's who… There will be multiple scattered groups struggling to survive the Mist. Alyssa Sutherland plays a mother who gets trapped in a mall with her daughter and her daughter's rapist; Morgan Spector plays the father of Sutherland's daughter, who is stuck in a different location from the rest of his family; Okezie Morro plays a man with amnesia struggling to find allies; and Frances Conroy plays a woman whose ideas regarding the origin of the monstrous Mist will lead to great conflict within her small community of survivors.

Posted: January 16, 2017, 00:56:16
Here are a few more photos from The Mist.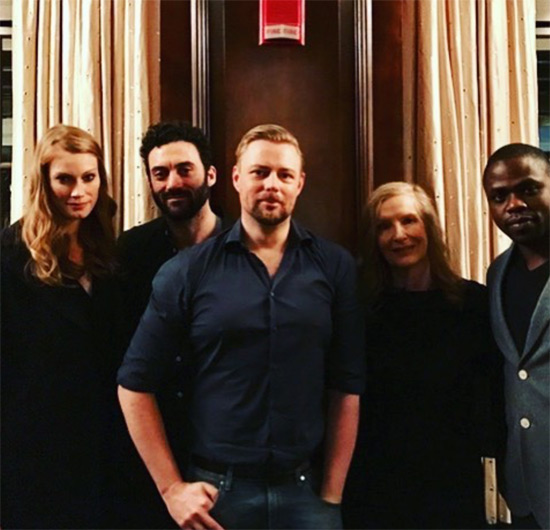 The TCA Press Event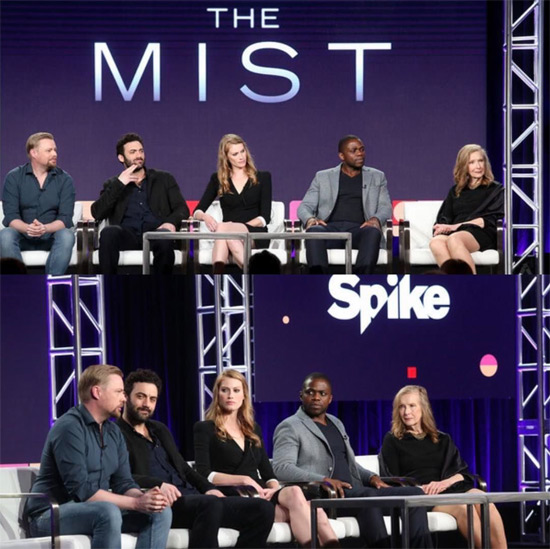 The TCA Press Event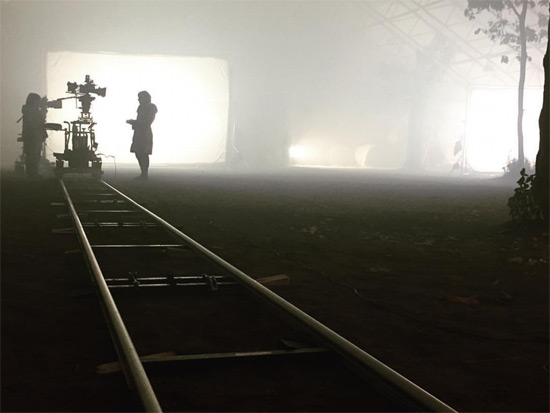 Behind the scenes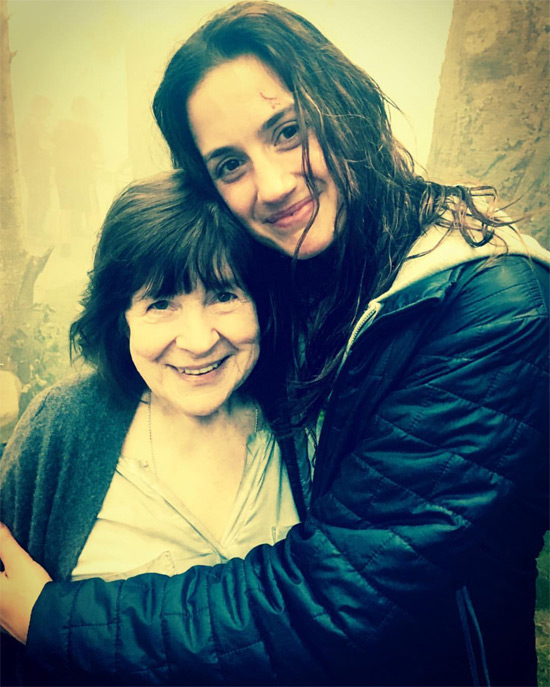 Danica Curcic and Mary Louise Burke

Posted: January 14, 2017, 23:12:45

The Mist premieres Thursday, June 22 at 10 p.m. on Spike and Nerdist reports that it will take "the Fargo approach".



"It's the same but it's different," Christian Torpe said on a Television Critics Association 2017 winter press tour panel for his new show. "Like a weird, twisted cousin to the original source material. Fans of the movie and of the book and Mr. King's work will certainly see elements from it, and especially if you watch the season in macro perspective there's plenty of parallel. We also, in order to develop it for TV and to turn it into an ongoing series, took our own little detours here and there. Let's call it a parallel story or a cousin to the original one."

The 10-episode series is based on the novella, not the film. Torpe said although he enjoyed both endings, he's come up with his own spin on the story. "I personally loved Mr. Darabont's ending. I thought it was a stroke of genius. We are playing around in that territory," he hinted.

As for the actual mist itself, Torpe has updated the visuals and the powers of the mist to distinguish this story from the previous versions. More than the literal mist, The Mist is a show about fear.

"It really is a very character-driven show. The Mist is, to a certain degree, an existential backdrop and the story is more about how people react to fear and to the threat of what's out there."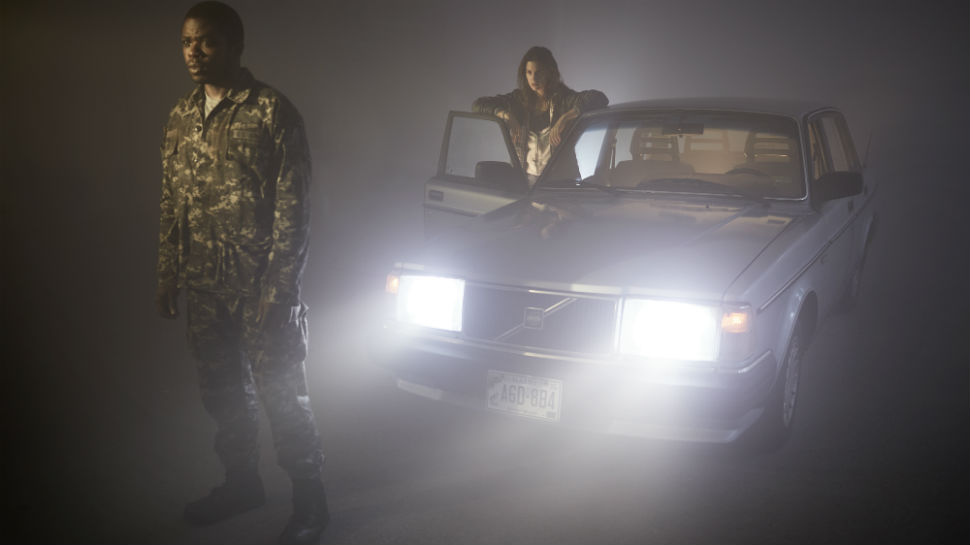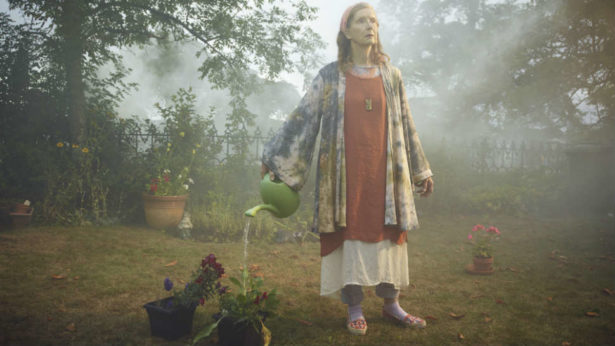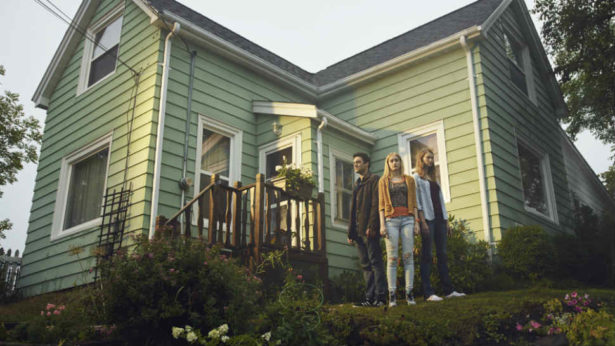 The Mist premieres Thursday, June 22 at 10 p.m. on Spike. For the entire article, head over to Nerdist.



Thanks to Lou Sytsma

Posted: January 10, 2017, 00:49:49

Here is an article about filming The Mist TV series in Halifax. There are also some set photos.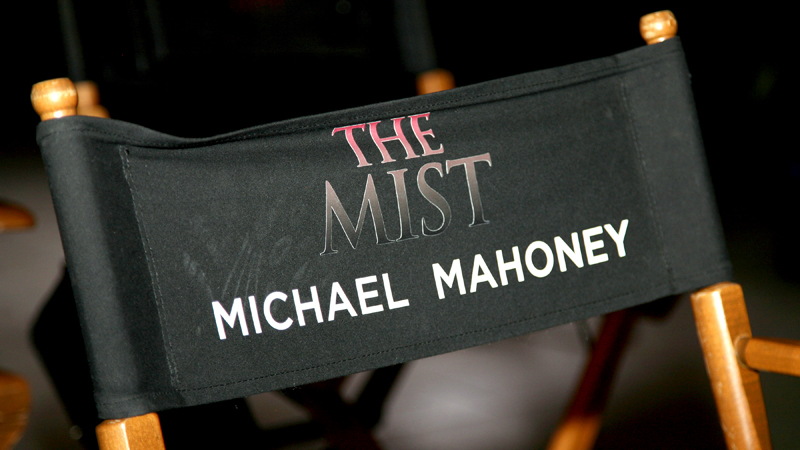 "I think our special effects are really good, I think the story is very good, and I'd like to think it has legs. I'd love for it to go three or four or five seasons. Haven went six."
- - Art director Terry Quennell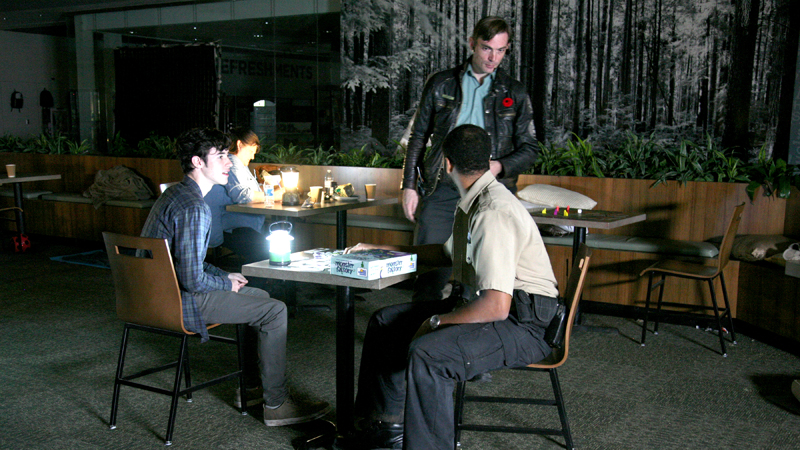 For more photos head over to the article.



Thanks to Lena Hardiman

Posted: December 16, 2016, 09:26:23

Okezie Morro in the booth doing some ADR for The Mist.



Got a little peek of episode 1 & 2 and I'm just a teeny bit excited...Can't wait for you guys to see it!!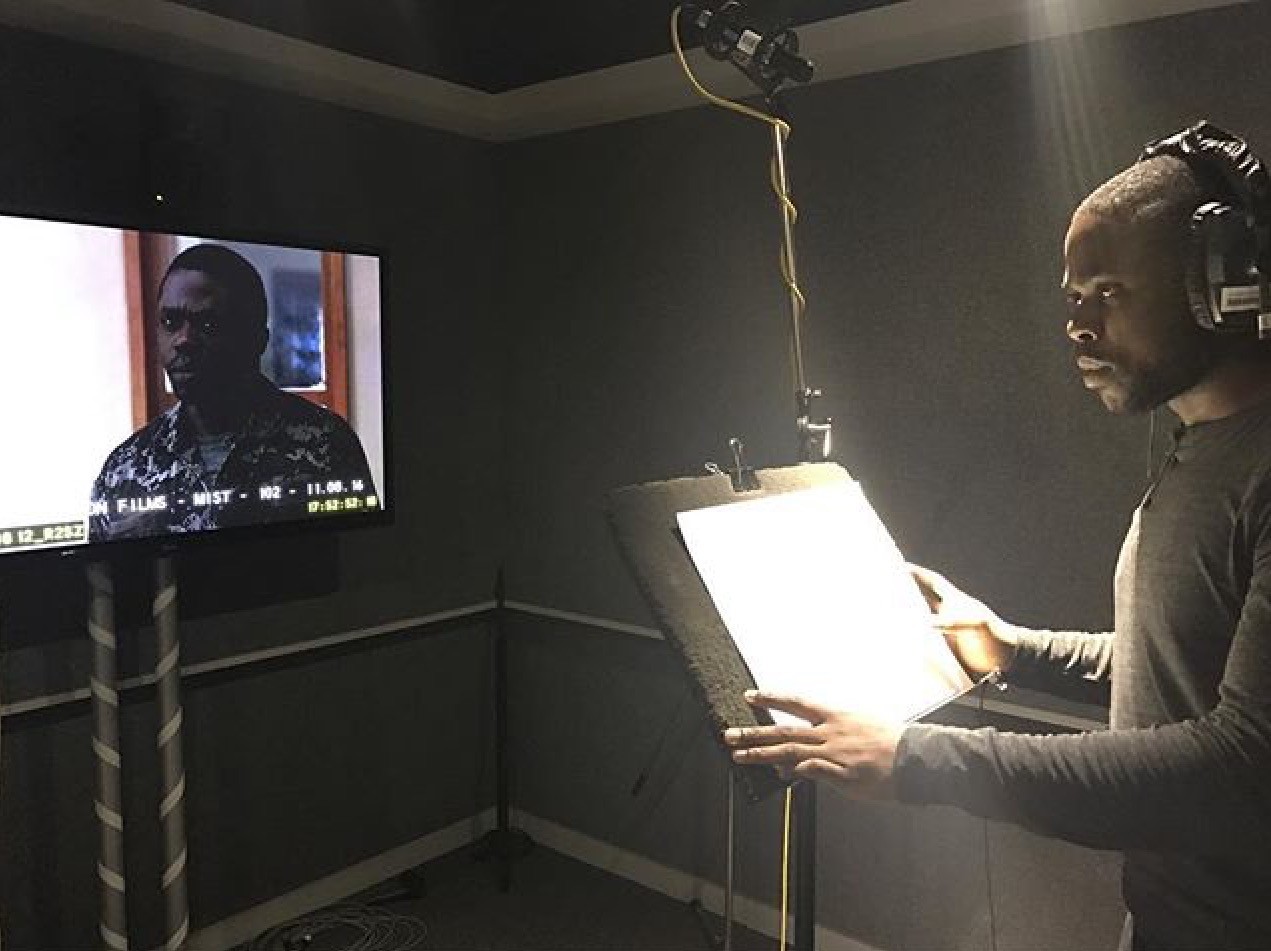 Posted: December 3, 2016, 23:06:47
Here is an interview with Luke Cosgrov who plays Jay in The Mist.

"I'll be heading back to New York in January of 2017 to help promote the show,

This statement indicates that the series may premier early next year...

Thanks to Lou Sytsma
Posted: September 1, 2016, 01:02:38
Here are some photos from the filming on The Mist that I found on Instagram.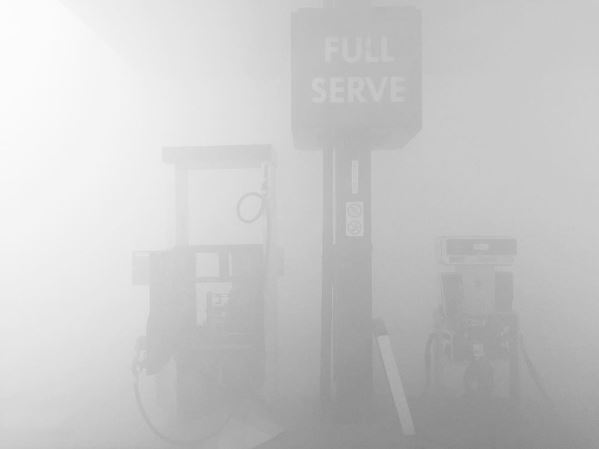 Photos by Morgan Spector who plays Kevin Cunningham in The Mist TV show.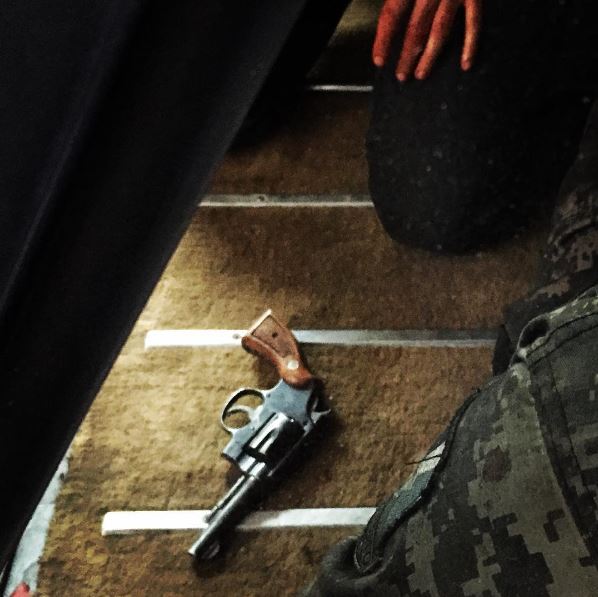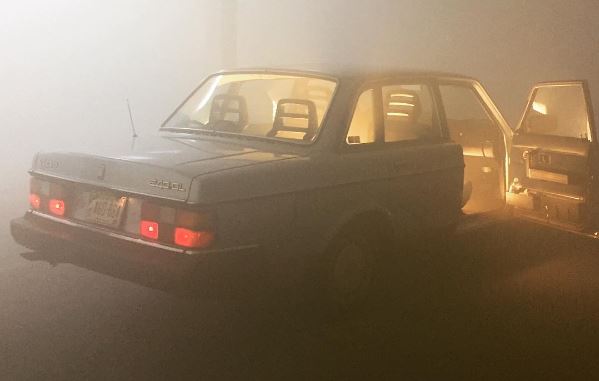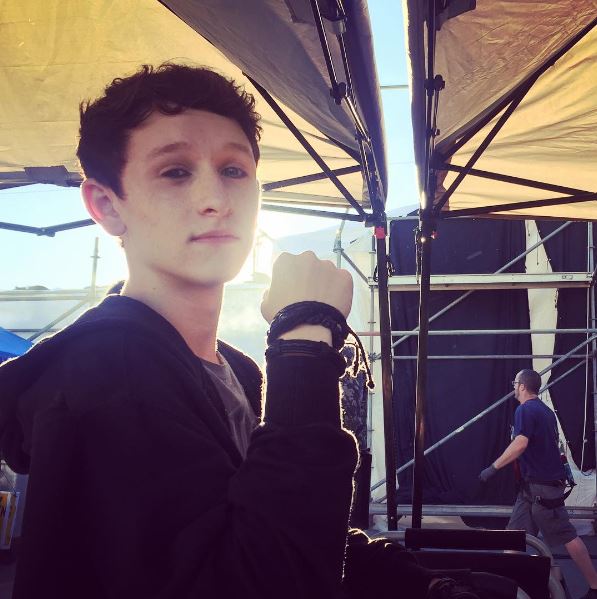 Russel Posner who plays Adrian Garff in The Mist TV show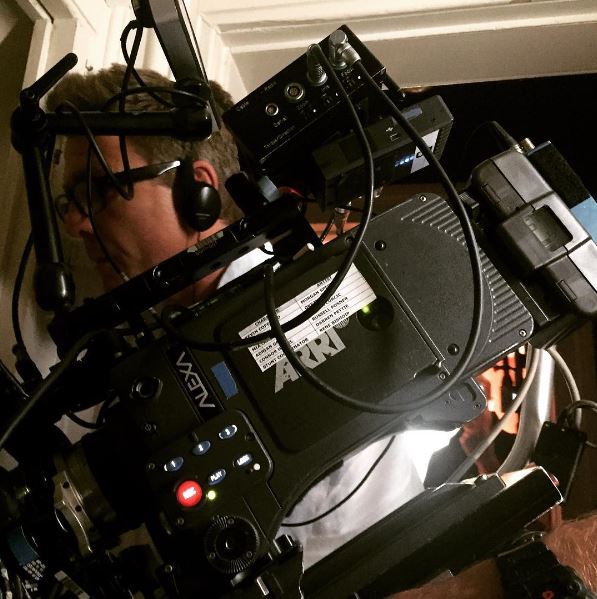 Nick Murphy filming The Mist TV show. Episode 3 rapped on August 29.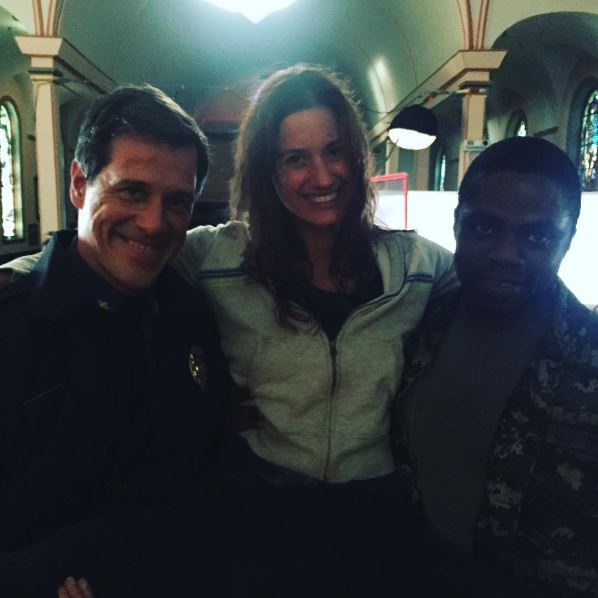 Unknown, Danica Curcic (Mia Lambert) and Okezie Morro (Jonah Dixon) in The Mist TV show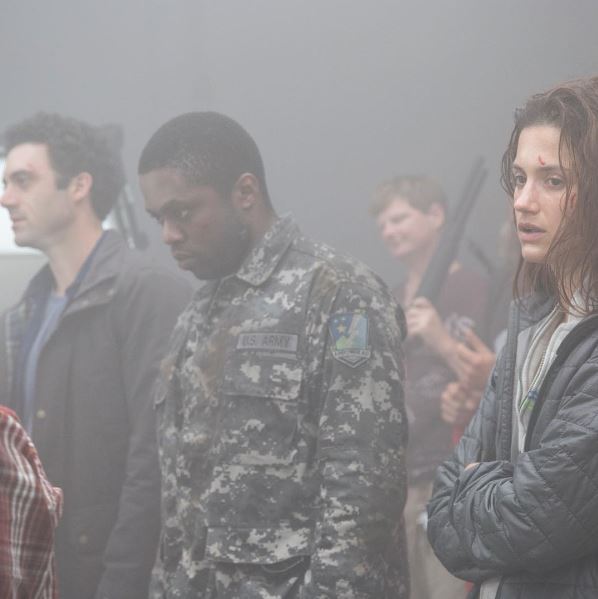 Okezie Morro (Jonah Dixon) and Danica Curcic (Mia Lambert) in The Mist TV show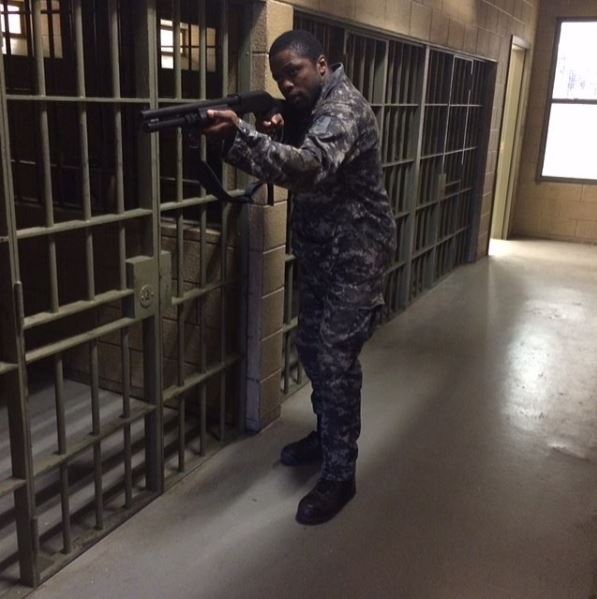 Okezie Morro (Jonah Dixon) in The Mist TV show

Posted: August 30, 2016, 02:32:26

Deadline reports that David Boyd has been hired as producer/director for The Mist.



David Boyd (The Walking Dead) has been hired as producer/director on Spike and TWC-Dimension TV's straight-to-series drama The Mist, based on the Stephen King novella. The series will premiere on Spike in 2017.

Boyd transitioned as a prominent Director of Photography to a sought-after director. He just helmed his eighth episode of The Walking Dead and has directed shows such as Friday Night Lights, Longmire, Sleepy Hollow, Queen of the South and Aquarius.





Thanks to Lou Sytsma

Posted: July 27, 2016, 01:33:45

Here are two photos from the set of The Mist TV series.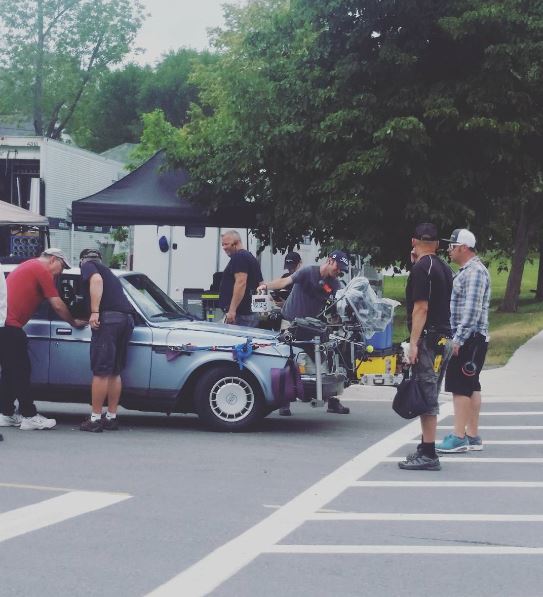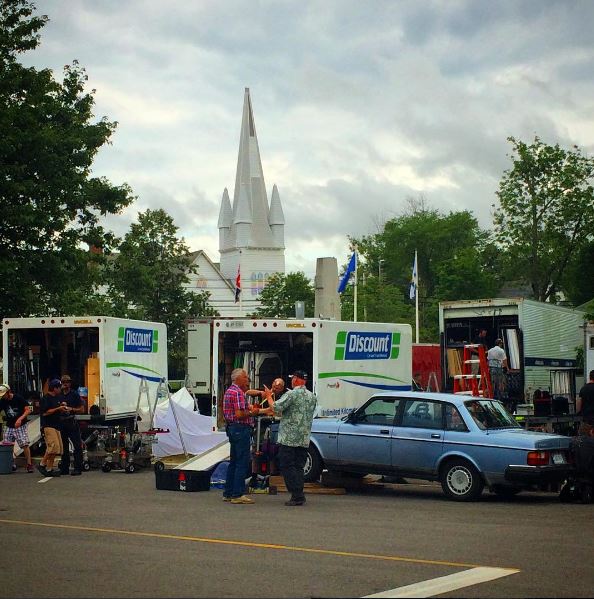 Posted: July 20, 2016, 18:36:38
From twitter


Bedford Place getting a little rebranding while it serves a set for Stephen King's "The Mist"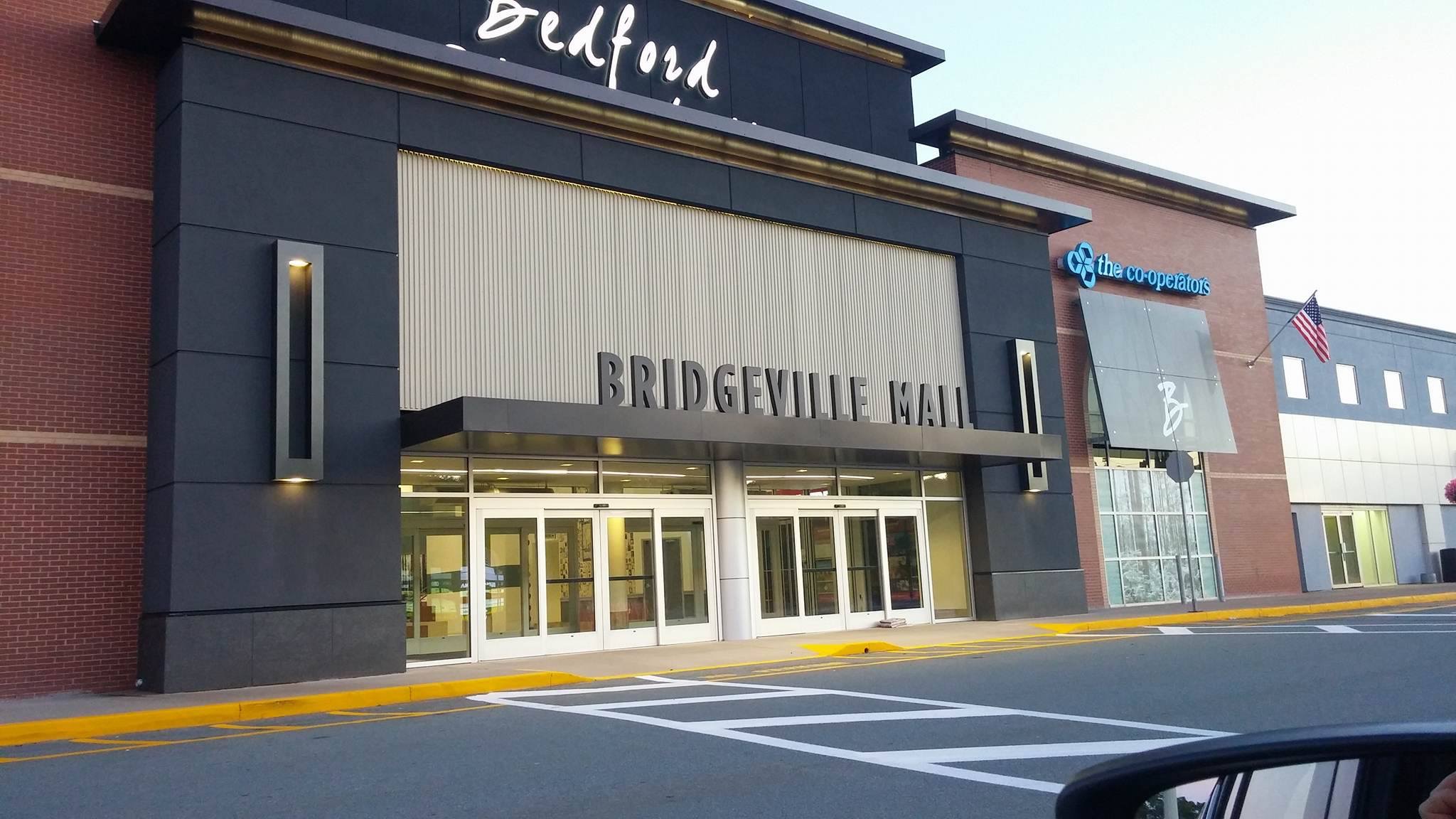 Thanks to Kyle James Baker

Posted: July 18, 2016, 22:25:19

The Mist begins production today in Halifax, Nova Scotia. If anyone lives there and visit the set, please send photos. Here is the press release.





NEW TELEVISION SERIES BASED ON STEPHEN KING'S "THE MIST"
ROLLS INTO NOVA SCOTIA

Produced by TWC-Dimension Television and Magic Rock Productions

Premieres on US Cable Network Spike in 2017



Halifax, NS, July 18, 2016 – "The Mist," a multi-million dollar original television series adapted from the Stephen King novella begins principle photography today in Halifax, Nova Scotia. American cable network Spike TV has ordered 10 hour-long episodes of the series which will premiere on Spike in 2017.

"The Mist" tells the story of a foreboding mist that arrives in one small town ushering in a terrifying new reality for its residents, putting their humanity to the test. What will people do to survive when blinded by fear? The cast includes Morgan Spector, Frances Conroy, Alyssa Sutherland, Gus Birney, Dan Butler, Luke Cosgrove, Danica Curcic, Okezie Morro, Darren Pettie, Russell Posner and Isiah Whitlock, Jr.

"We were intent on finding the perfect location – a place that could double for Maine, where the story is set, and one with an experienced crew base and proven track record that would work to fulfill our other requirements," says Tom Prince, Executive Vice President of Physical Production/Post of TWC-Dimension Television, which is producing the series in conjunction with Halifax-based Magic Rock Productions.

"We intend to see this series develop into a signature show for Spike, and after hearing the pitch for Nova Scotia, we felt confident that the look, feel and the overall attitude of the province were right for this project," says Sharon Levy, Executive Vice President, Original Series, Spike.

The series will be shot mostly in Halifax with some additional shooting in the Windsor area.


Posted: July 17, 2016, 02:11:31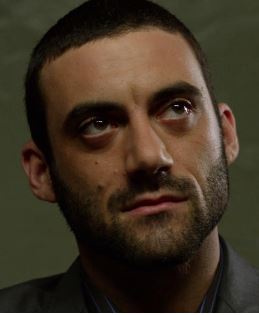 Here are more casting news for The Mist.


New York, NY, July 15, 2016 – Morgan Spector has joined the cast to star in Spike's new scripted original series "The Mist." From TWC-Dimension Television (TV) based on the classic Stephen King novella, "The Mist" goes into production this summer and airs in 2017. The announcement was jointly made today by Sharon Levy, Executive Vice President, Original Series, Spike and Bob Weinstein, Co-Chairman The Weinstein Company.

Morgan Spector will play "Kevin Cunningham," the protagonist of the series. Kevin is the epitome of the modern, liberal and civilized man; devoted to his wife and teenaged daughter. He lives his life by high moral values and throughout his life he has refused to give into the anger and prejudice he sees in other people. However, with the arrival of the mist, his moral compass will be put to the test for his and his family's survival.

Posted: July 13, 2016, 23:29:53
Eight new characters has been cast for The Mist. They are Okezie Morro, Darren Pettie, Russell Posner, Isiah Whitlock Jr., Gus Birney, Dan Butler, Luke Cosgrove, and Danica Curcic. Here are descriptions of their characters.

Okezie Morro:
Morro is Jonah Dixon," a military man with amnesia. He can't remember who he is. As the truth about his identity unravels, shocking secrets will be revealed.

Darren Pettie:
Pettie plays Connor Heisel the local alpha male, town sheriff and father to local football superstar Jay. He struggles to maintain order in an increasingly chaotic and dangerous situation, finding himself up against many who have it out for his accused son.

Russell Posner:
Posner will play Adrian Garff, an insecure young teenager who comes to the defense of his best friend Alex, after she is the victim of a brutal crime. A witness to the crime, he finds himself at the center of a controversy which threatens to rip apart the community.

Isiah Whitlock Jr.:
Whitlock, Jr. is Gus Redman, a local mall manager. When a new society forms from the mist survivors at the mall, Gus will have to decide if he will take the role of leader and exactly how far he will go to keep order.

Gus Birney:
Birney plays Alex Cunningham, the teenage daughter of Kevin and Eve Cunningham. She's always been the 'good daughter,' but her over-protective mother helps to kick-start a rebellious streak.

Dan Butler:
Butler is Father Romanov, a priest who is caught in between modernity and tradition, he has lost his faith but clings to the ritual.

Luke Cosgrove:
Cosgrove is Jay Heisel," a popular local football superstar and the son of the town sheriff who finds himself accused of a heinous crime.

Danica Curcic:
Curcic plasy Mia Lambert, a drug-addicted woman on the run and in search of a mysterious stash of money.

Thanks to Lou Sytsma
Posted: July 13, 2016, 08:36:36
Alyssa Sutherland will play "Eve Cunningham," in The Mist. A wife and mother who fights to protect her teenage daughter from unknown dangers lurking both inside and outside the mist while facing down her past. She joins Frances Conroy, who was previously announced as playing "Nathalie," a modern day ecological martyr.








ALYSSA SUTHERLAND ROLLS IN FOR SPIKE AND TWC-DIMENSION TELEVISION'S
"THE MIST"

Scripted Series Based On Classic Stephen King Novella Set to Begin Production In July

10-Episode Series Debuts on Spike in 2017



New York, NY, July 12, 2016 – Alyssa Sutherland has joined the cast of Spike's new scripted series "The Mist." From TWC-Dimension Television (TV) based on the classic Stephen King novella, "The Mist" goes into production this summer and airs in 2017. The announcement was jointly made today by Sharon Levy, Executive Vice President, Original Series, Spike and Bob Weinstein, Co-Chairman The Weinstein Company.

"The Mist" tells the story of a foreboding mist that arrives in one small town ushering in a terrifying new reality for its residents, putting their humanity to the test. What will people do to survive when blinded by fear?

Sutherland will play "Eve Cunningham," Sutherland will play "Eve Cunningham," a wife and mother who fights to protect her teenage daughter from unknown dangers lurking both inside and outside the mist while facing down her past.

Alyssa Sutherland currently stars on History's breakout historical drama series, "Vikings," as Queen Aslaug. Before joining the cast of "Vikings," Sutherland appeared in several independent films including "The Fortune Theory," "Don't Look Up," and "Day On Fire" with Olympia Dukakis, which screened at the Toronto and Berlin Film Festivals. On the small screen, she has appeared on NBC's "Law & Order: Special Victims Unit" and Fox's "New Amsterdam." A native of Brisbane, Australia, Sutherland began modeling at the age 15 before starting her acting career. Sutherland is represented by UTA and Untitled.


Posted: June 27, 2016, 15:25:50

Is the The Mist set to start filming next month?



Last April, Spike TV announced that production for the original scripted series was beginning this summer and slated to air in 2017.

Two sources close to the production said Wednesday (June 22) that filming is expected to begin next week in the empty Target store in Bedford.

The Bedford Place Mall building will reportedly be used as studio space for the harrowing series.

The Target store has been shuttered since April 2015, when the American retailer closed down all of their 133 Canadian locations after failing to crack the Canadian market.

On Wednesday, there were no obvious signs of TV production but a RONA employee said their store and other surrounding businesses received a notice last week about the filming of a television series.

The employee said the notice indicated production will begin in July and be filmed over a six-month period. A portion of the back parking lot of the mall will be used to park production trailers.

The notice did not disclose the name of the series or the production company. David Schwarz, senior vice-president of communications for Spike TV, said in an emailed statement on Wednesday that production details cannot be confirmed at this time.





Thanks to Lou Sytsma

Posted: June 23, 2016, 22:31:37

Frances Conroy has signed on to star in The Mist.

From the pressrelease:

New York, NY, June 23, 2016 – Frances Conroy has signed on to star in Spike's new scripted series "The Mist." From TWC-Dimension Television (TV) based on the classic Stephen King novella, "The Mist" goes into production this summer and airs in 2017. The announcement was jointly made today by Sharon Levy, Executive Vice President, Original Series, Spike and Bob Weinstein, Co-Chairman The Weinstein Company.

Conroy has been cast in the role of "Nathalie," a modern day ecological martyr. While she is seemingly more connected to nature than most people, her instincts about her fellow humans are dead on. Conroy is best known for playing Ruth Fisher on the television series "Six Feet Under."


Posted: May 6, 2016, 00:30:25

Spike confirms in a press release that The Mist goes into production this summer and airs in 2017.

Posted: May 6, 2016, 00:16:03

Spike TV announced today that Adam Bernstein will serve as Director and Executive Producer for the premiere episode of The Mist. From the Pressrelease:



New York, NY, May 5, 2016 – Adam Bernstein, an award-winning and critically-acclaimed television and film director, will serve as Director and Executive Producer for the premiere episode of Spike's new scripted series, "The Mist." From TWC-Dimension Television (TV) based on the classic Stephen King novella, "The Mist" goes into production this summer and airs in 2017. The announcement was jointly made today by Sharon Levy, Executive Vice President, Original Series, Spike TV and Bob Weinstein, Co-Chairman The Weinstein Company.

Bernstein's extensive resume includes many of the most decorated series on television over the last 15 years including directing the pilots for "Fargo," "30 Rock," and "Scrubs." "His impressive credits also include "Better Call Saul," "Breaking Bad," "Californication," "Shameless," "Bored to Death," "Oz," "Homicide: Life on the Street," and "Entourage." In 2006, he won a Primetime Emmy® Award for Outstanding Comedy Series for "30 Rock."


Posted: April 14, 2016, 21:32:09

The Hollywood Reporter reports that a 10-episode TV show based on The Mist will begin production in the summer for a 2017 debut.



The Mist is coming a lot sooner to Spike TV than the cabler first imagined.

Nearly two months after ordering the Stephen King adaptation to pilot, the Viacom-owned network has handed out a straight-to-series, 10-episode pickup for the drama, The Hollywood Reporter has learned.

Insiders say that the network was so impressed with the series pitch and script that they opted to go straight to series rather than proceed with a typical pilot order.

"Christian and the entire team at The Weinstein Co.-Dimension TV have crafted the framework for a compelling and distinctive series that will resonate with Spike's expanding audience," Spike exec vp original series Sharon Levy said.

Dimension exec vp scripted Megan Spanjian will oversee the series alongside exec vp production and creative affairs Matthew Signer and senior vp production and development Keith Levine. Levy, senior vp scripted original series Ted Gold and senior director scripted Lauren Ruggiero will oversee for Spike.

The Mist marks TWC/Dimension's second scripted series and joins MTV's Scream reboot, with the latter set to debut its second season in May.






Thanks to Rick Urban

Posted: February 25, 2016, 23:16:04

Looks like The Mist is headed for the small screen.



Spike has reportedly ordered a pilot episode for The Mist, which will retain the initial premise of King's 1980 novella by telling the story of a small town consumed by an otherworldly mist while monstrous creatures roam freely. TV veteran Christian Torpe—best known for creating the Danish series Rita—is slated to write and executive produce.



Source: Deadline



Thanks to Douglas Dowie and Ariel Bosi

Posted: September 16, 2015, 23:06:56

Seems like The Mist is being developed as a TV series by Dimension Television...again.



The Weinstein Company's Dimension Television is developing a TV series based on The Mist, first a Stephen King novella and then a 2007 MGM film directed by Frank Darabont. The project, which Dimension says is moving forward with King's blessing, is from writer Christian Torpe, who created the Danish series Rita which is now finishing its fourth season.

The series will tell an original story about a seemingly innocuous mist that seeps into a small town but contains limitless havoc. From psychological terrors to otherworldly creatures, the mist causes the town residents' darkest demons to appear forcing them to battle the supernatural event and, more importantly, each other.

"The terror and drama in Stephen King's novella are so vast that we felt serialized television is the best place to explore them in greater depth," said Bob Weinstein, co-chairman The Weinstein Company and Dimension Films. "With this show, Christian has created a fascinating band of characters and a story with infinite scares."

Dimension TV's Megan Spanjian, Matthew Signer and Keith Levine will oversee the project.


Posted: December 1, 2013, 03:27:50

Looks like Bob Weinstein and Frank Darabont is doing a TV version of The Mist.



Bob Weinstein, interviewed separately from his brother, said he was developing original projects that would be in tune with his horror- and action-oriented Dimension brand, along with several shows based on movies he has overseen for the company. He is preparing a pilot based on the "Scream" films for MTV, for instance, and developing a proposed 10-part series with Frank Darabont, based on Dimension's film version of Stephen King's "The Mist."



Read the entire article here



Thanks to Herbert West