The Boogeyman
is a new Dollar Baby based on one of King's short stories. It's about the father who feels guilty for his children's deaths and as we see him he visits a psychologist to deal with this and it's in his office most of the movie takes place. There and at the man's home. Having read the story and seen the previous Dollar Baby version of it the ending comes as no surplice. You could probably have figured it out even if you hadn't read the story. But still it's a rather clever ending and I like it.
The movie itself reminds me of the older Dollar Baby version of the same story. This one though is newer and even though the special effects leave a bit to wish for it's not that bad. Being a Dollar Baby the movie probably didn't have a big budget and still it has some very resourceful effects. Not Hollywood standard but still very suitable for a Dollar Baby.
Having said that, I will say that even though it's not my favorite Dollar Baby I like
The Boogeyman
. It's done with love and I bet we haven't seen the last of Gerard Lough, the movies director. As the father we see Simon Fogarty and the psychologist is played by Michael Parle and I must admit that I like the nonchalant way Parles character acts is in the movie. I'm not sure it's intended but he (the character) looks like he rather be somewhere else…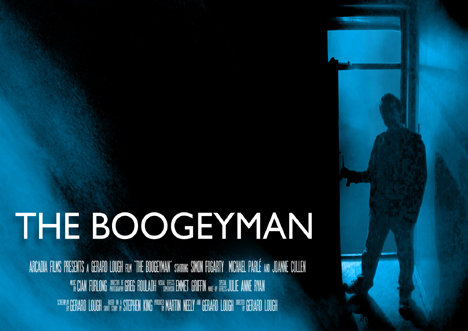 Lilja's final words about The Boogeyman:
Check this Dollar Baby out if you get a chance, it's worth it.