Alasdair Oliver
Posted: November 10, 2011
_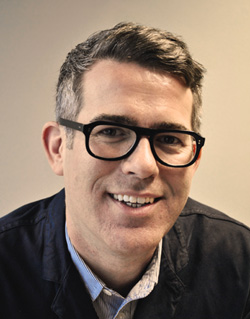 Have you ever wondered how the cover for a King book gets done? Well, I have and I got the chance to talk to Alasdair Oliver, Art Director at Hodder & Stoughton about how he did the cover for 11/22/63. Here is what he had to say...

Lilja: Tell me a bit about yourself. How did you end up creating covers for Hodder & Stoughton?

Alasdair Oliver: My first job was in advertising but I didn't like it much, so I moved on to packaging design which I really enjoyed. I decided that I wanted to move into book publishing and found a position as Marketing designer creating point-of-sale and brochures. I soon made the switch to cover design and have been an Art Director for 9 years.

Lilja: Have you created other Stephen King covers for Hodder & Stoughton?

Alasdair Oliver: Yes, I have created most of the recent Stephen King covers – Full Dark, No Stars and Under the Dome to name a couple.

Lilja: Was it harder creating a cover for 11/22/63 since it's based on a real event?

Alasdair Oliver: Each of the covers I work on have there own particular challenges. I would say that the synopsis I read at a very early stage so excited me that I just wanted to get the best design possible.

Lilja: How did you get the idea for the cover of 11/22/63?

Alasdair Oliver: Philippa Pride, Stephen King's UK editor, put together an amazing and challenging brief. The specific challenge was to include the reference/photo of JKF and Jackie and yet make it look like fiction rather than a biography, and also incorporate the time-travel element. From this point we looked at two routes for the cover design, we
took both to rough stage then one onto the final cover you see today.

Lilja: Did you ever consider doing a cover without JFK on it?

Alasdair Oliver: I think JFK is such an fundamental part of the novel that he had to feature somewhere on the cover.

Lilja: Did you get to read the book before creating the cover or did you just get a summary?

Alasdair Oliver: I was given a synopsis that I read quite early in the process and then I read a confidential copy of the full manuscript as soon as it was available.

Lilja: Can you share some early drafts of the cover with us? Maybe show us? And also tell us why you changed them?

Alasdair Oliver: This is the first visual we designed for the London Book Fair and from this we developed the idea to include a time travel element that also made the cover look like fiction. We looked at various warping effects but decided on the simple version for the final cover. We also looked at the legibility of the author name before concluding on the red foil of the final cover.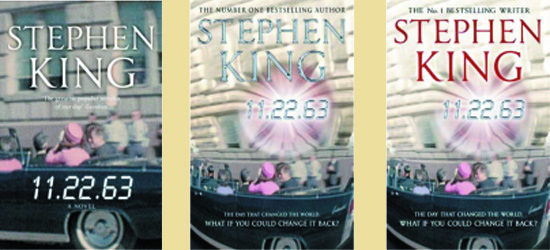 Lilja: Do Stephen King himself have any input on the cover?

Alasdair Oliver: We kept the author informed on the cover's journey by sharing our visual concepts and what sort of lettering we plan to use. He saw early roughs (once we know our Sales team are happy with them) and we invite him to comment when we send the final cover for his approval.

Lilja: What did he think about the one for 11/22/63?

Alasdair Oliver: We knew he was happy with the concept of JFK and Jackie in the motorcade (he'd seen it for the London Book Fair visual) and that we were working to add some sort of fictional/time-travel element. He thought the end product was terrific and he particularly liked our digital type for the title.

Lilja: Have you gotten any response from fans of Stephen King about the cover?

Alasdair Oliver: I haven't had any specific feedback from his fans but we have had very positive comments from retailers, both here in the UK, and in Australia and New Zealand.

Lilja: With that I thank Alasdair for doing this interview. It was informative and interesting and I think we all learned something.