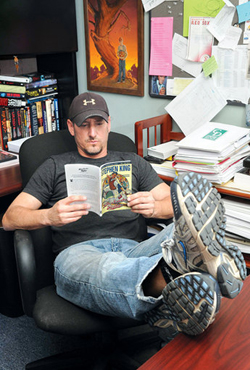 Richard Chizmar is the founder of Cemetery Dance Publications, the publisher that's releasing King's latest book; Blockade Billy tomorrow. It's not often King let's anyone other than his regular publisher be the first with a new book but this time he did and I got a chance to speak to Richard about how it happened.

Lilja: So, you're about to publish an original book by Stephen King. That must be a very good feeling?

Richard Chizmar: Yes. Absolute dream come true.

Lilja: Can you tell me how that happened? It's not often King lets someone other than his regular publisher release a new book.

Richard Chizmar: I was trading emails with Chuck Verrill (Steve's agent) about a different project, and he mentioned that Steve thought Blockade Billy would be a great fit for Cemetery Dance because he knew how much of a baseball fan I was. He emailed the manuscript the next day, and I loved it.

It's funny, I've been corresponding with Steve about baseball for so long -- in the old days, he was actually jealous of my Orioles. Now? Not so much!

Lilja: How big is this for Cemetery Dance?

Richard Chizmar: It's a big deal. We've received more attention and press in the last 10 days than we have in the past 20 years in total. Places that usually wouldn't talk about a small press in Maryland -- USA Today, Entertainment Weekly, ESPN, TIME magazine, GQ, LA Times, etc.

We've also received more attention from the NY publishing world. Agents have sent us material in the past week that we definitely would not have seen a year ago.

But, truthfully, it means a whole lot more to me on a personal level... and anyone who really knows me knows what I am talking about when I say that. I wouldn't be doing what I do for a living if it wasn't for two people – my father and Stephen King. My father taught me my love of books, and Steve inspired the rest. Corny, but true. So to be working on something like Blockade Billy with my literary hero is as good as it gets.

Lilja: The book looks very nice. What was King¹s reaction when he first saw it?

Richard Chizmar: He was very pleased -- which pleased all of us here at Cemetery Dance to no end!

Lilja: How involved was King himself in this release? I imagine that he was more involved than he is with a regular book right?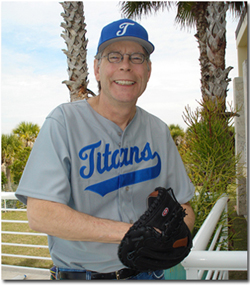 Richard Chizmar: He was VERY involved. On an almost daily basis for many months. It was his idea to do the baseball cards. His idea to wear the Titans jersey and cap. Honestly, I can't imagine having any more fun on a book than we all did with Blockade Billy.

It was a real team effort from Day One. Chuck Verrill and Steve had a hand in everything. Everyone at the CD office had a role (umm, more like 5-6 roles) and they each rose to the occasion in spectacular fashion and did amazing work. I have talked about this in every interview I have done, and the reporters never print it! From the design of the actual book and baseball cards and the Blockade Billy website to dealing with customers and distributors and libraries to handling advance promotion of the book to a hundred other details... Mindy, Brian, Kate, and Andrea worked around the clock... and I couldn't be happier with the final result of their hard work.

Lilja: So the first edition is limited to just 10,000 copies. Were there any proofs for the book?

Richard Chizmar: Because of time constraints, we actually needed to produce two states of the ARC (Advanced Reading Copies). The first (with a plain white cover) was only sent to four trade reviewers from places like PUBLISHER'S WEEKLY, BOOKLIST, etc, because they needed the ARCs so far in advance. The rest of the reviewers were sent an ARC featuring the full color artwork 2-3 weeks later.

Lilja: Word is that Cemetery Dance, King and Scribner are working together to produce a trade edition of Blockade Billy to satisfied the huge demand for it. What are your feelings about that? The book would definitely be more exclusive if there were only your edition released, right?

Richard Chizmar: Truthfully, it had to happen. Here's the deal...

Blockade Billy was always planned as a special edition with a limit print run. We're not Scribner, Steve's mass market publisher.

Blockade Billy is a novella. It's about 1950's baseball. It's packaged with an authentic 1950's baseball card featuring the main character. Everything about it pointed toward a special edition.

We were thrilled with the planned print run and figured it would be enough.


We never expected all 10,000 first editions to sell direct to individual readers in a matter of weeks (and we're over 90% there right now).

We never expected Steve and Chuck to graciously allow us to reprint another 10,000 copies and have all those copies be swallowed up solely by libraries.

So, while all this was wonderful news, it definitely put us in a tough position with major booksellers. Brian had to tell folks like Amazon, Barnes & Noble, Baker & Taylor, Ingram, etc. that there were NO copies left for them... and, trust me, they weren't happy. They wanted many tens of thousands of copies for their customers.

In short, no one ever expected Blockade Billy to turn into "Stephen King's next new book!" the way it did.

All this led to a lot of discussion between Steve and Chuck and Cemetery Dance and Scribner... and a deal with Scribner for a new edition is what resulted.

I'm thrilled that more readers will have a chance to read the story. Scribner will do a fantastic job getting this new edition in readers' hands. And I don't think it diminishes our edition one bit. We're the true first edition. We're the only illustrated edition. We're the only dust jacketed edition. We're the only edition that comes with the baseball card. The list goes on....

Lilja: Cemetery Dance is becoming the leading publisher when it comes to books about King. Is that something you planned on or did it just happen?

Richard Chizmar: Simple answer. We all love and respect Stephen King's work and believe there is a strong readership for books like that. But, with that said, it has sorta just happened. We've been lucky enough to be pitched some wonderful ideas by some wonderful writers. Books we would have wanted to read as readers, which makes it easy to want to publish them.

Lilja: Please tell me what Cemetery Dance has in store for us King fans during 2010.

Richard Chizmar: The Secretary of Dreams: Volume 2 later this summer... and a couple surprises.

Lilja: And after that? Any unannounced projects that you can reveal to us?

Richard Chizmar: Nope! They are surprises!