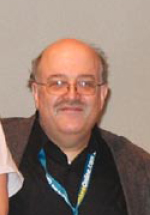 Lilja: For those of us that aren't that familiar with the world of comics, can you tell me a little about you and what you have done before?

Peter David: Well, here's my bio:

Peter David is a prolific author whose career, and continued popularity, spans nearly two decades. He's worked in every conceivable media: Television, film, books (fiction, non-fiction and audio), short stories, and comic books, and acquired followings in all of them.

In the literary field, Peter has had over seventy novels published, including numerous appearances on the New York Times Bestsellers List. His novels include Sir Apropos of Nothing (A "fast, fun, heroic fantasy satire" Publishers Weekly), Knight Life, Howling Mad, and the Psi-Man adventure series. He is the co-creator and author of the bestselling Star Trek: New Frontier series for Pocket Books, and has also written such Trek novels as Q-Squared, The Siege, Q-in-Law, Vendetta, I, Q (with John deLancie), A Rock and a Hard Place and Imzadi. He produced the three Babylon 5 Centauri Prime novels, and has also had his short fiction published in such collections as Shock Rock, Shock Rock II, and Otherwere, as well as Isaac Asimov's Science Fiction Magazine and the Magazine of Fantasy and Science Fiction.

Peter's comic book resume includes an award-winning twelve-year run on The Incredible Hulk, and he has also worked on such varied and popular titles as X-Factor, Friendly Neighborhood Spider-Man, Fallen Angel, Supergirl, Young Justice, Soulsearchers and Company, Aquaman, Spider-Man, Spider-Man 2099, Star Trek, Wolverine, The Phantom, Sachs & Violens, and many others. He has also written comic book related novels, such as The Hulk: What Savage Beast, and co-edited The Ultimate Hulk short story collection. Furthermore, his opinion column But I Digress has been running in the industry trade newspaper The Comic Buyer's Guide for over a decade, and in that time has been the paper's consistently most popular feature and was also collected into a trade paperback edition.

Peter is the co-creator, with popular science fiction icon Bill Mumy (of Lost in Space and Babylon 5 fame) of the Cable Ace Award-nominated science fiction series Space Cases, which ran for two seasons on Nickelodeon. He has written several scripts for the Hugo Award winning TV series Babylon 5, and the sequel series, Crusade. He has also written several films for Full Moon Entertainment and co-produced two of them, including two installments in the popular Trancers series as well as the science fiction western spoof Oblivion, which won the Gold Award at the 1994 Houston International Film Festival for best Theatrical Feature Film, Fantasy/Horror category.

Peter's awards and citations include: the Haxtur Award 1996 (Spain), Best Comic script; OZCon 1995 award (Australia), Favorite International Writer; Comic Buyers Guide 1995 Fan Awards, Favorite writer; Wizard Fan Award Winner 1993; Golden Duck Award for Young Adult Series (Starfleet Academy), 1994; UK Comic Art Award, 1993; Will Eisner Comic Industry Award, 1993. He lives in New York with his wife, Kathleen, and his four children, Shana, Gwen, Ariel, and Caroline.

Lilja: How did you get involved with The Dark Tower comic?

Peter David: They asked me. I'm sorry, I wish I had a sexier answer than that, but that's the simple truth: One day my phone rang, it was Joe Quesada, he asked if I was interested in the gig, and I said absolutely.

Lilja: Tell me how it works. Is it correct that you get a manuscript from Robin Furth and take that and combine it with Jae Lee's illustrations?

Peter David: Robin did an initial scene by scene breakdown that describes in general terms what happens in each scene. Jae then took that breakdown and told the story visually. I then come in and write the script, producing the original narrative captions and the dialogue (both new and material taken directly from the books).

Lilja: Does it ever happen that you get material from Robin that you have to ask her to change for any reason?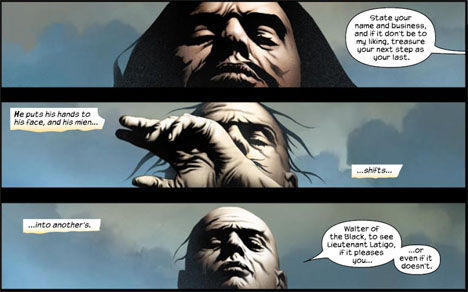 Peter David: There's been a good deal of back and forth between myself, Robin and Jae, particularly as the project has gone on and we've become more comfortable with the idea of batting stuff around and making it the best it can be.

Lilja: Have you ever asked Jae to change the illustrations to fit the text better?

Peter David: Jae has been so obsessed with doing revisions unasked, honing the material until it's just right, that there hasn't been too much I've had to do. If I do encounter scenes where I feel the art isn't quite clear, I just make it clear in the dialogue and captions. I think maybe there was one occasion where I said, "I think this really needs to be redrawn," and it was.

Lilja: How did you prepare for this task? Were you familiar with The Dark Tower books before this or did you have to read up to do this?

Peter David: I'd read up to Wizard and Glass. When I got the gig, I went back, reread them, and then went on to the rest of the series. Technically I didn't need to read past Wizard and Glass, but I'm glad I did. If I'm writing the comic, I can't be less informed about it than the fans. Plus it was very helpful; I picked up the narrative style I use largely from the dialect style in Wolves of the Calla, for instance.

Lilja: Were you nervous about taking over from King with the text for The Dark Tower? After all, this is his masterpiece.

Peter David: Terrified. I actually didn't relax about it until I came face to face with him at the New York Comicon. He'd been saying in e-mails that he liked what I was doing, but I needed to ask him in person. He put his hands on my face like it was a benediction and said, "You're doing a fantastic job." Probably a high point of my career, if not my life.

Lilja: There is a lot of descriptive text in the first issue. Is that kind of text easier or harder to do compare to dialogue?

Peter David: No different. The thing is, we're trying to cover a lot of ground, and I knew we'd need SOME sort of captioning to bridge the gaps. I just felt that giving the captions a narrative style of their own, as if some unseen person is telling Roland's history, would add some personality to the series as well as give you even more of a sense of what Mid-World is like.

Lilja: These first issues are pretty much a direct adaptation of King's book and I guess you get a lot of guidance from the books. But how about when it comes to new material, do you expect that to be much harder?




Peter David: No. Easier, actually. For starters, I don't have to page through already-existing books to find the exact dialogue. But it's been incredibly useful because working with Steve's dialogue as a safety net makes it that much easier to develop the sense of how everyone should talk. That way when I'm "flying solo," as it were, I'll have an easier time of it.

Lilja: I understand that King has the last word on everything. Has he asked you to change anything so far and if so, can you tell me what?

Peter David: He's done some fine tuning here and there. I've found some of his changes fascinating. For instance, whenever I took dialogue from the books, I didn't change a word. Edited for length here and there, but kept the wording exact. And in a couple of places, Steve actually changed the dialogue. He rewrote his own words. So I figured, well, if Steve can change the already-printed dialogue, then so can I where necessary.

Lilja: How far in advance do you get the scripts from Robin? Did you do all seven issues at the same time of did you finish one issue before moving on to the next?

Peter David: I'm working off the artwork, actually. I've got Robin's outlines for all thirty issues of the entire series. I've gotten the artwork through issue 6 and scripted all that.

Lilja: I take it that you are in for all the issues, first to last, right?

Peter David: If they want me, sure. At the moment I'm only definitely in through issue 7. But I'll stay around for the long haul if they want.