NEWS - KING & HILL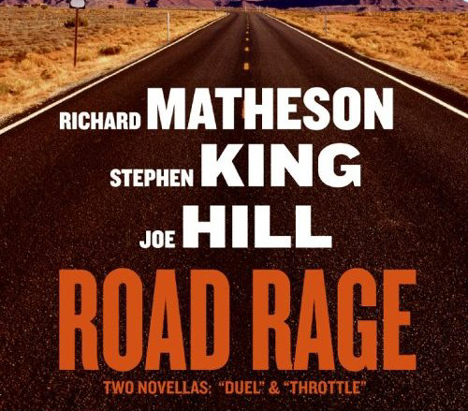 Posted: February 25, 2009, 16:12:15
King and Hill's collaboration Throttle is now out on audio. It's on a CD called Road Rage together with Richard Matheson's Duel that isnpired King and Hill. You can listen to it here and order your copy here.
Posted: January 12, 2009, 00:07:17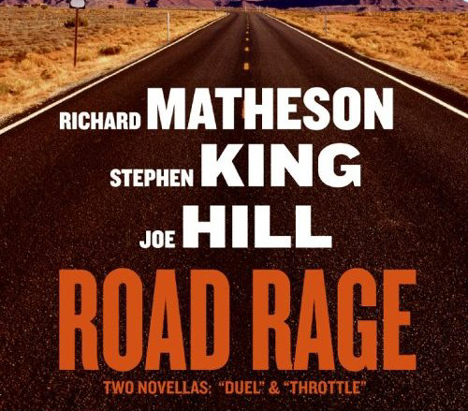 Here is the final cover for the audio edition of King and Hill's collaboration
Throttle
. The audio also contains the story
Duel
that inspired them.
You can pre-order your copy
here
.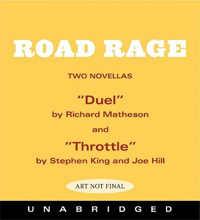 Posted: December 2, 2008, 21:21:53
Here is the cover for the audio edition of King and Hill's collaboration Throttle. The audio also contains the story Duel that inspired them.

You can pre-order your copy here.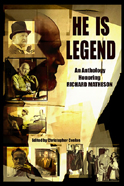 Posted: November 28, 2008, 12:16:38
Here is my review of Throttle.
Posted: June 17, 2008, 11:49:12
King and Hill collaboration to be a movie?


Producer Purchases King, Hill's Throttle
Source:Variety June 17, 2008

Before it has even published, the first literary collaboration between Stephen King and son Joe Hill (who's every bit as good as his pop in the old days) is being snatched up for the big screen.

Throttle, a 60-page novella, is set to appear in the 2009 anthology collection He is Legend, a tome dedicated to Richard Matheson (I Am Legend). According to Variety, producer Nick Wechsler recently optioned the adaptation rights. Wechsler was the key cat to bring Cormac McCarthy's The Road to Dimension Films. His next step is to find the King-Hill material a home to develop it.

Throttle follows a father and son, members of a biker gang, who are tailed by a 18-wheel tanker truck. Yes, there are shades of Duel, but what the hell do you expect from a story that was geared for a Matheson tribute?

King most recently penned Duma Key. Hill is stepping up his book-to-film adaptations with Heart-Shaped Box which is in development with Neil Jordan at the helm. His graphic novel Locke and Key is set up at Dimension.

Thanks to Rocky Wood
Posted: April 4, 2008, 07:29:50
He is Legend with King and Hill's collaboration Throttle is selling fast.


The numbered edition is sold out as of 11:59 April 2. Within the next 24 hours the website will indicate the edition is sold out and a waiting list will be created. We still have 100+ orders to process we received prior to the deadline. We should be able to provide copies for all for ordering prior to this deadline. We should have the backlog completed by the end of the weekend.

The lettered edition is also sold out -- oversubscribed in fact -- and a lottery will be held among those who requested a copy of the book before a specific cutoff date.

Thanks to Bev Vincent.
Posted: March 25, 2008, 10:00:58
Joe Hill comment about Throttle:


It's giant truck from hell story. "Throttle" uses Richard Matheson's unforgettable short story "Duel" as it's jumping off point, although in the process of writing it, it quickly became it's own thing.

He also comments on the different editions of the book.

That said, I'm also sensitive to and sympathetic with folks who just want to read the story without going broke. There is a plan in the works to make sure a wide-release version of "Throttle" will be available for everyone who wants it; because nothing is nailed down yet, I can't say more than that. But at some point after the release of the Matheson anthology, that wide-release edition will get out there, so stay tuned.

Thanks to Marco Lammers
Posted: March 24, 2008, 20:29:45
Here is the info we have all been waiting for about the collaboration between King and his son Joe Hill.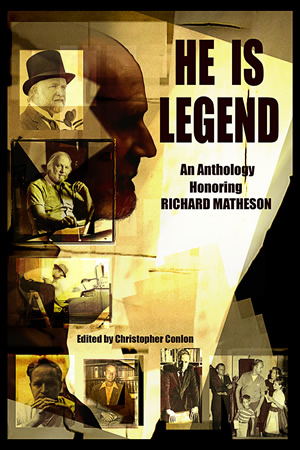 Just say the name and the memories come flooding back--Somewhere in Time, Duel, The Shrinking Man, I Am Legend, and countless more. He's one of the greatest storytellers of our time--or any time.
Now Gauntlet Press has assembled He Is Legend: Celebrating Richard Matheson, a spectacular anthology of original, never-before published stories by today's best writers--stories set in Richard Matheson's own fictional universes, and published with Mr. Matheson's complete cooperation!
And, among the many contributions to the book is
the first collaboration ever between Stephen King and his son Joe Hill, the novella "Throttle" their take on Matheson's classic "Duel." This is, obviously, a once-in-a-lifetime publishing event as its father and sons first collaboration. Both Stephen King and Joe Hill will be signing both the numbered and lettered editions.
Other contributors to this anthology, edited by Christopher Conlon, include F. Paul Wilson, Joe Lansdale, Whitley Strieber, Richard Christian Matheson, William F. Nolan, Gary Braunbeck, Thomas Monteleone, John Shirley, Ed Gorman and an introduction by Ramsey Campbell (additional contributors will be announced at a later date).
And, as an added bonus, He Is Legend features the original full-length screenplay Conjure Wife--over 20,000 never-before published words by Richard Matheson himself, in collaboration with the late-Charles Beaumont that was filmed at "Burn, Witch Burn."
Cover art and six interior illustrations by Matheson's favorite artist Harry O. Morris.
To be released in February 2009 this signed limited edition will appear in the following states:
750 copy signed numbered edition (signed by all contributors except Richard Matheson)
52 copy lettered edition in a special bonded leather traycase This is the only edition that will be signed by Richard Matheson
We will begin taking orders immediately at the Gauntlet Press website (www.gauntletpress.com) but will not charge credit cards until January 1, 2009. Further details are at the Gauntlet Pres website. Address any questions to Gauntlet at info@gauntletpress.com.
Thanks to everyone that send me info about this
Posted: March 12, 2008, 15:56:05
Here is a comment from the Moderator on King's official message boar about King and Hill's collaboration:


Yes, Steve told me about this about a month or so ago, but the question is whether or not all of it is meant to be public info yet. I'll check on it but can't promise I can get back to you today as I have several other priorities to take care of first.

Posted: March 12, 2008, 10:15:50
This very interesting news just poped up on Joe Hill's official site, and we all know who his paw is, right:


It's true that at the moment I'm knee-deep in a novel that I didn't expect to be writing, and having a hell of a good time with it, thanks. And until I turn in the new book, I won't have a lot of time for short fiction. But I recently collaborated on a novella with my Paw, so that's coming down the pike. I also promised a short story to a couple friends for their upcoming anthology, and although I don't keep all of my promises, I plan to fulfill that one. And while Locke & Key isn't short fiction in the traditional sense, I'd argue that crafting the script for a 22-page issue calls on a lot of the same skills you need to execute a short story. I'm still a guy who believes most 300 page novels would play better as 30 page shorts, and who feels most at ease writing stories that can be read in a single sitting; I have a basically short story imagination, I think.

Thanks to Ross Warren, Marco Lammers and Sam