Throttle by King and Hill
Posted: March 24, 2008, 20:29:45
Here is the info we have all been waiting for about the collaboration between King and his son Joe Hill.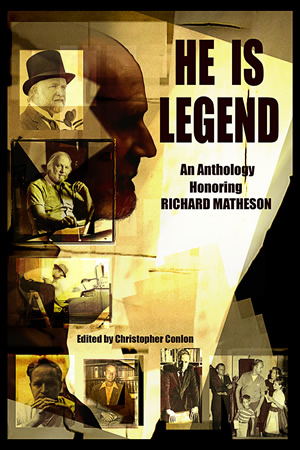 Just say the name and the memories come flooding back--Somewhere in Time, Duel, The Shrinking Man, I Am Legend, and countless more. He's one of the greatest storytellers of our time--or any time.
Now Gauntlet Press has assembled He Is Legend: Celebrating Richard Matheson, a spectacular anthology of original, never-before published stories by today's best writers--stories set in Richard Matheson's own fictional universes, and published with Mr. Matheson's complete cooperation!
And, among the many contributions to the book is
the first collaboration ever between Stephen King and his son Joe Hill, the novella "Throttle" their take on Matheson's classic "Duel." This is, obviously, a once-in-a-lifetime publishing event as its father and sons first collaboration. Both Stephen King and Joe Hill will be signing both the numbered and lettered editions.
Other contributors to this anthology, edited by Christopher Conlon, include F. Paul Wilson, Joe Lansdale, Whitley Strieber, Richard Christian Matheson, William F. Nolan, Gary Braunbeck, Thomas Monteleone, John Shirley, Ed Gorman and an introduction by Ramsey Campbell (additional contributors will be announced at a later date).
And, as an added bonus, He Is Legend features the original full-length screenplay Conjure Wife--over 20,000 never-before published words by Richard Matheson himself, in collaboration with the late-Charles Beaumont that was filmed at "Burn, Witch Burn."
Cover art and six interior illustrations by Matheson's favorite artist Harry O. Morris.
To be released in February 2009 this signed limited edition will appear in the following states:
750 copy signed numbered edition (signed by all contributors except Richard Matheson)
52 copy lettered edition in a special bonded leather traycase This is the only edition that will be signed by Richard Matheson
We will begin taking orders immediately at the Gauntlet Press website (www.gauntletpress.com) but will not charge credit cards until January 1, 2009. Further details are at the Gauntlet Pres website. Address any questions to Gauntlet at info@gauntletpress.com.
Thanks to everyone that send me info about this