NEWS - DUMA KEY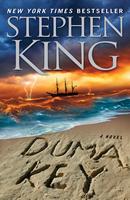 Posted: June 17, 2008, 11:48:56
Here is the cover for the upcoming paperback edition of Duma Key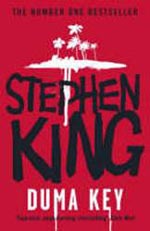 Posted: April 24, 2008, 00:30:21
Here is the UK cover for the paperback edition of Duma Key. It's scheduled for publication on September 18th.

Thanks to Neil Jarvis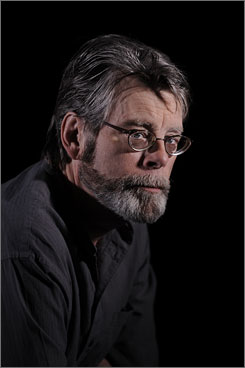 Posted: January 31, 2008, 13:20:33
A new message from King about Duma Key was posted on his official message board today:


"Thanks, everybody, for buying DUMA KEY and--even more--saying
nice things about it. I haven't seen so few "flame throwers"
on this website (and others) in...well, more years than some
of you have been alive. Stay tuned, and keep checking this
site for new material. It's coming..."

Steve

Posted: January 24, 2008, 20:53:44
The winners in Hodder & Stoughton's Duma Key contest has been chosen. You can see the two winning entries as well as the eight finalists here.
Posted: January 22, 2008, 09:19:33
Don't miss King on The Today Show later today. In the mean time you can check out this links from The Today Show.

Excerpt from Duma Key
Stephen King Q + A


Posted: January 22, 2008, 00:28:20
It's January 22ns and Duma Key is out. If you haven't already gotten your copy of the book here is how you can.

US hardback
US audio
UK hardback
Download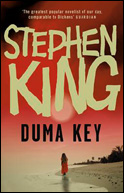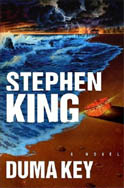 Posted: January 21, 2008, 00:02:50
Check out my thoughts on Duma Key here.

"God punishes us for what we can't imagine"
- Wireman (Duma Key)
Posted: January 15, 2008, 21:10:10
An interview with King is now up on the official site. Check it out here
Posted: January 15, 2008, 01:00:45
According to Zap2it King will be on the Today show on the 22nd. Other reports says that King, a former Guild member, supports the striking writers and won't promote Duma Key on television talk shows.

More news to come as soon as I get it.

Thanks to Herbert West
Posted: January 11, 2008, 16:49:47
On King's official site there is now a video trailer for Duma Key
Posted: January 4, 2008, 00:44:34
Not much to report as the news flow is slow right now but I can tell you I get a copy of the audio version of Duma Key today and John Slattery is doing a very good job narrating it. It's on 18 CDs and takes about 23 hours to finish.
Posted: December 26, 2007, 23:54:03
Here you can listen to a audio clip from Duma Key read by John Slattery.
Posted: December 4, 2007, 20:23:53
Here you can read an excerpt from Duma Key and Memory.

Thanks to Paul Poroshin
Posted: December 3, 2007, 08:49:04
King's editor Chuck Verrill talks about Duma Key:


Duma Key: Where It All Began
A Note from Chuck Verrill, the Longtime Editor of Stephen King

In the spring of 2006 Stephen King told me he was working on a Florida story that was beginning to grow on him. "I'm thinking of calling it Duma Key," he offered. I liked the sound of that--the title was like a drumbeat of dread. "You know how Lisey's Story is a story about marriage?" he said. "Sure," I answered. The novel hadn't yet been published, but I knew its story well: Lisey and Scott Landon--what a marriage that was. Then he dropped the other shoe: "I think Duma Key might be my story of divorce."

Pretty soon I received a slim package from a familiar address in Maine. Inside was a short story titled "Memory"--a story of divorce, all right, but set in Minnesota. By the end of the summer, when Tin House published "Memory," Stephen had completed a draft of Duma Key, and it became clear to me how "Memory" and its narrator, Edgar Freemantle, had moved from Minnesota to Florida, and how a story of divorce had turned into something more complex, more strange, and much more terrifying.

If you read the following two texts side by side--"Memory" as it was published by Tin House and the opening chapter of Duma Key in final form--you'll see a writer at work, and how stories can both contract and expand. Whether Duma Key is an expansion of "Memory" or "Memory" a contraction of Duma Key, I can't really say. Can you?

--Chuck Verrill

Thanks to Bev Vincent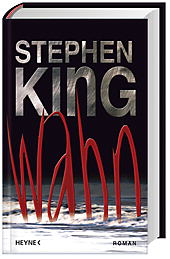 Posted: December 2, 2007, 01:16:36
Here us the German edition of Duma Key.

Thanks to Hans von Wirth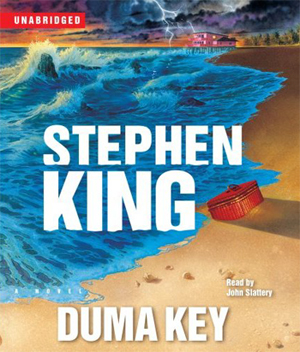 Posted: November 21, 2007, 11:49:55
The audio version of Duma Key will be read by John Slattery. Here is the cover.

Pre-order your copy here.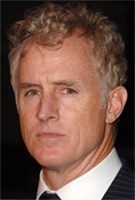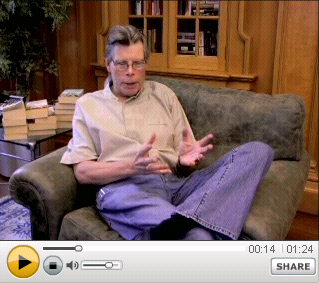 Posted: November 20, 2007, 23:19:15
Here is a video teaser from King about Duma Key.

Thanks to Rick Urban
Posted: November 12, 2007, 13:08:42
Have you ever thought you could advertise a new King book better then the publisher? Well, here is your chance.

Hodder & Stoughton is running a Duma Key competition and the prize they're offering is something I've never seen before...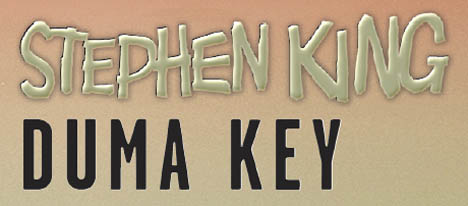 Design Stephen King's next ad campaign
Hodder & Stoughton, publishers of Stephen King, are offering you a unique opportunity to design the advertising for his new novel Duma Key which will be published in January 2008.
The winning designer will see their work in print on the London Underground and in city centres and have a hand in promoting a fantastic book by an internationally-renowned author.
Drawing inspiration from a synopsis of the book, we want you to design a poster that announces the publication of Duma Key. We will give you everything you need to get started including the book jacket and the rules and guidelines. All you have to do is get thinking…
The winning design will be chosen by Hodder & Stoughton and Stephen King and will be turned into a national poster campaign. The designers of the top ten entries will also receive a limited edition proof copy of the new novel with their own name printed on the front cover.
The competition is open to anyone. Further information on the competition is available at
www.stephenking.co.uk
.
Closing deadline for entry is 7th December 2007.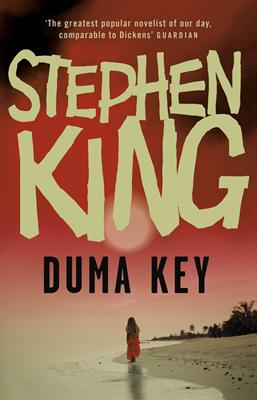 Posted: November 7, 2007, 13:53:35
Here is a first look at the UK cover of Duma Key.
Posted: October 10, 2007, 15:34:20
Here is a plot description of Duma Key.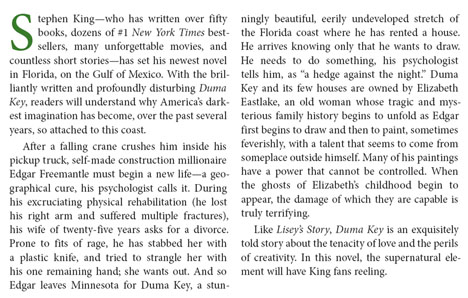 Posted: August 31, 2007, 21:04:02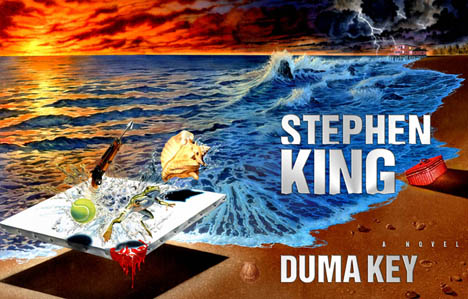 Here is the full colour cover for
Duma Key
. Personally I think it's one of the nicest one so far.
Thanks to Herbert West
Posted: August 9, 2007, 00:24:40
I have learned today that the cover art for Duma Key that I posted yesterday is not the final version. There are several revisions to be made on it and as soon as the finished cover is ready I'll post it here on the site.
Posted: August 9, 2007, 00:13:32
I just heard from King's office that King won't be narrating the audio version of Duma Key as previously planed. This because it dosn't fit into his schedule at the moment.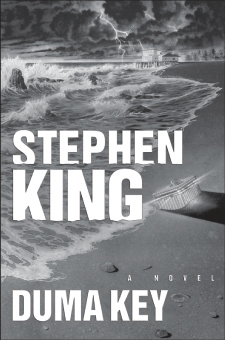 Posted: August 8, 2007, 01:29:14
Here is a first look at the US cover for Duma Key.
Posted: August 1, 2007, 00:07:50
Here is more about the plot in Duma Key:


DUMA KEY is the engaging, fascinating story of a man who discovers an incredible talent for painting after a freak accident in which he loses an arm. He moves to a 'new life' in Duma Key, off Florida's West Coast; a deserted strip, part beach, part weed-tangled, owned by a patroness of the arts whose twin sisters went missing in the 1920s.

Duma Key is where out-of-season hurricanes tears lives apart and a powerful undertow lures lost and tormented souls. Here Freemantle is inspired to paint the amazing sunsets. But soon the paintings become predictive, even dangerous. Freemantle knows the only way forward is to discover what happened to the twin sisters -- and what is the secret of the strange old lady who holds the key?

The story is about friendship, about the bond between a father and his daughter. And about memory, truth and art. It is also is a metaphor for the life and inspiration of a writer, and an exploration of the nature, power and influence of fiction.

Thanks to Neil Jarvis
Posted: July 16, 2007, 23:10:12
King's official site reports that Scribner has announced that the U.S. On-sale date for Duma Key will be January 22, 2008.
Posted: July 2, 2007, 21:54:44
Scribner confirmed today that the tentative page count for Duma Key is 592. It's still subject to change though but that is what they are aiming for.
Posted: July 2, 2007, 18:07:44
It's now confirmed that King will narrate the audio edition of Duma Key himself. You can pre-order the US edition here.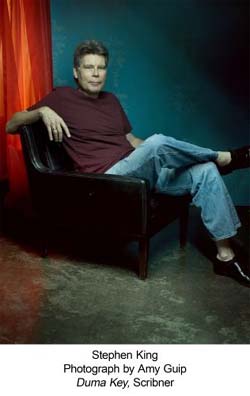 Posted: June 20, 2007, 00:27:59
Here is the authors photo for Duma Key.
Posted: June 8, 2007, 00:26:06
Bev Vincent gave the following report about the Edgar Awards event:


King was interviewed by Hard Case Crime's Charles Ardai at the Edgar Awards last month in NYC. I just received a DVD of the interview. During the lengthy talk, King had this to say about Duma Key:

1) As of last month, he was still working on revisions

2) He once described the book as The Maltese Falcon meets The Shining

3) He was walking down a lonely, quiet road in Florida one evening. Most of the houses on the road were empty. He noticed a sign that said "Slow -- Children Playing," but he'd never seen any children there before. Maybe their ghost children, he thought. He had an image of these ghost kids walking behind him and he decided at that moment that somewhere in Duma Key there were going to be dead children.

4) The book also features a mystery from the 1920s that required him to do some research.

5) The book is in part about memories -- how we keep them and how they change. How we remember things one way and someone else remembers them another way.

6) Edgar's new talent, discovered after his accident and after he moves to Florida, is reminiscent of Patrick Danville's skill (though King did not mention Patrick during the interview)

7) There was a famous child kidnapping/murder case that played out while King was in Florida. Videotape captured the kidnapping--a man walked up to the missing girl in a parking lot and lured her away. The brief video played over and over on the news. At one instant, it captures the young girl looking up at her captor with a look of trust. When the culprit was caught, he said, "I got high and did a terrible thing." King was so angry with the guy that he decided to put him in the book and do a bad thing to him.

In unrelated news, King mentioned that he at one time considered writing a Travis McGee novel. He had the whole thing imagined in his head -- it was going to be called CHROME and would start with Meyer being shot and seriously injured while he and Travis were out for a walk on the beach. The question was going to be whether the shooter had been after Meyer or Trav.

King was serious enough about the book to track down John D. MacDonald's son and literary estate guardian in Australia or New Zealand, but the younger MacDonald wouldn't give him permission to do the book.

Thanks to Bev Vincent
Posted: March 27, 2007, 14:26:11
Amazon.com reports that Duma Key will be 592 pages long. I'm not sure how correct that is but it's what they say.

Thanks to Mike Smith
Posted: March 14, 2007, 22:50:46
Now it's time to pre-order the UK editions of Duma Key. You can do it here:

UK hardback
January 10, 2008

UK audio
January 10, 2008

UK paperback
November 13, 2008

Thanks to John Hanic
Posted: January 18, 2007, 00:19:57
Today I got confirmation from Scribner that they are going to release Duma Key in January 2008.
Posted: December 5, 2006, 01:09:10
The moderator of King's official message board said that the first draft of Duma Key is 835 manuscript pages long and that King began writing it in February and finished in October '06.

Thanks to Grzesiek
Posted: October 12, 2006, 23:42:06
Here is some good news about Duma Key:


According to King's message board moderator, King has finished the first draft of Duma Key and will revise it after he gets it back from his editors.

Thanks to Bev Vincent
Posted: October 2, 2006, 13:09:32
In the essay by King called The Writing Life (from WashingtonPost.com) King says the following about Duma Key:


For the other half, I will think about the book I'm currently writing (a novel called Duma Key ). My muse may visit. She may not. The trick is to be there waiting if she does. There's a doll named Noveen in Duma Key , and I don't know what that doll's about yet. I need a visit from my muse to tell me because I'm stuck there. But I'm not worried.

Posted: September 21, 2006, 22:31:56
There where an interesting question posted on King's official message board today and it confirms what he have all thought...

Question:
Are the short story "Memory" and the new novel "Duma Key" related......ie..is "Memory" a chapter in "Duma Key"?

Besides "Duma Key", does SK have any other new books started?

Answer
Someone else had asked off the MB if they were the same, so I asked Steve about it. He told me that "Memory" is from Duma Key but it was edited quite a bit so the version you read in Tin House is not exactly the same one that will be in Duma Key.

That's the only book he's working on that I'm aware of. He's still not completely done with it as he decided he wanted to do some additional editing.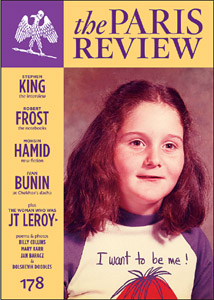 Posted: September 15, 2006, 23:20:57
King's official site commented on his next book today and it turns out it will be called Duma Key and nothing else. Here is what King's official site says:

The Fall 2006 issue of The Paris Review (
www.theparisreview.org
), official publication date 9/15/06, contains an interview with Stephen (pages 66-101) including information about the book he's currently working on titled Duma Key. Stephen describes it as being about a guy named Edgar Freemantle who has an accident and loses an arm and has paranormal symptomatology relating to phantom limb sensations.
Posted: September 15, 2006, 08:33:45
Here is the first news about King's next book. King seams to have revealed them in an interview with The Paris Review. The full interview isn't available isn't available online but you can get a taste of it here.

According to King the new book will be called Duma Key and set I Florida. It may or may not be a haunted house tale and features a protagonist who has lost an arm and who experiences phantom limb sensations.

Thanks to RJ_Sevin
Posted: July 3, 2006, 08:19:45
Back in February when King did a public reading at FSU in Florida he read a new short story called Memory and since the story has stayed upublished…until now that is.

In the new Tinhouse (Vol. 7, No. 4, issue #28; entitled "Summer Reading") the story can be found. It is called Memory here as well and is approximately 18 pages long.

Here is a quote from Tinhouse website:


When I say I was confused, I mean that at first I didn't know who people were, or what had happened, or why I was in such awful pain.

Thanks to John Zulovitz.
Posted: February 28, 2006, 20:11:15
Some reports about King's reading in Florida has now appeared online. Here are some of them:


He read a short story called "Memory" to us - 40 minutes. The audience was quieter than I ever remember - quiet enough that one could nap.
Read more here
(this one has pictures).

The story was called "Memory" and dealt with a man who's been in an accident and has memory problems when he recovers.
Read more here

Mr. King read an upcoming piece, based (loosely) on his experience of being hit by a van. The story wasn't the usual physical horror associated with King's classic reads. There weren't any possessed girls or debilitating diseases, but an internal horror - the agony and challenge one experiences when their life is forever altered.
Read more here
Thanks to Bev Vincent.
Posted: February 27, 2006, 21:40:10
At his appearance at FSU in Florida King read a new short story called Memory:


On Sunday night, King gave his first public reading of a new short story called "Memory" that was inspired by what he termed his "nasty accident." He delivered the fictional account in front of a capacity crowd at Florida State University's Ruby Diamond Auditorium as part of the Seven Days of Opening Nights arts festival.

"I had seven minutes permanently burned out of my memory (when the van hit)," King said. "I did get one back of the guy coming over the hill heading toward me. It's like a coral islet in the sea. ... I have no idea if (the story) is any good, but what the h--l, I like it."

He then launched into the first-person narrative about a wealthy building contractor who is almost crushed to death when he's run over by a construction crane on a job site. The builder grapples regaining speech, thoughts of suicide, a deep hatred for a song by Reba McEntire and exactly what he may have done to his wife while recovering from his coma.

The Seven Days audience rewarded "Memory" with a standing ovation.

You can read the entire article from Tallahassee Democrat
here
.
Thanks to Bev Vincent and Miss X.