Posted: January 1, 2020, 11:49
_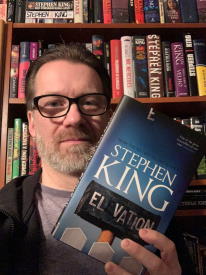 Stephen King's Elevation, is out and you know what that means…

I want to put together a page with photos of you all and your copy of Elevation. All you need to do is send me a photo (this should open an email but if it doesn't, send the photo to info[a]liljas-library.com) of yourself and the book (any edition works) and I'll post them here. If you don't want to send it by email you can also post it on the facebook page and I'll grab it there. I would also like to ask you to include your name, town and country so that I can list that with the photo. You can see what it will look like at the Mr Mercedes page, the Revival page, the Finders Keepers page, Bazzar of Bad Dreams page, End of Watch page, Charlie the Choo Choo page, Gwendy's Button Box page, Sleeping Beauties Book page or the Outsider Book page.

Check out all Elevation photos here.

Let's get those photos collected! Some of you are even on all pages, GOOD WORK!