NEWS - DOCTOR SLEEP
Posted: September 8, 2019, 19:17:48
New trailer for Doctor Sleep released.


Posted: September 6, 2019, 11:39:06
OK, the premier of Doctor Sleep is about 2 months away and the news and interview about the film is starting to come in. Here are a few new photos and links to interesting articles and set visits.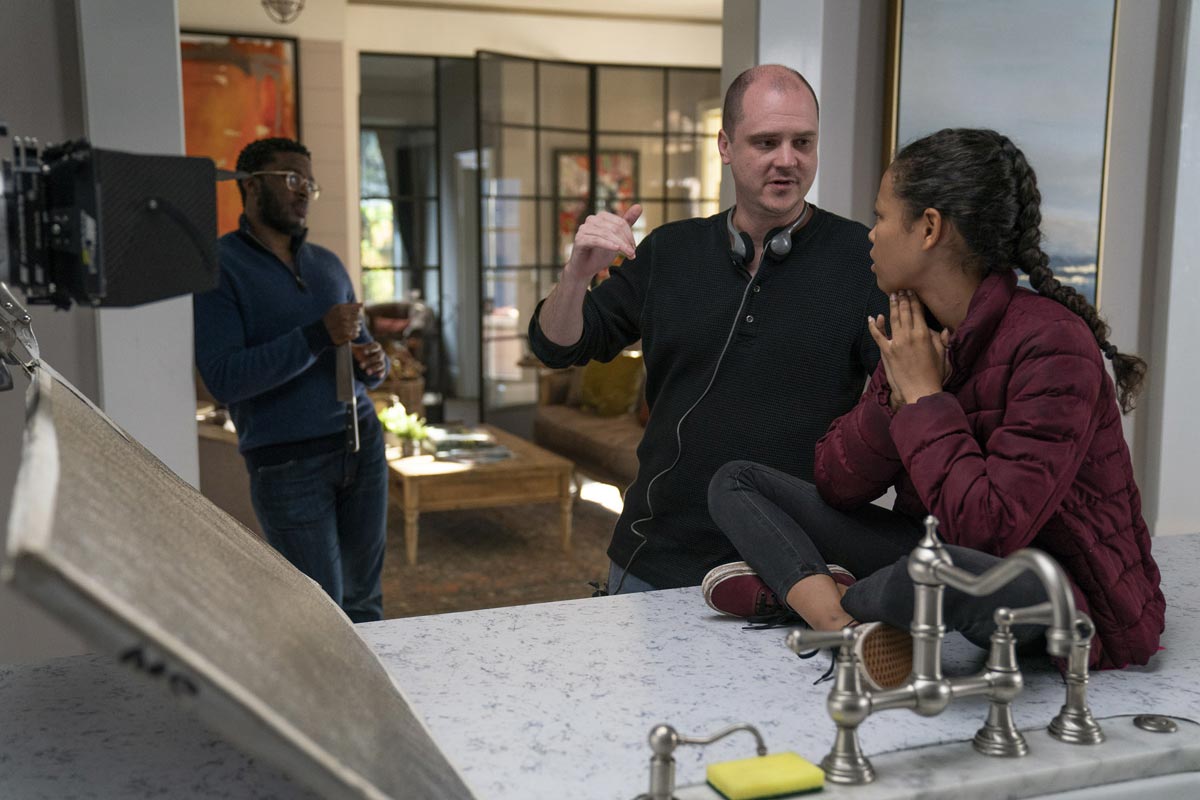 Talking to Mike Flanagan About DOCTOR SLEEP
On the Set of DOCTOR SLEEP with Mike Flanagan, Ewan McGregor, Kyliegh Curran, and Trevor Macy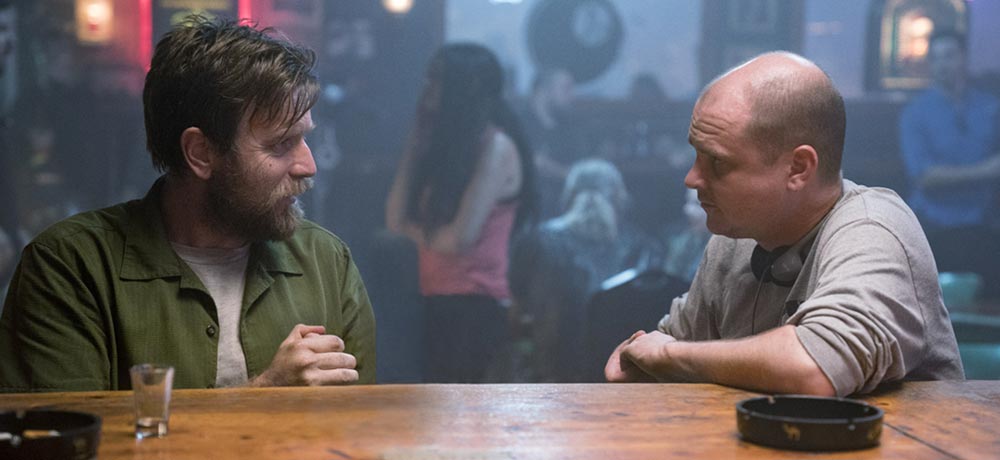 Why 'Doctor Sleep' Director Mike Flanagan Makes Horror Movies About Family, Trauma and Redemption
How 'Doctor Sleep' Won the Blessing of Stephen King
'Doctor Sleep' Star Ewan McGregor on Channeling Jack Nicholson (But Not Too Much)
Why 'Doctor Sleep' Director Mike Flanagan Set Out to Make a Sequel to 'The Shining'
'Doctor Sleep' is a Sequel to Both Stanley Kubrick's 'The Shining' and Stephen King's Original Novel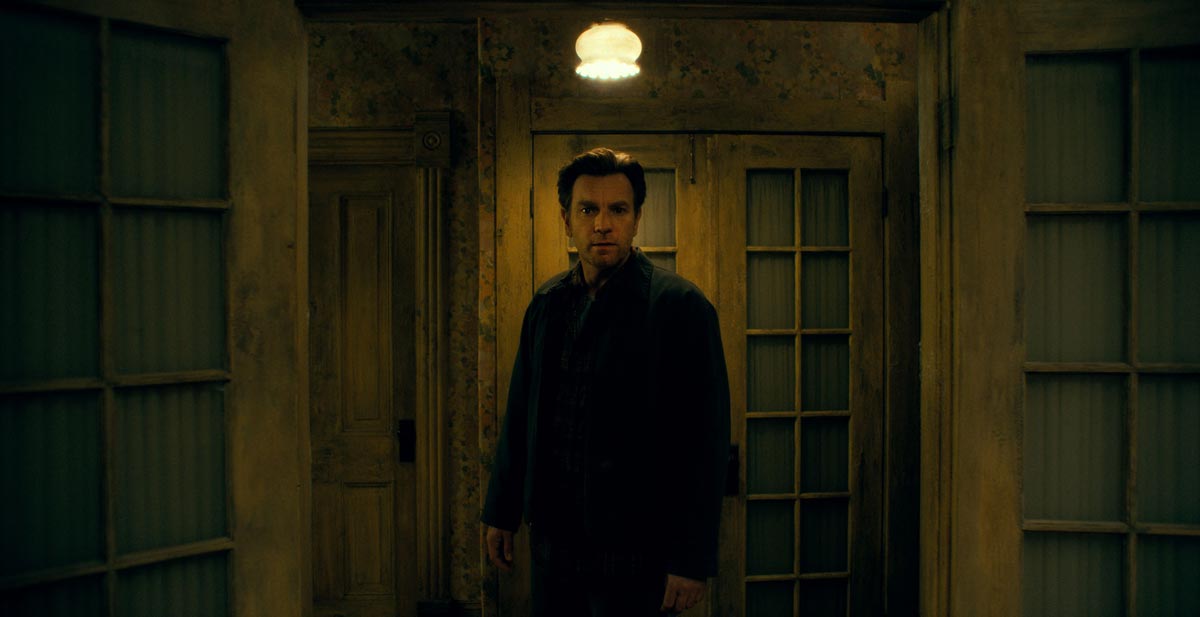 'Doctor Sleep' is a Sequel to Both Stanley Kubrick's 'The Shining' and Stephen King's Original Novel
'Doctor Sleep' Features an Exact Recreation of Stanley Kubrick's Overlook Hotel Sets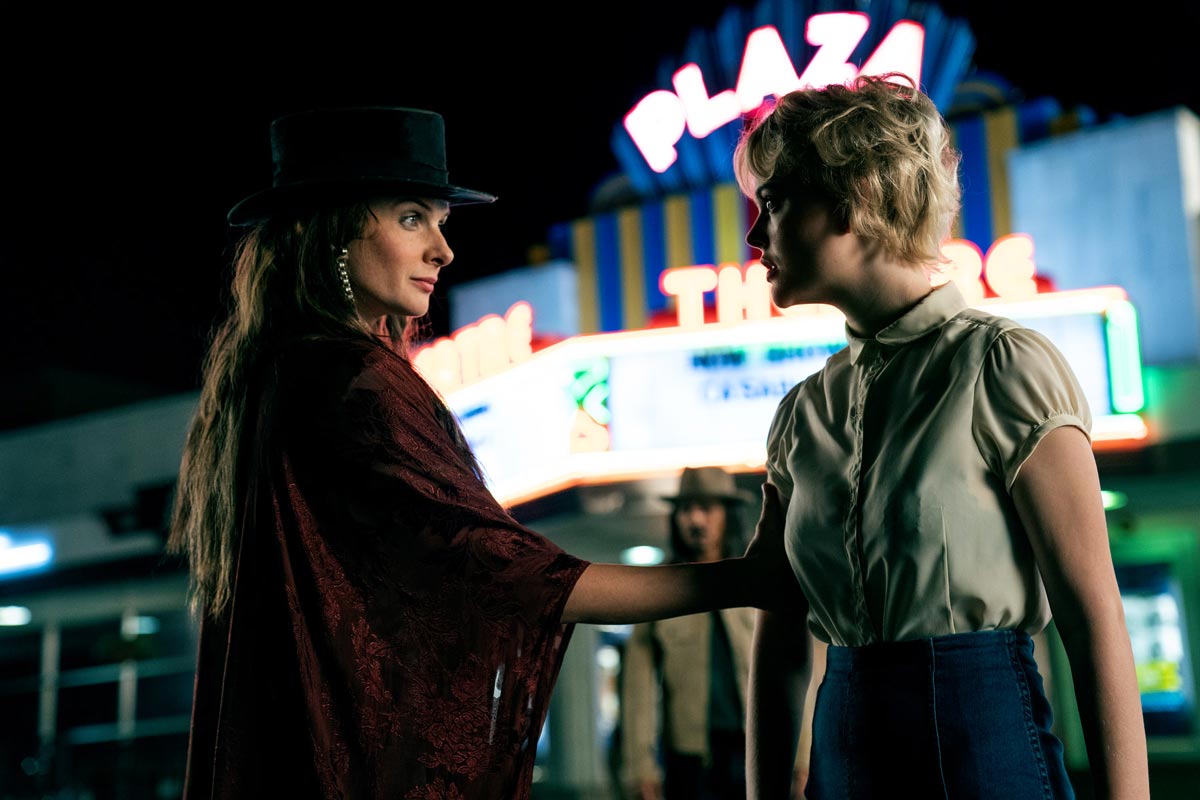 Thanks to Anders Jakobson.
Posted: September 4, 2019, 08:35:14
Here is a photo of Dick Hallorann (Carl Lumbly) from Doctor Sleep. Fans who have read the book and seen Kubrick's movie know that his fate is a bit different in book vs. the movie. In November we'll know what his part in Doctor Sleep is...


Posted: August 27, 2019, 09:16:07
Rebecca Ferguson is cast as Rose O'Hara (aka Rose the Hat) in Mike Flanagan's film version of Doctor Sleep and today we got a first look at her in character. Thoughts?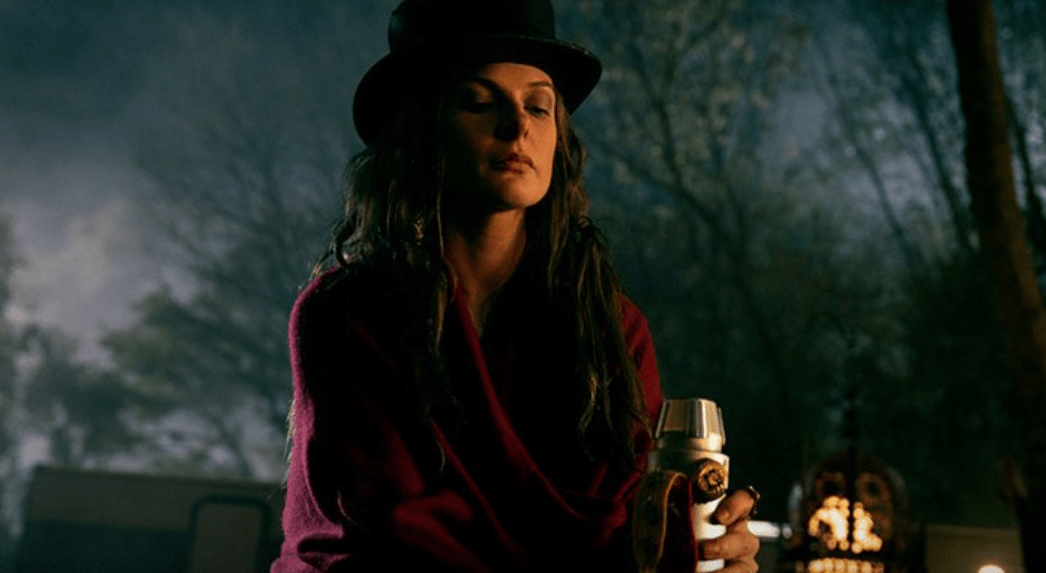 Posted: June 14, 2019, 11:47:31
Here in an interesting interview with Mike Flanagan and Trevor Macy where they talk about Doctor Sleep and how it will connect with the book and movie versions of The Shining.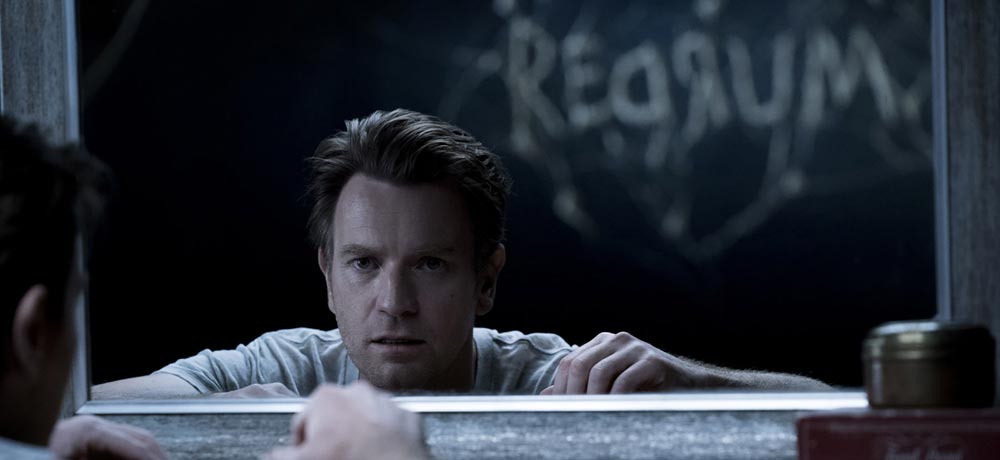 Posted: June 14, 2019, 08:51:50
The trailer for Doctor Sleep is now out and in it there are some scenes that looks like they are grabbed straight from The Shining. However, the only scene that is from The Shining is the one with the bloody elevators. All the other scenes are recreated by Mike Flanagan. Very impressive if you ask me.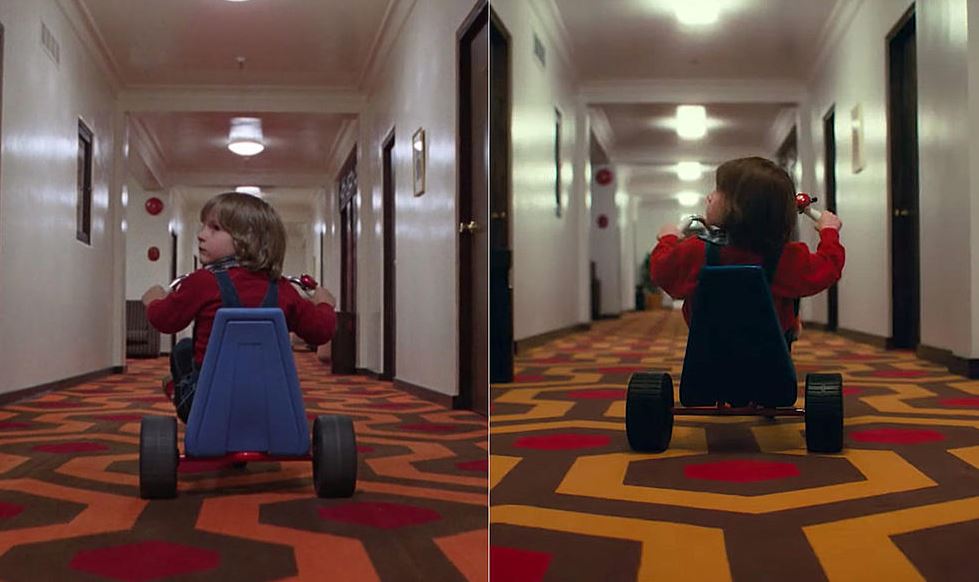 Danny in
The Shining
(left) and Danny in
Doctor Sleep
(right).

Father and son.
You can see more examples
here
Posted: June 13, 2019, 18:12:01
Posted: June 13, 2019, 16:11:42
Here is the poster for Doctor Sleep. Trailer coming later today according to King.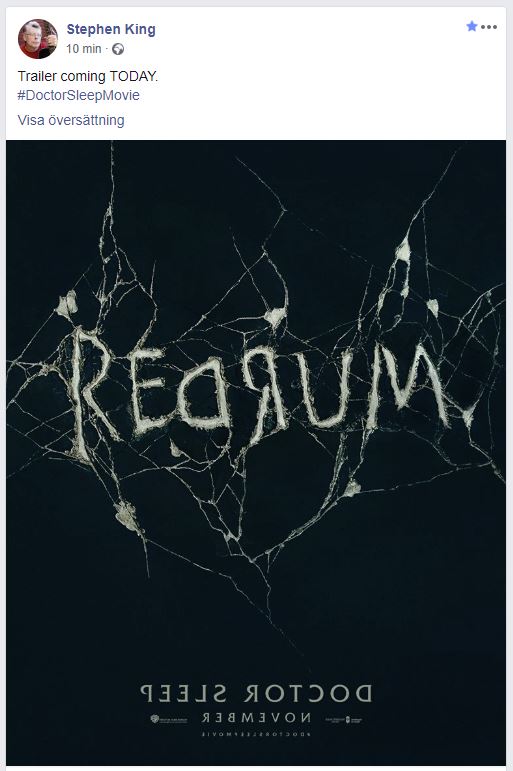 Posted: May 6, 2019, 20:14:47
This is one of those times I wish I lived in the US. If I did I know where I would be on Wednesday May 8th, 7:00pm. Where you ask? Well, I would be Pasadena attending a test screening of Doctor Sleep. Unfortunately I won't be there, but you could by simply RSVT here and hope for the best.

Source: Dread Central
Posted: April 3, 2019, 10:48:42
/Film has seen a clip from Doctor Sleep at CinemaCon 2019 in Las Vegas and here is what they said about it.

Doctor Sleep: We got a glimpse behind the scenes, with Ewan McGregor (sporting a beard as the grown-up Danny) explaining that the film directly addresses his character's traumatic stay at the Overlook Hotel. Specifically: "How does he deal with that terrible experience from his childhood?" Naturally, the presentation also noted that Stephen King is very involved in the production.

The sneak peek itself featured snippets of intriguing footage. A car driving through the woods in the beginning was clearly reminiscent of the opening sequence from The Shining. A group of people gathered around a campfire – possibly the villains of the film, a nomadic group of people with powerful psychic abilities who prey on those who can "shine." We also see Danny touch hands with a young girl (possibly Abra Stone, a psychic kid played by Kyliegh Curran). Then there's a shot of a woman walking with a needle hidden behind her back. Could this be Rose the Hat (Rebecca Ferguson), the main villain of the film?

Finally, the kicker: Danny stands in a filthy bathroom and "redrum" is scratched into the mirror.

Posted: January 31, 2019, 08:35:04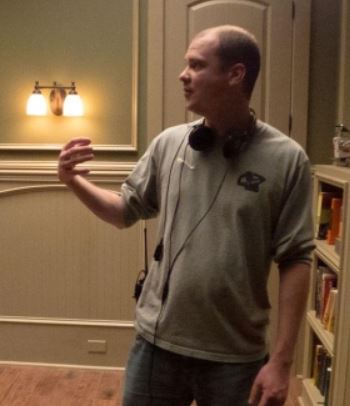 Doctor Sleep was originally supposed to be released in January 2020 but has now been moved up to November 8th, 2019. This comes just days after that Mike Flanagan tweeted that he's editing the movie right now. No mention about a trailer of photos from the movie but hopefully we'll see something soon.
Posted: January 27, 2019, 00:16:38
Mike Flanagan posted on Twitter that Doctor Sleep is in the editing stage now.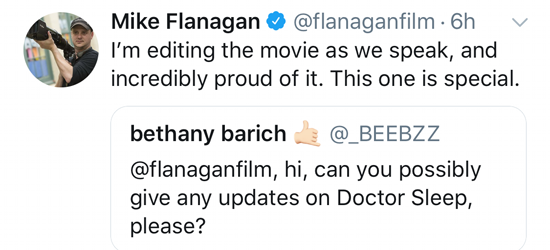 Posted: January 15, 2019, 10:42:40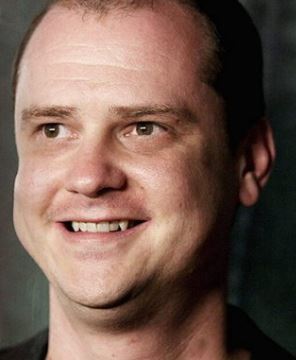 Here is an interview with Mike Flanagan done by Jason Sechrest.

I don't know if I was ever as nervous as I was sending that first cut to Steve. He was the first person outside of my editorial department who got to see the film, and I was terrified about what he'd think. He was my hero, and this particular movie was a high-wire act without a net. He loved the film, and sent me a long email about his thoughts. I'm not lying when I tell you that I printed it and framed it. It's still hanging in my office.

Posted: December 2, 2018, 00:17:51
And that is a wrap on Doctor Sleep.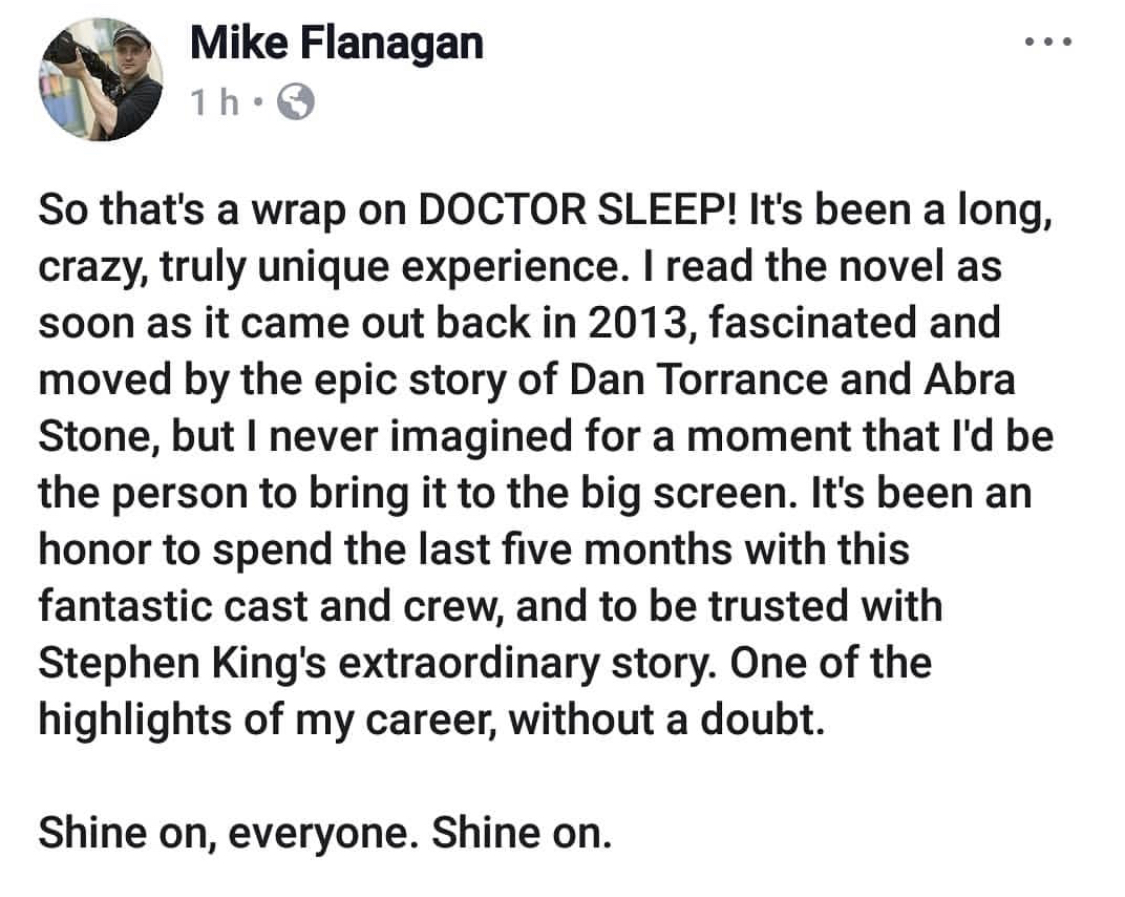 Posted: November 13, 2018, 22:15:10
Bloody Disgusting reports that child actor, Jacob Tremblay has been cast in an unknown role for the upcoming Doctor Sleep. Maybe he'll be playing a young Danny Torrance, in flashbacks?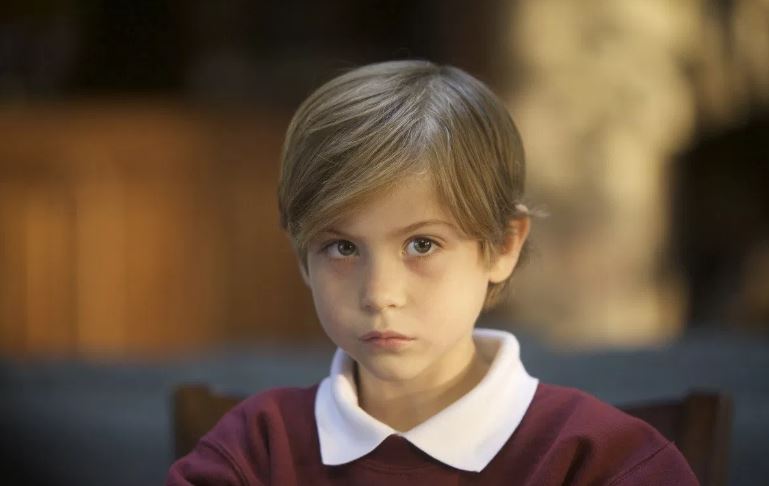 Thanks to Lou Sytsma
Posted: October 3, 2018, 13:50:08
Here is an interesting interview that Bloody Disgusting did with Mike Flanagan about the upcoming adaptation of Doctor Sleep. In it he mentions that he got in touch with the original Danny Torrance actor Danny Lloyd but not what that lead to.

He also mentions that the movie will acknowledge Kubrick's The Shining. it's not clear exactly what that means though.


"Yeah, I think you do," Flanagan said. "I think you do have to acknowledge that. There is no version of the world where I am trying not to acknowledge one of the greatest films ever made. There's no upside in shying away from that reality."

How do you feel about that? Good? Bad? Comment bellow!
Thanks to Lou Sytsma
Posted: September 23, 2018, 23:48:44
Emily Alyn Lind has been cast as Snakebite Andi in Doctor Sleep.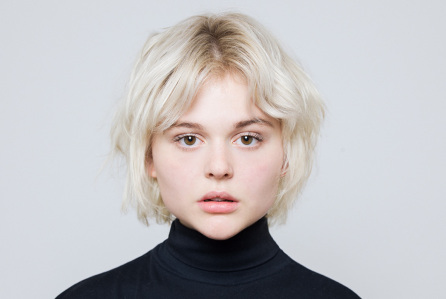 Source:
Deadline
.
Thanks to Lou Sytsma
Posted: September 20, 2018, 23:51:09
Bruce Greenwood has been cast as Dr. John in Doctor Sleep. The description of Greenwood's character is being kept under wraps.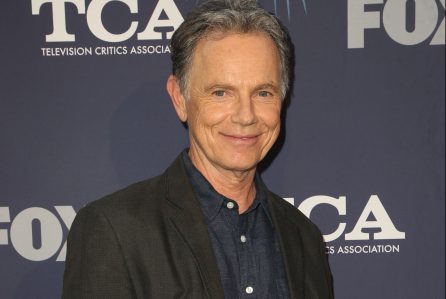 Thanks to Lou Sytsma
Posted: August 30, 2018, 22:41:58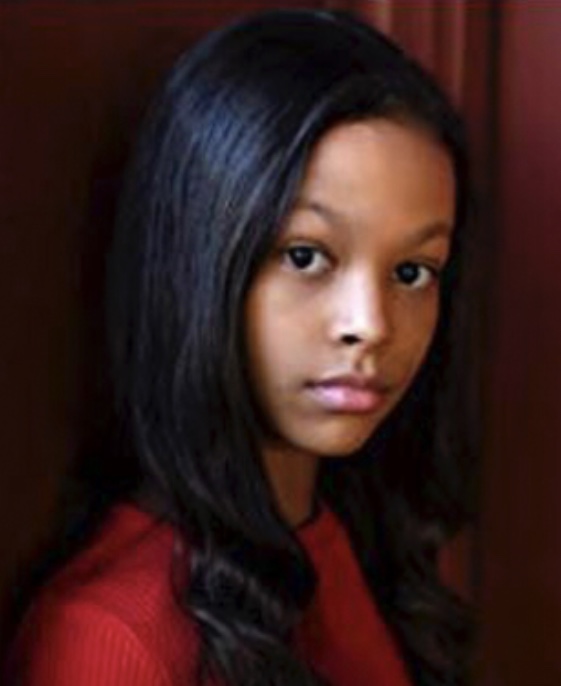 Actress Kyliegh Curran has been cast in the role of Abra Stone, a girl who has the gift of 'The Shining' in Doctor Sleep.

Source: Deadline.
Posted: August 6, 2018, 12:38:31
More from Ewan McGregor about Doctor Sleep:

"Stephen King notoriously didn't like 'The Shining.' He didn't like the fact that they didn't end the movie the way he ended his novel. I think he felt it wasn't a faithful adaptation," McGregor says. "Our script is very faithful to his novel. But for one thing. And I'm not going to give anything away."

Source: USA Today
Posted: August 5, 2018, 21:43:45
Here is a clip with Ewan McGregor where he's confirming that Doctor Sleep will remain faithful to the book. He also say they will start shooting in September.



Thanks to Lou Sytsma
Posted: August 1, 2018, 23:01:36
More Doctor Sleep news. Variety reports that Zahn McClarnon is in talks to play Crow Daddy.

Zahn McClarnon is in talks to join Ewan McGregor and Rebecca Ferguson in Warner Bros.' adaptation of the Stephen King novel "Doctor Sleep," the sequel to the horror classic "The Shining."

McGregor stars as the adult version of Danny Torrance, while Ferguson plays Rose the Hat. Sources say McClarnon would portray Crow Daddy, the right-hand man of Ferguson's character.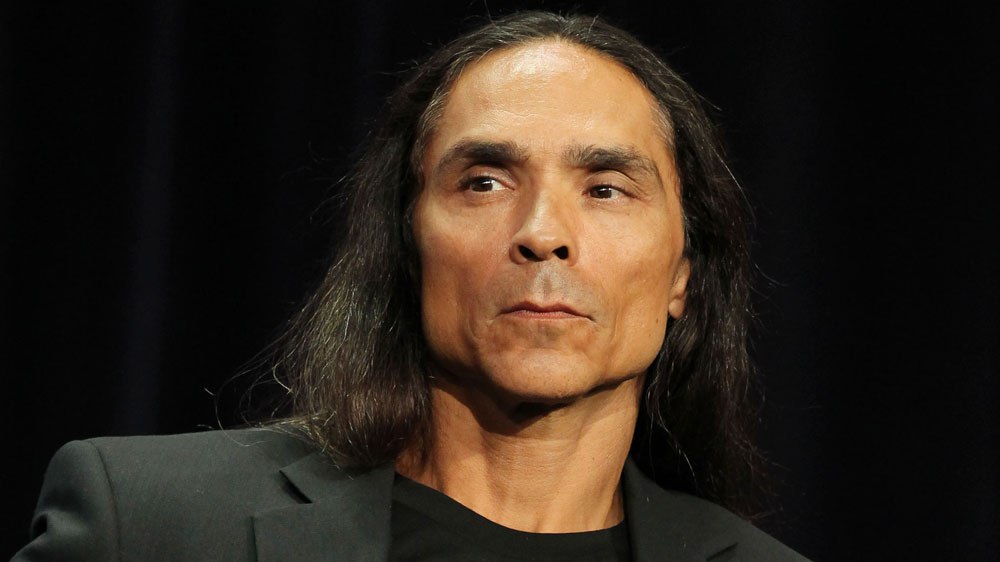 Posted: August 1, 2018, 22:22:34
Deadline reports that casting has been done for the roles of Dick Halloran and Wendy Torrance in the upcoming Doctor Sleep.

Warner Bros is setting Carl Lumbly to play Dick Halloran and Alex Essoe to play Wendy Torrance in Doctor Sleep, the continuation of the storyline from The Shining. Those are the roles that Scatman Crothers and Shelley Duvall played in the Stanley Kubrick-directed original, if you are keeping score at home.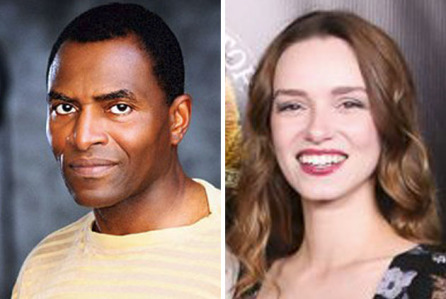 Thanks to Lou Sytsma
Posted: June 29, 2018, 00:42:04
Mike Flanagan confirms that Rebecca Ferguson will be Rose in Doctor Sleep on Twitter.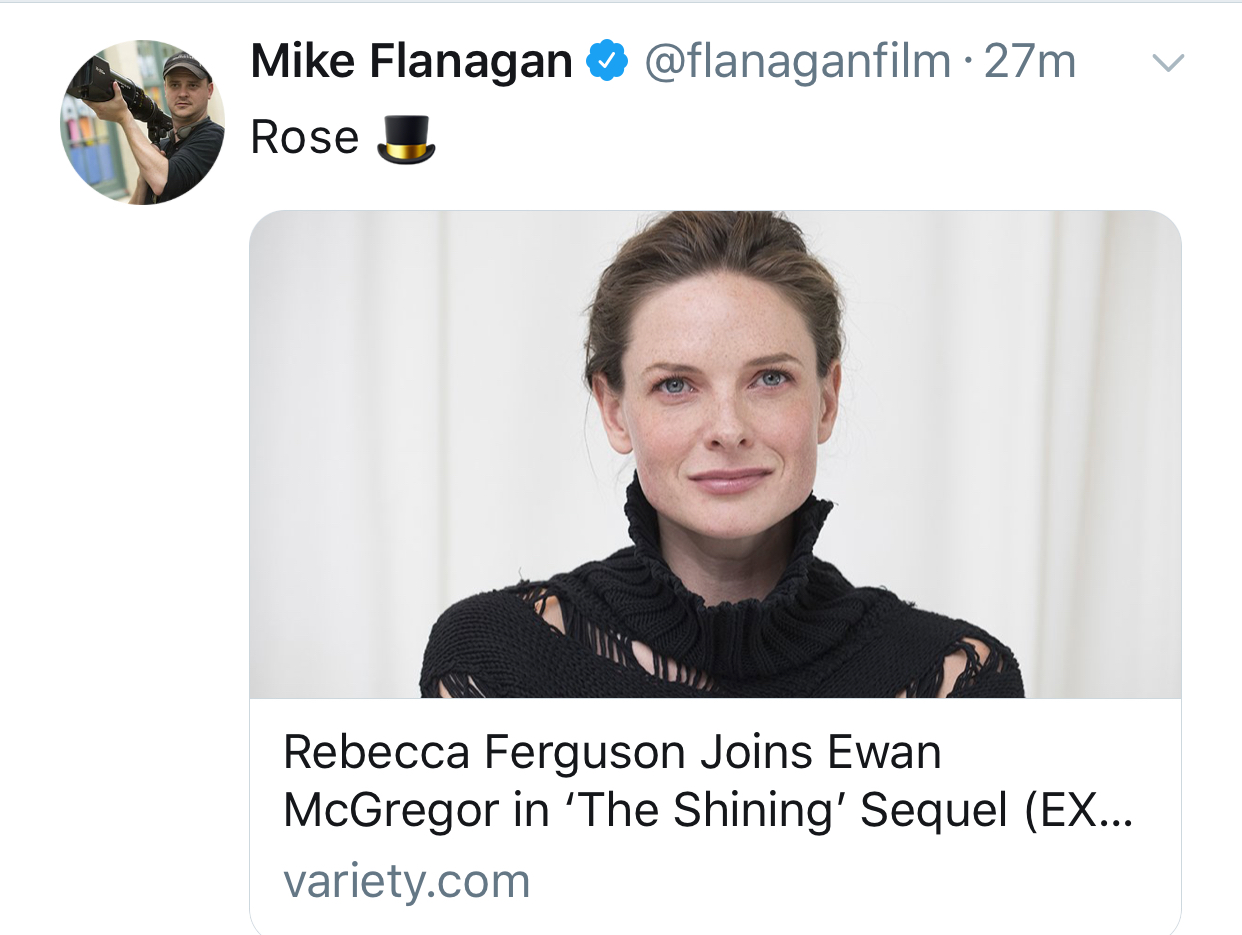 Posted: June 28, 2018, 23:12:20
Variety reports that Rebecca Ferguson is in negotiations to co-star with Ewan McGregor in Doctor Sleep. It is unknown who Ferguson will be playing though.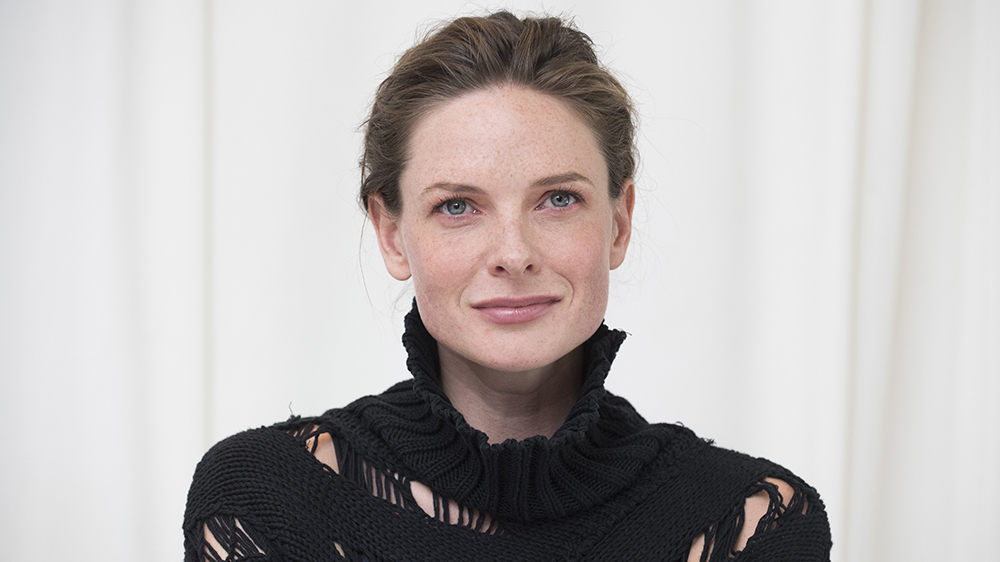 Thanks to Lou Sytsma
Posted: June 13, 2018, 23:53:32
Deadline reports that Warner is in talks with Ewan McGregor to play Danny Torrance in Doctor Sleep.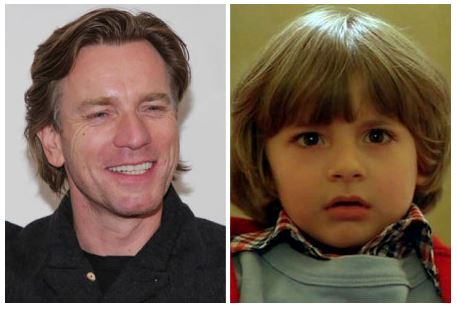 Warner Bros is in talks with Ewan McGregor to play Danny Torrance in Doctor Sleep, the Mike Flanagan-directed continuation of the storyline that began in the Stanley Kubrick pic The Shining. The studio put the film on a fast track after the outsized grosses of another Stephen King bestseller, It. It was then that the studio set Mike Flanagan to direct the adaptation of the 2013 King novel that picks up the life of the Redrum kid Danny Torrance when he is in his 40s and struggling with the same demons of anger and alcoholism that plagued his father.

Flanagan rewrote the script originally adapted by Akiva Goldsman. Flanagan's producing partner Trevor Macy will produce along with Vertigo Entertainment's Jon Berg, and Goldsman is executive producer.

Thanks to Lou Sytsma
Posted: May 24, 2018, 09:32:32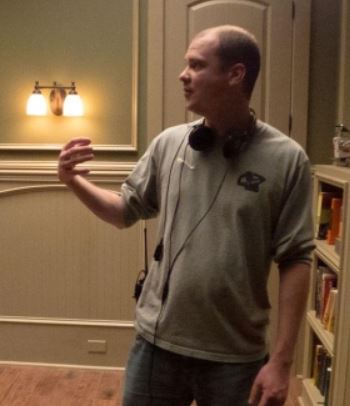 In an email today Mike Flanigan confirmed that the movie version of Doctor Sleep will premiere on January 24, 2020. No casting has been announced yet.
Posted: January 26, 2018, 20:48:12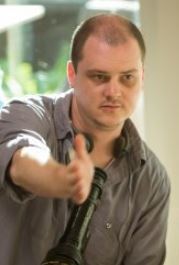 Mike Flanagan is set to direct Doctor Sleep the sequel to The Shining. Warner Bros will release it and Flanagan will rewrite Akiva Goldsman's script, Flanagan's producing partner Trevor Macy will produce along with Vertigo Entertainment's Jon Berg. Goldsman is executive producer.

Thanks to Lou Sytsma
Posted: April 1, 2016, 21:49:17
Reports online say that Akiva Goldsman has been tasked with adapting Doctor Sleep for the big screen for Warner Bros. Pictures, with producers Jon Berg and Jon Gonda overseeing the project too. Currently, there is no director attached to the project, nor does Warner have a firm release date target in mind for the movie.

Thanks to Lou Sytsma and Rick Urban