Posted: November 9, 2006, 21:22
_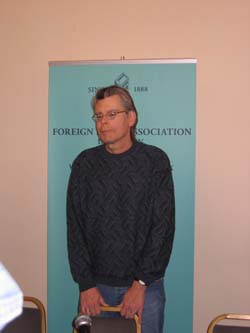 So, today started with a press conference arranged by the FPA. I was offcourse there in good time and got a front row seat, just about 2 meters from King. There where a photosession for 2 minutes, a Q&A for about 40 minutes and then King signed books (I got the ticket for the Battersea Park reading signed).

I also got to ask King a question and I decided to asked him about the new Bachman book that he mentioned at the reading. He then said that he found it in his basement, that it's from 1973 and that the title is Blaze. This book has been known to fans for quite a while and it's nice that King has finally decided to publish it.

No date has been set but King said it would need some updating first so it may be a while...