Reports from An Evening with Harry, Carrie & Garp
Posted: August 4, 2006, 00:39:50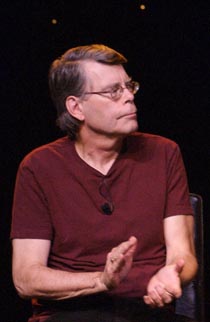 As most of you know King participated in the event An Evening with Harry, Carrie & Garp at New York's Radio City Music Hall on August 1 and 2. Well, now there are some reports about it online. Here are a few:

Earthtimes.org
WCFCourier.com

During the event King also talked about an idea he had that might turn into a book in the future.


Well, it's one of those idea germs that could end up as something completely different when it gets written. He said he had a flash about a character meeting a woman he or she hasn't seen in 20 years and she looks EXACTLY THE SAME as she used to look back then, except she's gotten a lot larger (he wasn't specific about this. He didn't say fat or tall, just larger). His mind is cogitating over what might give rise to such a thing.

Thanks to Bev Vincent