Posted: July 16, 2006, 01:10
_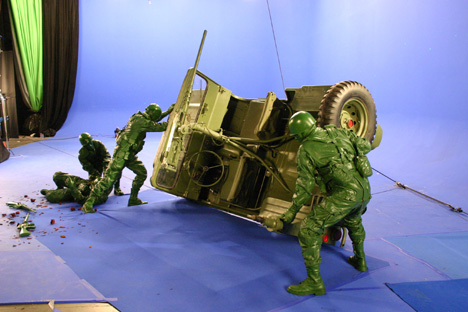 Los Angeles, Ca—Creature and Character artist Lee Romaire of Romaire Studios recently completed special make-up effects for the premier installment of NIGHTMARES AND DREAMSCAPES, a TNT television mini-series adapted from Stephen King's collection of short stories.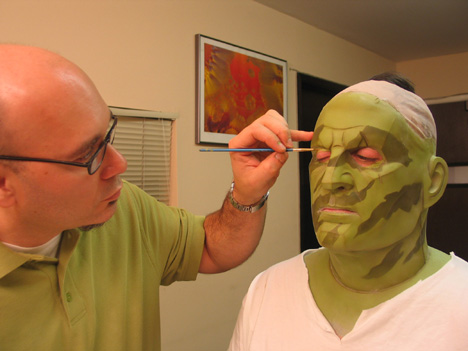 The premier episode, entitled BATTLEGROUND, stars William Hurt as Jason Renshaw, a hit man- for -hire who meets his match as a box of killer toy soldiers mysteriously shows up at his doorstep.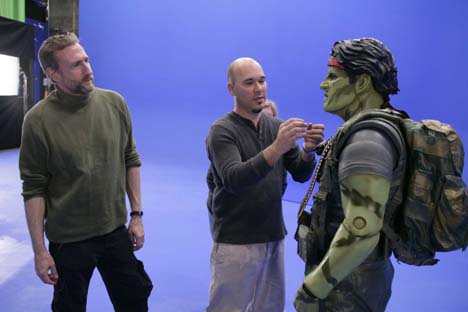 Romaire was contacted by director Brian Henson to create the various soldier characters for the movie. ( Henson, in a addition to directing also runs the Jim Henson Company). "It was a thrill to get that call from Brian. The Jim Henson Creature Shop was one of my favorite places in Hollywood to work."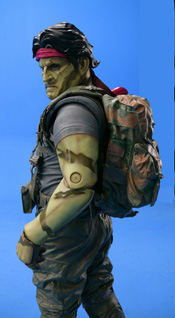 The show posed several difficult effects- related challenges. "The big question for production was 'how do we bring convincing 3 inch tall toy soldiers to life?' The first thought that comes to mind is computer animation, but Brian wanted to see if doing it with practical effects would work. My first initial make-up test for him prompted a full green army man test, so together with costume designer Karen Mason we completed a whole suit and shot a film test. After that test there was no question in anyone's mind that good old practical "man in a suit" effects were the way to go" Romaire said.

The green army men faces were custom plastic masks fitted tightly over that actor's own face "We sculpted their faces a bit to make them look expressionless, like a crude living toy would look. ". The suits were created from authentic army uniforms, fashioned with elaborate under dressings to keep the wrinkles in place and coated with multiple layers of material and finished to give off a "plasticky" sheen.

A much bigger challenge for Romaire and his crew was the Savage Commando character. "The commando was the most elaborate toy in the group, the one that had articulated joints, more paint and sculptural detail and more accessories. Brian wanted the Commando to have a "Rambo" type look, and I wanted to go crazy with the make-up design, with scary black doll eyes and jointed arms, which are very hard to do well. Brian was supportive in giving us a lot of creative freedom to push it as far as we could in the time frame and budget we had."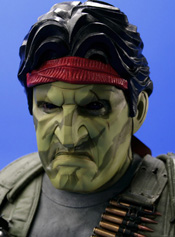 Henson chose top muppet performer Bill Barretta to play the Commando. "The minute I saw Bill's face I knew we had a winner. Bill has a great "tough guy" face, even though he is a very sweet guy in person. I designed the make-up to look like Bill and the prosthetic to be very thin so his expressions would translate perfectly in it. Bill wore a foam rubber face prosthetic, a rubber hair helmet, and full black scleral contacts to hide his eyes completely. He also had green teeth to match his green plastic face. " I thought if a toy opened his mouth, wouldn't he have the same base plastic on the inside as on the out?" It is hard to see on the movie because he's only a few inches tall, but in person the effect was fantastic." Bill's suit was constructed the same way as the green army men, with the addition of arm joints and hard plastic jointed arms and hands.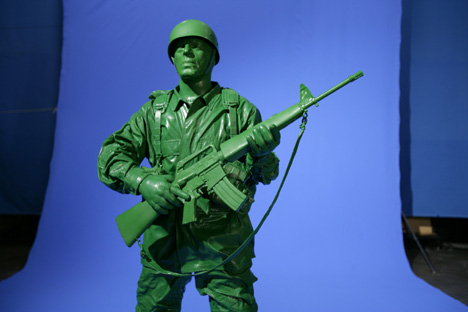 The actors wearing soldier suits were shot against a blue screen and then digitally composited into the real movie sets by Stargate Digital.

"Most people will think these little guys are computer generated, but 95% of what you see when you see the toy soldiers are guys in suits, and the commando is 100% live action. Where the digital work really shone was enhancing the live action performances-altering the soldier's movements to make them appear small- it was a perfect marriage of practical make-up effects and digital work."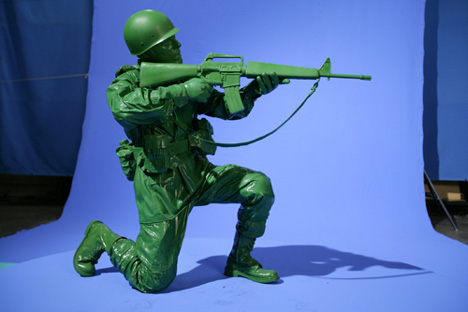 The rest of Nightmares and Dreamscapes (including the full scale setups with William Hurt) were shot in Australia and the additional wound make-up on Hurt in Battleground was done by Make-up Department head Angela Conte.

To view more of Lee's work, go to www.romairestudios.com.