The Winners Have Been Selected
Posted: August 10, 2015, 15:33:08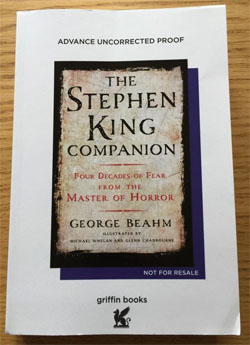 The Stephen King Companion is over and before I tell you who won, here are the correct answers:

Question : What was the name of the Stephen King fanzine George ran between 1995 and 2001?
Answer : Phantasmagoria

Question : Name one other book about Stephen King George has published.
Answer :
Demon-Driven: Stephen King & the Art of Writing
The Stephen King Story
Stephen King: America's Best-Loved Boogeyman
Stephen King Country
Stephen King: A to Z
Stephen King Collectables: An Illustrated Price Guide

Question : When is the third edition of The Stephen King Companion published?
Answer : October 2015

And here are the winners: David MacKay, Christopher Ryan and Mark McClure. Congratulations to you all. And those of you that didn't win, do yourself a favor and get this book when it's released.