Lilja's Library: The Number Game #3
Posted: May 5, 2014, 09:12:48
The second part of the contest is done and the third is upon us. As with last week I want to thank you all for your fun photos. This week even more of you put a lot of effort and thought into them and even those of you that didn't get the answer right or didn't get drawn this time, please know that I appreciate your work. Please try again if you didn't get it right or wasn't drawn.

The right answer this time was Everything Eventual. The number 14 was for the number of stories in the book and Stories because it's a collection of stories.

This time it's a new riddle and it's the same thing you need to do. Decide what book I'm looking for and take a photo of yourself with that book and send it to me. The question and more info can be found here.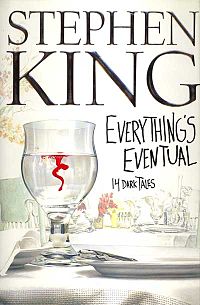 The 10 entries that I draw from the second question were sent it by the following people (please make sure you include your name):

The second 10 entries:
Stefan Hill
Tom Morse
Danny Moiles
Terry Lettmoden
Vickie Harper
Kari Bond
Jesse Rivers
Elisabetta Antichi
John Eberl
Henrik Elstad

You 10 don't need to enter again, you are already in the drawing for the grand prize (you can though just for the fun of it if you want though).