Posted: February 21, 2014, 09:09
_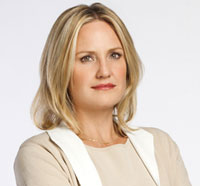 Per TV Guide, Sherry Stringfield ("ER," "CSI") will play Pauline, a mysterious woman who may be connected to the origins of the dome. Previously the Guide teased the return of the eccentric Pauline Rennie, aka Junior's mom and Big Jim's presumed-dead wife, so you can see what we meant about shaking things up.

"I'm thrilled after all these years to be working again with Sherry Stringfield," said executive producer Neal Baer. "We had a blast on 'ER' together, and I know Sherry will bring the same grace, spirit, and intensity to her new, pivotal role on 'Under the Dome'."

Stringfield, who will recur in multiple episodes, joins previously announced Season 2 additions Eddie Cahill, Grace Victoria Cox, and Karla Crome.

"Under the Dome" returns on Monday, June 30th, and plans to kill off two "favorites" in its Stephen King-penned Season 2 premiere.