New book about King's work
Posted: September 20, 2013, 12:11:03
King expert Kevin Quigley has a new book about King's work coming out through Cemetery Dance. It's called A Good Story and Good Words. Get your copy here.

About the Book: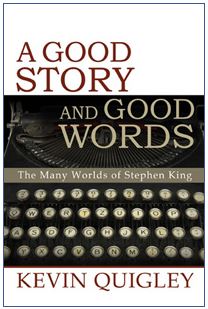 For fifty years, Stephen King has thrilled audiences with his novels, stories, and nonfiction. He has traveled to some odd places, both in his fiction and in the sometimes stranger world of publishing. A Good Story and Good Words jaunts into these many worlds, including:
* a guide to King's writing in the years before Carrie
* a history of how King's novels became bestsellers
* in-depth analyses of every book King has ever written
* how technology has impacted and interpreted King's work, from video games like The Mist to eBook exclusives like "Mile 81" and "Ur"
* a guided tour of King's comics, from Creepshow to The Dark Tower and American Vampire
* information on unpublished, uncollected, and hard-to-find Stephen King short stories and poems
* essays on King at the movies, King on audio, and a whole lot more!
Packed with information, A Good Story and Good Words is a fresh, fun, and exciting journey through the many weird and wondrous worlds of Stephen King!