Posted: September 14, 2012, 08:36

_

'NEW YORK – September 13, 2012 – The scary mysteries and odd eccentricities of this small coastal Maine town will continue to unfold when Haven, Syfy's hit drama series, returns for its third season on Friday, September 21 at 10PM (ET/PT).

In the premiere, Haven picks up immediately following the events of the gripping season two finale with Audrey (Emily Rose) having been kidnapped; Nathan (Lucas Bryant) warned against pursuing a romantic relationship with Audrey; and Duke (Eric Balfour) seemingly engaged in a fight to the death with Nathan after he discovers his family lineage is to kill Haven citizens with Troubles

This season's guest stars include Iain Glen (Game of Thrones, Downton Abbey), Bree Williamson (Gossip Girl, One Life to Live), Laura Vandervoort (Smallville, White Collar), Edge (WWE Superstar), Dorian Missick (Southland, The Cape), Kate Kelton (Harold and Kumar, American Psycho 2), Nolan North (Uncharted video game series, Pretty Little Liars), and Claudia Black (Uncharted video game series, Farscape).

Following last year's successful innovative Twitter campaign, season three will introduce online viewers to a new entity in the Haven mythology—The Guard. Mysterious and deeply entrenched in the history of Haven, The Guard has hijacked Haven social media channels to get their message out—if you are troubled, we can help #EscapeToHaven by @TheGuardHaven. The Guard—represented by Kate Kelton, who portrays 'Jordan McKee" — has taken over Facebook (facebook.com/haven), YouTube (youtube.com/syfyimaginegreater) and Twitter profiles for Haven (Twitter.com/TheGuardHaven), using these social media channels to tell the story of Haven, and to attract new "recruits" to Haven.

Haven, based on the novella The Colorado Kid from renowned author Stephen King, follows former FBI agent Audrey Parker, who becomes a cop in the small town of Haven, Maine, and soon discovers the town's many secrets, which also hold the key to unlocking the mysteries of her lost past.

During its second season, Haven averaged 2.55 million total viewers and 995,000 Adults18-49, rising four percent among total viewers and five percent among Adults 18-49 compared to season one (Live +7 data)."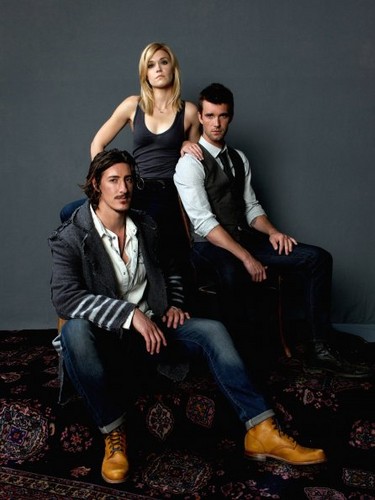 Thanks to Lou Sytsma