Posted: March 11, 2011, 08:38

_

Here are some news about the upcoming season of Haven from IMDB.com. Looks like we'll be seeing Jason Priestly in four episodes.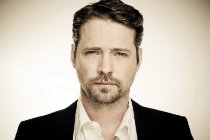 Jason Priestley's getting his paranormal on with a four-episode stint on Syfy's Haven.

The 90210 actor-director will play Chris Weekly, a brilliant, principled but anti-social marine biologist who must deal with an affliction most would consider a blessing.
Hmm… Hung's disease? I'm just spitballing here. I have no idea what's "ailing" him (and the show's producers apparently want to keep it that way).

Not surprisingly, Priestly — whose arc falls during Haven's upcoming second season — has signed on to direct an episode of the supernatural drama as well.

Thoughts? What "illness" do you think his character is "suffering" from?