Limited Billy
Posted: April 27, 2010, 10:06:20
BlockadeBilly will be released as a limited edition by Lonely Road Books later this year. However, the book is already sold out so if you're still looking to get one you need to get on the waiting list. And even that is not guarantee that you'll get one…

Here are the information about the books: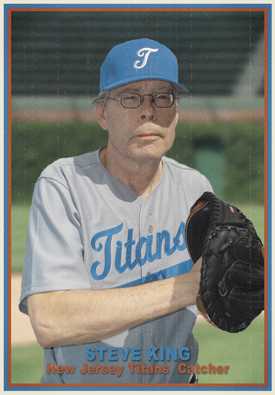 Limited Edition:

Just 350 hand-numbered copies printed on a high quality paper stock (different from any other edition) and featuring a fine leather binding, two color printing throughout the book, a color frontispiece by Glen Orbik, eleven interior illustrations by Alex McVey, a sewn-in ribbon page marker, a custom deluxe traycase with pullout ribbon, an illustrated signature sheet signed by the artists, and Stephen King's first-ever baseball card, SIGNED by King as his way of signing this special edition. Also includes a copy of the authentic William "Blockade Billy" Blakely baseball card Cemetery Dance printed for their 1st edition hardcover ($450)

Lettered Edition:

52 hand-lettered copies with all of the special features of the Limited Edition plus a "THREE PIECE" binding featuring a special Japanese cloth and a fine leather, an exclusive artwork page in each book featuring an original piece of artwork to make EACH copy unique, a bonus art portfolio featuring Limited Edition prints of the artwork from the book, and a deluxe hand-made custom box ($1,250)


Head over to Lonley Road Books to find out more about this book.