My review of Blockade Billy
Posted: April 8, 2010, 23:33:31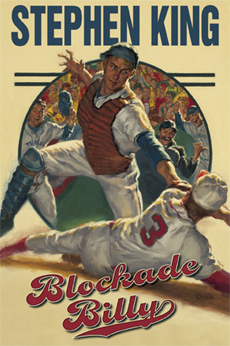 Here are my thoughts on Blockade Billy. The review is free of major spoilers but if you want to stay totally unaware of the books plot, hold on reading it until the book is released (in about 2 weeks).

Today Cemetery Dance also released some illustrations from the book. You can see them here.

And here is a Q&A about the book that Cemetery Dance has sent out:

Q: What makes this book collectible?
A: This is the WORLD'S FIRST PRINTING of a brand new book by Stephen King, a must-have for any King collection, and we are printing a tiny fraction of the number of copies a big New York publisher would be printing. There are some collectors who are already speculating this could become the most valuable Stephen King first trade printing since the 1970s because of the very limited print run. We can't say we think they're wrong. When was the last time King let a small press debut one of his new books? There are millions of Stephen King fans and collectors who won't know about this 1st Printing, 1st Edition until it's already gone.

Q: How do you know people aren't hoarding copies now that word is getting around about how limited this book actually is?
A: To prevent hoarders from grabbing up all of the copies to resell later at inflated prices, we've had to place a strict limit of THREE per person or household. If you've already ordered one copy and have decided you want two more, you can do that, but please don't abuse the system. We really want to make sure our limited supply reaches as many different readers/collectors as possible.

Q: I saw someone say this is sounding more like a "Gift Edition" due to the set print run. What does that mean?
A: In a way, they're correct because we ARE only printing a set number. Some of the key features that will make our edition different than the Stephen King books you usually see in stores are:
* a very limited print run, just like our collectible "Gift Editions"
* beautifully designed with both the collector and general reader in mind
* heavily illustrated unlike a standard New York edition
* first printing, first edition is shrinkwrapped to protect your book
* first printing, first edition includes the Limited Edition William "Blockade Billy" Blakely baseball card, which will never be reprinted

Q: Can I see some samples of the artwork?
A: Certainly! There are now artwork samples from Blockade Billy on our website where you can see some of Alex McVey's work and also view more details of the bonus Limited Edition "Blockade Billy" baseball card.

Q: Is that a real baseball card?
A: Yes! This card is designed to mimic the era it came from and was professional printed by one of the leading baseball card printing companies in America. To say more would give away too much about the story, though! The card has a VERY limited printing and we will never print more.

Q: What about the second printing? Will that be available in stores?
A: We were authorized to do a small second printing due to the incredible demand for this title, but as of today we have so many purchase orders for it that we are only going to be able to fill library orders. That means you won't be seeing our special hardcover edition of Stephen King's first-ever baseball story in bookstores anywhere!

Q: What about Amazon or another online store?
A: We will NOT be sending ANY copies of our first OR second printing to Amazon or any of the other big bookstores or distributors for bookstores. Those websites can list any book with an ISBN, and they can offer any discount they want, but that doesn't mean they are getting copies. We are working on a way to fill that demand from booksellers, but it won't be with the 1st or 2nd printing of our collectible hardcover, so this is going to be a rare Stephen King trade edition that is actually worth something to collectors down the road!

Q: Will this novella be included in King's upcoming collection, Full Dark, No Stars?
A: Nope, it will not! At this time there are no plans to include Blockade Billy in any Stephen King collection. And for more information on Full Dark, No Stars, scroll down this newsletter to the next section.