Kevin Quigley a busy man
Posted: April 7, 2010, 13:21:09
Kevin Quigley is a very busy man. Not only does he has a book coming out this April, Wetware: On the Digital Frontline with Stephen King he has also a review of the upcoming Blockade Billy up on his site.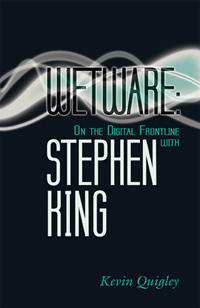 WETWARE: On the Digital Frontline with Stephen King

a chapbook by Kevin Quigley

About the Chapbook:

Stephen King has long been at the forefront of experimental publishing. As the world grows more digital each day, King has consistently remained on the edge of breakthrough trends and technology, finding new ways to publish and interpret his stories. King's digital journey has been strange and fascinating. Wetware is your guide.

From the prehistory of King's involvement with digital media such as The Dark Half video game and F13 to his online release of the lost work, The Cannibals, Wetware covers it all — in a concise and engaging pocket history. Explore the controversy surrounding King's online serial publication, The Plant. Relive the groundbreaking excitement of King's landmark e-book publication, Riding the Bullet. If you ever engaged in interactive fiction with The Mist, were intrigued by the Kindle-only release of UR, or terrified by the motion comic N., Wetware is essential reading.


Order WETWARE: On the Digital Frontline with Stephen King here.