My first quote for the book
Posted: September 29, 2009, 09:10:51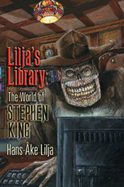 Cemetery Dance sent a copy of my book (a galley) to Peter Straub and he in return sent me this very kind quote that I just had to share with you all:



"Lilja's Library: The World of Stephen King is like beautifully prepared and presented red meat to any admirer of Stephen King. Mr. Lilja has tracked down his many quarries and used them to create this massive treatment of King's work and his world. His book is pure testimony to the love Stephen King is capable of arousing in his readers."
— Peter Straub, co-author of The Talisman and Black House



Well, what can I say? I'm a very happy boy today!