Some new Dollar Babies
Posted: November 27, 2008, 21:45:59
Here are some Dollar Baby news for you.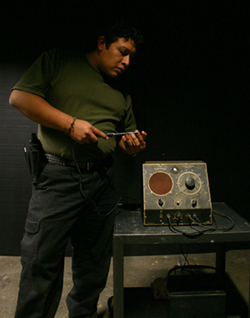 Luke Cheney adapted, produced, and directed the Dollar Baby version of In the Deathroom told me that principle photography finished on Nov. 16 in Denver and that they plan to put the complete film in festivals across US in early 2009. He also told me that they combined the character of Heinz with the character of Ramon and changed the name of Mr. Fletcher to Mr. Adams.

The actors are: Matt Jackson as Mr. Adams, Rafael Hernandez as Escobar, Laura Chavez as The Unnamed Woman and Aaron Vieyra as Ramon (see image).

I also got a mail from Mikhail Tank with an update on My Pretty Pony. He told me that the Dollar Baby is currently in Pre-production, that tentative Shooting dates set in March 2009 and that the completion of the project is scheduled for May 2009. It has Paul Marin staring as the grandfather.