REVIEW
Everything's Eventual
Posted: April 6, 2002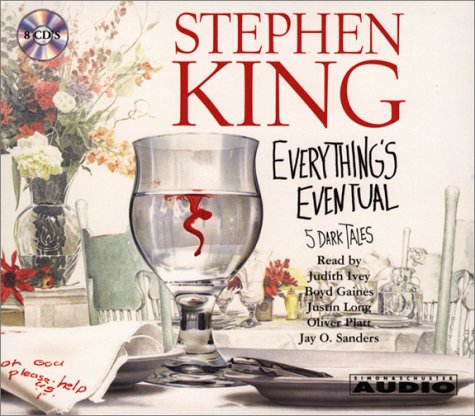 When I got
Everything's Eventual
on audio the story I looked forward to most where
Autopsy Room Four
since that one is my favorite King short story. Now that I have listen to all five stories I still like
Autopsy Room Four
the best but I found myself enjoying the other four tremendously. Far more then I imagine before I listen to them.

All the stories in this audio collection (except one) are really strong ones and that off course help this audio to being as enjoyable as it is. The best of the five is above-mentioned
Autopsy Room Four
read by Oliver Platt. He is perfect for this story and he really makes you feel how it would be to end up in the situation that Howard Cottrell finds himself in. Flung up on an autopsy table, feeling the cutters at your belly and not being able to move…not a very pleasant feeling. I also really like when he sings like The Rolling Stones, which is worth the money this audio costs alone, really hilarious.

The first story on the audio is the title story
Everything's Eventual
read by Justin Long. This story is written in first-person-form and Justin really
is
Dinky, there is no question about it. I'm not aware of how old Justin is in real life but here he is perfect as the young computer-killer with a consciousness. You really get the feeling that he is telling you something he's experienced and not just reading from a paper.
Story number three is
The Little Sisters of Eluria
and this is the longest of the stories in this collection. Boyd Gaines reads it and if I have to pick one of the narrators that I'm not 100% happy with it's going to be Boyd. I don't have much to complain about though. I'm happy with his voice when he reads the story but he doesn't sounds like I imagine Roland would sound. This isn't a big problem though (and may only affect me) and after a while you get rather used to his version of Roland…but it's not 100% correct. He does portray the little sisters tremendously well though.

The fourth story is
The Road Virus Heads North
read by Jay O. Sanders. Jay does a good job reading the story but as I stated in
my review of the book
this isn't one of my favorite stories. This isn't Jay's fault though. He is, as I said, doing a good job with it and the fact is that I found myself enjoy it better here then when I read it myself. Don't really know why though but it's still the case.

The last of the stories in this audio edition is
Luckey Quarter
read by Judith Ivey (lastly seen in King's miniseries Rose Red). She is the only female reader in this collection and since the story is told by a female character I'm really happy that they didn't choose a man to read this one. Judith is, as the others, doing a really great job with this story. She really sounds like an old, tired and frustrated hotel maid.
Lilja's final words about Everything's Eventual
So, go out and get the audio edition of
Everything's Eventual
, put on your headphones and enjoy!!!
Check out my review of the audio edition of
LT's Theory of Pets
and the book edition of
Everything's Eventual
.