Gwendy's Magic Feather
Posted: November 19, 2019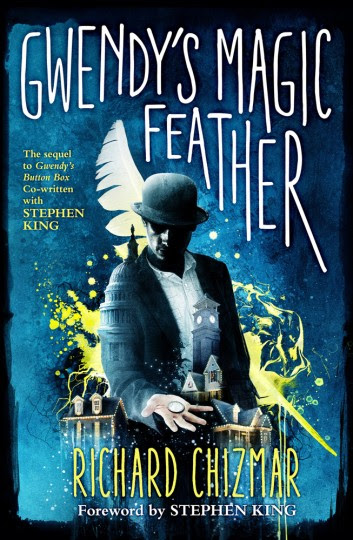 Who would have thought that we were going to see Gwendy Petersen again? Well, not me, but here she is. This time though the Richard Chizmar tells the story without King. The first book was a collaboration between Chizmar and King but fear not, Chizmar knows his Castle Rock and he knows Gwendy. When we meet her this time she's all grown up and living in Washington. The Button Box is almost forgotten until it mysteriously appears again, scaring Gwendy more than she thought was possible. Why is it back and what does it want her to do. And where is Ferris? Why didn't he deliver it himself like the first time?
The questions are many and some of them are answered when Gwendy returns to Castle Rock for Christmas but not all. The Castle Rock she returns to is a town in mourning. Two small girls are missing and sheriff Norris Ridgewick suspects time is running out...
Poor Gwendy has a lot to carry and it doesn't get easier when her old "magic" feather appears. On the contrary she now gets even more difficult things to bear.
I like the book. It's short and it's a fairly quick read but Chizmar carrys it well without King. It's obvious that he knows the story. Would it have been better if King had been involved? No way to tell. It's also been revealed that there will actually be a third book about Gwendy and assuming it'll be as short as the two first I would like to suggest that all three are collected in one book and that we get some more story between them to glue them to each other. I would have loved to know more about the missing girls, the perpetrator, the town and I think that would be perfect to add to a single volume edition.
Either way Gwendy is a very likable character that Chizmar (and King) has created and I can't wait to see what they have in store for her in the third book.
Lilja's final words about Gwendy's Magic Feather:
Gwendy's Magic Feather is like the first book a short book and I find myself wanting more. More about Gwendy but also more about Castle Rock and the people living there. There is something special with that town...no doubt about that!