Paranoid
Posted: November 22, 2000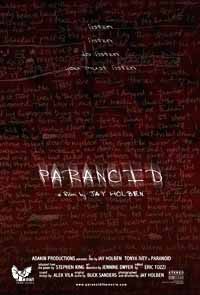 So, it's true, this greatly rumored movie really exists? Yes, it does…and yes, it's based on King's poem with the same name that has been published in
Skeleton Crew
. A movie based on a poem, is this really possible? Well, actually it is and Jay Holben did a great job with the transformation.
In many ways this isn't an ordinary movie though… It's a short film, only 8 minutes long. It's got no real dialogue. It's filmed in a mix of black/white and color. As I said, it's a different movie…
The fact that it's short is understandable. It would be both impossible and unnecessary to do a movie that is 1½ hour long based on a poem that is just a few pages long. That could never turn out good.
Why doesn't it have any dialogue then? Well, to be honest it has one "real" dialogue at the end of the movie but otherwise there isn't any…sort of. It has no dialogue where people are talking to one another. The dialogue in
Paranoid
is actually a monologue: the poem itself. Let me explain. During the entire movie the female actress narrates King's poem. On screen she doesn't speak the words but we still hear it in the background…got it? Her acting is a reflection of the poem.
Jay has chosen to use black/white footage on the parts where we are in the woman's fantasy and imagination and color when we see her as she really is. This is an excellent way to do it.
So, how is the movie then? Well, I think that the people that watch it will either love it or hate it. I don't think there will be any "it was rather well…" statement about this one since it's not the usual movie (as I have already stated). To get the message of it you need to focus on both what is happening on the screen and what is said in the poem. If you concentrate on just one of the elements you will probably think
Paranoid
is one of the strangest movies you have ever seen, if on the other hand you focus on both you will probably love the movie.
Lilja's final words about Paranoid:
At first, when I heard about this movie, I was skeptical as to whether or not it could really be a good idea to turn a poem into a movie. After seeing it, all my doubts are gone!
As I said earlier I think you will either love or hate this movie. Personally I love it! It's shot in a fantastic way and I really like Tonya Ivey (the actress that plays the paranoid woman). I really hope we will see her in another movie soon!
Also, what is a bit special with this movie is that even though it's a so-called "Dollar-Baby" it will be released to the general public. At this time no release date is set but my guess is that it will be early next year. Thanks for that, Stephen King!
Paranoid: A Chant © Stephen King
Don't forget to read the
interview
I did with Jay Holben about
Paranoid
.