Wow! That was my first reaction when I saw NECA's Pennywise 2017 figure. It's the one based on Bill Skarsgård and the details! Even really close it looks exactly like him. It's probably easier to achieve since he's in makeup but still. I'm impressed!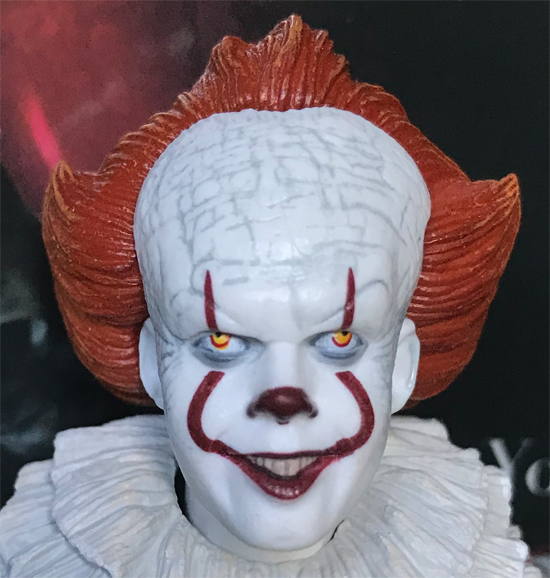 The figure is 7-inches high and as much detail has been put into his costume and entire body as with the head. This IS Pennywise. The package includes three heads for him. One where he looks serious, one where he has a small I-will-eat-you smile and one where he looks like he actually has eaten a small kid. Also included are Georgie's paper boat and a second set of hands. One set is done so he can hold the real balloon that's also included.
Who is this figure for then? Well, you could buy it for your kid to play with. I know I would have loved to have one of these when I was around 10. You could also buy it as a display piece. There isn't a bookcase in the world that wouldn't look great with this one on it. It could be beside your King books, it could be alongside your DVDs or why not at your desk at work. I bet it would lead to a lot of interesting discussions…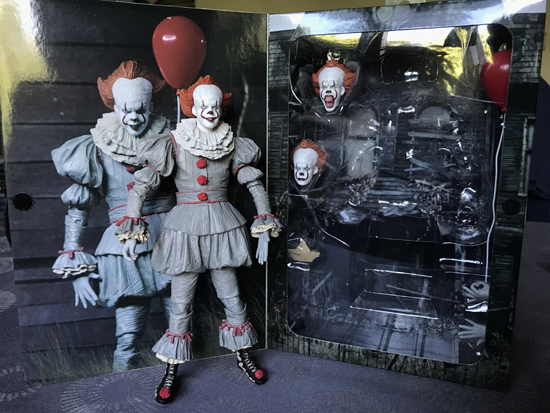 So, no matter who you get this for or how you plan on displaying it it's something you'd want. It's a real piece of art! Go get it now!
Lilja's final words about Pennywise 2017 (NECA):
I still have a hard time getting over how detailed it is. Great work NECA!