Hearts in Suspension
Posted: November 21, 2016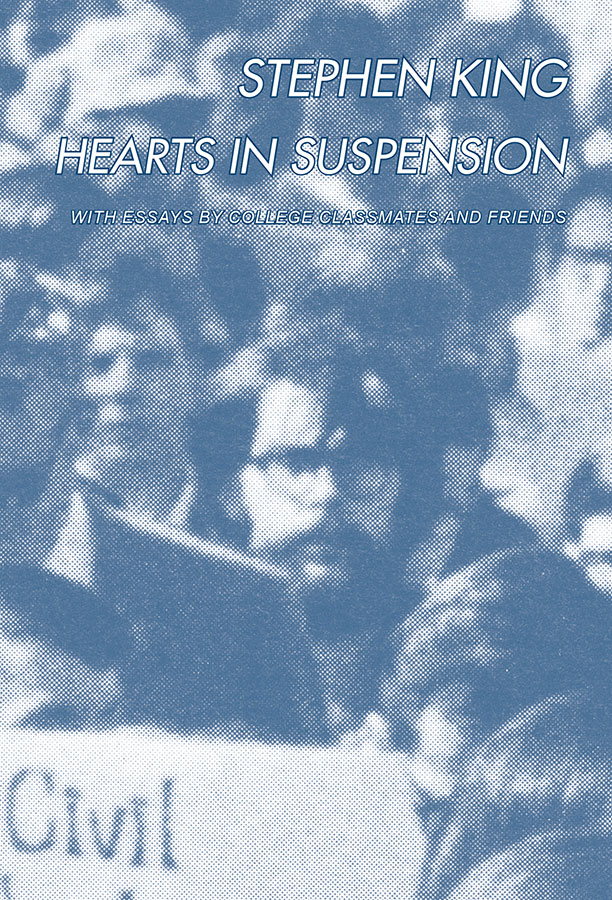 Hearts in Suspension
is an unusual book. It's not fiction even though some of it might seem to be. It's not a biography even though parts are. It's Stephen King telling us about his years at University of Maine. But not even that is all it is. Twelve fellow students and friends have also told their side of meeting King at University of Maine during those years.
All this makes the book an interesting look at a young Stephen King and gives us an idea of what made him who he is today. It's almost like listening to a bunch of friends sitting around a campfire telling stories of their youth. And as if that wasn't enough we also get a reprinting of King's story
Hearts in Atlantis
and four installments of King's college column;
King's Garbage Truck
.
The book is rather short for being something with King's name on it but it's still a very enjoyable read. Each essay is pretty short and you can easily read each of them in one sitting. And it's good to read them after King's because they complement his experiences, as if you look at the same thing but from a slightly different angle.
The book is published by University of Maine and has to be ordered from them. That, in itself, isn't a problem because they have set up very good ways for you to order. One problem might be that it's released in a lot fewer copies than a usual King book. I'm hearing numbers like 30,000 and right now we have no idea if it will be released in any other version. Books like these usually aren't released in as high print number as King's regular books. Same goes for translation to other markets. So, get your copy now if you're looking to get one!
I enjoyed
Hearts in Suspension
a lot and even learned a thing or two. King is very open about his past substance abuse and after reading the book I'm very happy that things turned out the way they did…
Lilja's final words about Hearts in Suspension:
A big Thanks to Jim Bishop for putting this together. If it wasn't for him I don't think we would have seen this book.