The Illustrated Stephen King Trivia Book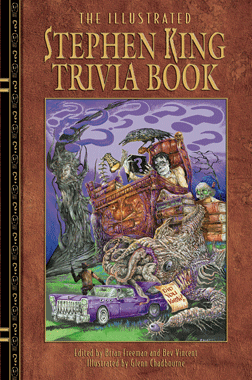 Stephen King as trivia. Well, that has been done earlier in books but not quite the same way as in
The Illustrated Stephen King Trivia Book
by Brian Freeman and Bev Vincent.
For starters they got the fans themselves to ask the questions, which I don't think has been done before. They also got Glenn Chadbourne to illustrate the book with really nice black and white drawings. The illustrations are also used as questions. It can be a drawing of a car and then the question is something like "what is the car's name"? A really interesting concept. It's different from the usual way of asking questions and the mix of these pictures and text question in nice, good job!
The book contains over 1,000 questions and varies between the really easy ones that everyone will probably know to the really hard ones that the authors themselves probably had problems with. And the book also contains a hints section. Here is where you go if you don't know the answer but still want another chance before peeking at the answers. Gives the book an extra dimension…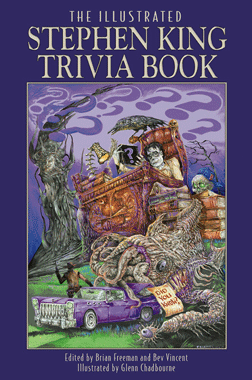 Even if the prime reason to get this book is the questions you will probably be surprised over how cool the illustrations are. They are like nothing I have ever seen and they capture King's feeling perfectly!
The book also includes an introduction by Bev Vincent and an afterword by SKEMERs founder Michelle L. Revelle. Here afterword, in which she tells the history of SKEMERs, is quite interesting. Even though I've been a member since sometime in 1995/96 I didn't know all of its history. The members of SKEMERs contributed with most of the questions for the book.
The book is released in trade paperback (the one with the blue cover), hardback (the one with the brown cover) and a limited edition. If you're a collector you might want to go for the limited edition in which you also get a piece of Glenn Chadbourne original artwork that was used in the book. Otherwise one of the other editions will do you fine. The hardback will probably survive more readings so it may be worth investing in that one…
Lilja's final words about The Illustrated Stephen King Trivia Book:
If you like to test your skills on King this is definitely THE book to do it with. It covers most parts of King's life and career so you get a wide spectra of questions, in a wide range of difficulties. It's the ultimate trivia book if you ask me.