The Dark Tower - Concordance vol 2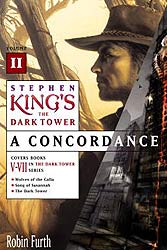 OK volume two of
The Dark Tower Concordance
is finally out. It was supposed to be out back in November last year but for some reason it was delayed and not released until now. I don't know why but I do know it was worth the wait. It's almost twice as big as volume one and has an introduction by the author, Robin Furth.
One of the things I wondered about before it was released was how the info about the different characters would be. I thought it would be that volume two would only cover the last three books but there is also info about what happened to the character during the first four books. It's like a shorter summary of the fist four books and them deeper info about the last three. It works but it won't be easy if they get the idea to put both volumes in one.
Otherwise volume two contains much the same as volume one…but for the last three books and together with volume one they cover everything you need to know about
The Dark Tower
series very well. Remember though that this isn't a book you read from cover to cover (if you want a book like that you should check out Bev Vincent's
The Road to the Dark Tower
. This is the kind of book you take out to look things up when you read the book or when you have a discussion about the series with a friend.
This one also has something called Reading Group Guides for all seven volumes. Personally I didn't have a clue to what that meant before I looked it up in the book. Let me tell you what it is…if you don't know either. It's a bunch of questions about each book that you can get together with other fans and talk about. It's a way to get a reading groups discussion going. Nice!
Like in volume one it also has some maps and even though they cover most of the important places I think there could be more. Still though, it's nice to see how things stick together.
Lilja's final words about The Dark Tower - Concordance vol 2:
If you have volume one and think that it's a good book you should definitely get volume two as well. You will get what you can expect but no surprises. Not that it's something I want or expected but it gives you a feeling of what kind of book it is.