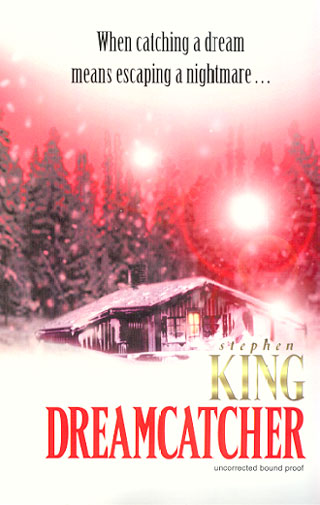 We're in Derry. It's 1978. Something big is happening… Four young boys are doing a brave thing - perhaps even a great thing…
In
Dreamcatcher
King tells the story about Beav, Pete, Henry and Jonesy, four boys living in Derry. One day in 1978 they save the retarded Duddits from being harassed by some bullies. This is a brave thing considering that the bullies are both bigger and stronger then they are. A great thing considering that it will affect the future for mankind…
After saving Duddits the four friends spends a lot of time with him. Something both they and he enjoys. It turns out though, that spending time with Duddits changes the four of them. It gives them a special gift; it gives them the gift of telepathy…
When the boys get older, the four of them leave Derry. Duddits are left behind. They spread like the wind and don't have as much to do with each other as they used to, when they where children. They do, however, get together every November in the woods of Maine to hunt. They have this place called the Hole in the wall where they stay for a week and talk, play cards and shot a dear on occasions.
I feel
Dreamcatcher
has a strong connection to
IT
. Not just because it takes place partly in Derry. The Losers Club and its members are actually mentioned in the book.
Dreamcatcher
is also connected to
IT
by the way the story is told. King does, like in
IT
, mixes past and presence, telling us about how the four of them where as kids and how they are now as grownups. Mixing what is happening now with what happened back in 1978.
Dreamcatcher
is greatly told by King. I like its style a lot.
This time the present is November 2001, yes King is telling this story as if it was already November 2001. When the four of them are at the Hole in the wall this time things go wrong in a horrible way though.It all start out as usual but one day a man called McCarthy stumbles in to their lives. He tells them he has been lost in the woods for some time. When they get him into the house he starts letting out this farts. Farts that smell like no fart they have ever smelled before. At first they blame it on that he must have been eaten bad stuff while lost in the woods, stuff from the wood itself. It turns out though, that he is pregnant…
Inside of him, a shit-weasel is growing and soon all hell breaks loose. It turns out that a space ship has crashed in the woods. With the ship were aliens and something called Byrus. The Byrus or Ripleys, as the military is calling it, seams very contagious and is now spreading fast. The military soon ceases control over the area. The man in charge, Kurtz, leads an attack against the aliens and blows up their ship and kills them all and eliminates the danger. Or so he thinks…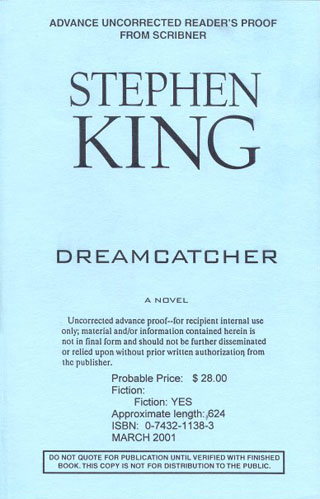 Henry, who escapes from the woods, is cached by the military and put in a barn with about 200-300 other civilian (mostly hunters) that soon will be executed. Kurtz don't want to leave any witness behind…
When King describes the military camp, the military and the virus situation I get a feeling its
THE STAND
all over again. Not that any of the characters, places or events from
THE STAND
is mentioned but because of the spreading Byrus. The story gets some of the same feeling as in
THE STAND
.
After a while people are starting to notice that the aliens brought more then the Byrus and the Byrum. They also bought telepathy. People are starting to be able to read each other's minds. Henry feels that Jonesy, who has been abducted by Mr. Gray (the only surviving alien), is about to do something horrible. He knows he has to stop him. He convinces, with the help of telepathy, Owen who is Kurtz right hand to help him. Owen helps Henry break out of the camp, setting the other prisoners free, and by doing so, creating a bloodbath.
Soon they are on Mr. Gray/Jonesy's trail. He is heading for Quabbin Reservoir. Shaft 12 to be exact. Mr. Gray plans to dump the body of a dog in the shaft. The dog, who has a Byrum, a shit-weasel, grooving inside will be dumped in the water and serve as the Byrum's home until it's adapted to the climate.
Henry and Owen has to stop Mr. Gray and to do it, they need Duddits. As they pass Derry to pick him up, the find out he is dying in leukemia. This without any of them knowing about it. Here King is really playing on emotions, and he is successful! Some parts of the story are really sad.
As if caching Mr. Gray wasn't enough for Henry, Owen and Duddits there is more. Kurtz is in their heals. He feels Owen has stepped over the line and is going to make him pay for it…
Lilja's final words about Dreamcatcher:
I liked this book a lot and I think most of King's fans will as well. King tells the story, which I think is really good in a great way (with all the jumps between past and present, dreams and no dreams). I was also surprised by how the story developed for the four main characters. I won't say what happens but to me it was a bit of a surprise.

The climax of the book is also very exciting. I was like on nails for the last 100 pages or so and had a really hard time to put the book down. Besides being exciting and sad, Dreamcatcher is also one of the bloodiest and goriest books King has written. One scene in a bathroom is truly gruesome… I also predict that the books ending will be widely debated.

As most of you know this book has already been destined to be a movie. This I think will be hard task to fulfill. Much of what happened can only be imagined well in the readers mind. I know the technique in Hollywood is great but this is one story they won't be able to tell in a satisfying way…

So, my advice is; go out and get Dreamcatcher now! Dreamcatcher is King at his best!