Stephen King on the Big and Small Screen
Posted: February 21, 2011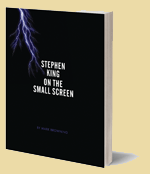 Mark Browning has written two books about the movie versions of King's stories. The first one is called
Stephen King on the Big Screen
and the second
Stephen King on the Small Screen
. The plan is to give a critical analyze of King's movies and in
Stephen King on the Big Screen
Mark writes about the once that has been shown on the big screen and in
Stephen King on the Small Screen
the one from the small screen, the TV. There is one problem though that I noticed as soon as I checked the contents page. Mark mixes the movies.
In
Stephen King on the Big Screen
it's just the TV version of
The Shining
that's included but in
Stephen King on the Small Screen
he talks about the
Children of the Corn
movies even though only the remake was made for TV,
The Mist
,
Sometimes They Come Back
parts 2 and 3 and
Thinner
. This really isn't a big problem but it's a bit annoying when the books titles clearly indicate that they are dealing with specific types of movies.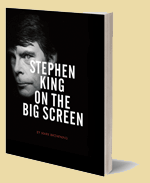 But that bump a side, the books work. In them Mark gives his opinion on the different movies and explain small things that you might not have thought about when you saw them. He compares them to other movies and speculates what might have influenced the filmmakers other than King's written word. In some cases I agree and in some not but it's interesting to read his thoughts either way.
A word of caution though. The books doesn't deal with the facts of the movie like how it was done or who's in it so if it's that kind of information you're looking for there are other books that works better for those purposes. Here you get Mark's opinion on the movies and the books are more like a conversation about the movies than facts about them. Just to make that clear.
So, do I like the books? Well, I enjoyed them even if I, as I said earlier, didn't agree on everything Mark said but that isn't strange in any way. Both books are, as critical analyzes almost always are, quite heavy reading though but as often still worth reading.
Lilja's final words about Stephen King on the Big and Small Screen:
Do you need both books? Well, that's up to you but together they give you a wider look on King's movies so if that's what you're looking for I'd go for both if I where you.