REVIEW
Riding the Bullet
Posted: October 14, 2010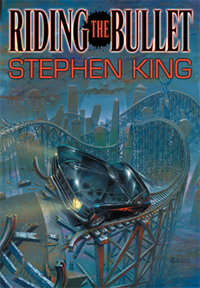 Riding the Bullet
is a very interesting and unusual book. And it's more than a book. If you start in one end of the book you have King's story and if you turn it over and start at the other end you can enjoy s lot of extras from the movie. Starting with an intro from Mick Garris, then Garris's screenplay for the movie version of
Riding the Bullet
, followed by an art gallery with illustrations by Bernie Wrightson, photos from the set, hand-corrected script pages, and production notes and director's notebook.
As you can see it's a book with a lot of extra stuff and goodies between the covers and to be true it's actually more a book about the film
Riding the Bullet
than it is a book version of the story. But either way it's a very nice book that gives us both the story and all the behind the scenes info about the film we could ever hope for.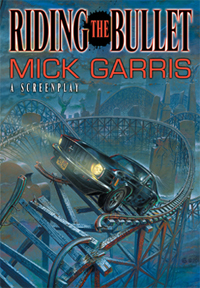 Personally I love books where we get both the story and the behind stuff. It's great to check out the script and see how the director, in this case Garris, has commented on it. The illustrations from Wrightson are as beautiful as the director's notebook is interesting i.e. very.
The book is released by Lonely Road Books and the format is a bit bigger than a usual book but that is just the way these kind of books should be. The bigger format is very nice when you check out the art but also when you read the script and Garris comments. It's surprisingly not that often that we get books like this about King's movies. I can think of three right now and those where for the movies
The Shawshank Redemption
,
The Green Mile
and
Silver Bullet
and neither of these included the story if I remember correctly. Hopefully there will be more books though because these types of books are really worth having your bookcase.
Lilja's final words about Riding the Bullet
If you like King's story and Garris movie you should definitely check this book out. And if you don't, you should still give it a chance.