Penguin Audio books 6 - 10
I have already reviewed the first five audio books from Penguin and now it's time for the other five and my thoughts on those. As with the previous one I suspect that most of you know what they are about so I'll keep the retelling of the plot to a minimum.
The Dark Half
tells the story of author Thad Beaumont that isn't just writing books under his real name. He is also writing stories under the pen name George Stark. Finally he gets tired of not getting any work done as himself and when he is blackmailed by someone who finds out he is Stark he lets everyone know Thad and George is one and the same. The only problem is that Stark doesn't want to die. He wants to write another book…
The audio book is narrated by Grover Gardner and I must admit that he does a very good job with it. He's into the story and he brings both Thad and George to life in a good way. He changes his voice, maybe not all the time as much as he could, but enough to give the characters their own identity.
The audio book is on 10 discs and has a running time on 13 hours.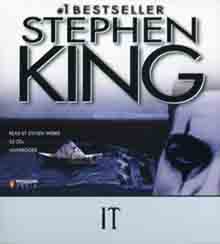 IT
is King's longest book to date and I bet there's a lot of happy fans now that it has been released on audio. The story is about seven kids in the 50's that are all in some way losers. Together they form this losers club and during that summer they are the best of friends and do everything together. In fact they do stuff that not many other kids can ever dream of doing, not even in their worst nightmare. Evil itself arrives to town and starts killing of the town's kids. The losers club decides they will kill IT and they also swear that if it ever comes back they will all come back and kill it again. Off course it comes back and the book tells both the story of them being kids and them being adults fighting IT.
The audio book is narrated by Steven Weber and he does a fantastic job with it. He gives the characters their own identity and life in a way that is very wanted when it comes to audio books. It's extra admirable that he can do that with a book that's this long. I actually asked him about it and he admitted that it was a daunting task.
The audio book is on 35 discs and has a running time of 44 hours.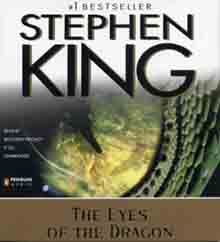 Eyes of the Dragon
was originally written by King for his daughter. She didn't like the scary stuff he wrote so he wrote a different kind of story. A story about two brothers, Peter and Thomas, who where both sons of King Roland. In the story we also get to meet the wizard Randal Flagg who many of us know from
The Dark Tower
books.
Eyes of the Dragon
is a rather different King story though and it's often recommended as a starting book for younger readers that's just getting to know King and his work.
The audio book is narrated by Bronson Pinchot that some of you might remember as Craig Toomey in
The Langoliers
. He narrates it very good. The dialects are perfect and he does an excellent Flagg. I must admit that I really enjoyed listening to this one again. It's been a long time since I read it and this audio book was a really nice way to get to know all the characters again.
The audio book is on 9 discs and has a running time of 11 hours.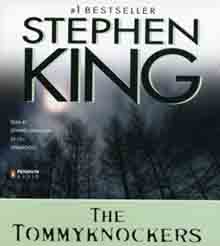 In
The Tommyknockers
we meet Bobbi and Gard in the small town Haven. Bobbi is the local author and Gardner the poet with a drinking problem. Soon though they'll have other problems to worry about. One day when Bobbi's out walking in the woods she find something, something that will affect the entire town…and not in a positive way. Because of a steel plate in his head Gardner is the only one not being affected by what they have found and it's now up to him to save the town, to save Bobbi.
Edward Herrmann does a fairly good job narrating the book but in some passages he gets a bit monotonous and I'd prefer if he gave the characters a bit more life. But then other parts his voice is perfect. A real story telling voice. I'm glad though that
The Tommyknockers
is one of the titles that made it into an audio book. It's really not as bad as some say…
The audio book is on 25 discs and has a running time of 30 hours.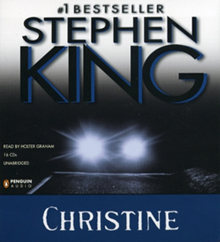 Christine is the love of Arnie Cunningham life. He loves her more than anything else even though she is just a car. Or is she? There is definitely something different with Christine compared to other cars and for anyone except Arnie it's different in a very bad way. You see, Christine loves Arnie almost as much as he loves her and she is very jealous. Anyone who tries to take him away from her will have to answer to Christine but also everyone that is to kind to Arnie gets to answer to Christine because she doesn't want to charge him with anyone.
Holter Graham is the books narrator and he does a great job. He gives the characters life in a good and believable way. Maybe Arnie has a somewhat to hoarse voice but that can also be just my imagination of who Arnie is and what he should sound like. And he manages to get Lee quite well also which is admirable since she is a girl and it's quite hard for a man to do a woman's voice good…
The audio book is on 15 discs and has a running time for 19 hours.
Lilja's final words about Penguin Audio books 6 - 10:
I'm very happy that all these books are now out in audio versions and my favourites of these five has to be IT and Eyes of the Dragon and I don't think I'll be alone in feeling that way...