REVIEW
Knowing Darkness - Artists Inspired by Stephen King
Posted: December 9, 2009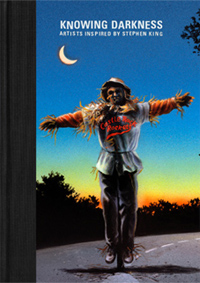 Lets start with the obvious; the size of the book. There is now way of getting around it. This is by far the biggest book I have ever seen. But the size fits the purpose of the book excellent. The book, as you might have guessed, is full of illustrations inspired by King's stories. Most of them are from some published book but there are also original illustrations that are done just for this book. The only problem with the books size it that you won't be lying in bed on your back reading it…
The book starts of at the beginning of King's career and works its way through his books. We get illustrations, book covers, illustrations from magazines and other places as well as text about the illustrations, their creators and their history. All of the illustrations are also accompanied with a short text that explains who have done it, where it has been published and what its title is if it has one. But don't let this fool you. This is not just a book full of illustrations. George Beahm, one of the experts on King, has written a wonderful text for the book. In it he shows his love for the illustrations, their creators and King's work. And it complements the illustrations is a wonderful way.
The book has an introduction by non other then Frank Darabont who's worked on a number of King movies and also expressed his love for limited books and illustrations and when you read his intro it's very obvious that he really likes art and feel that it has a big impact on books. When it comes to the other artists the book focuses more on some of the artists whose work can be found in the book. The most recognizable of them are Ned Dameron, Phil Hale and off course Bernie Wrightson and Michale Whelan who has done a lot for King's books. But we also get info about artists like Jae Lee who might be less known but has done a wonderful job illustrating most of the
Dar Tower
comics from Marvel.
After reading the book I realized that even though I had seen most of the illustrations there are a lot that I had no idea they even existed. Most of what's shown in the book is gorgeous but to be honest, some of them aren't. I won't single them out but some I don't understand how King could have approved. But, even though that is the case (and that is just my personal opinion, every single one has a history and I find myself very fascinated while looking at them. And I'm happy that my personal favorite is included. Which one it is? Without a doubt Rob Wood's scarecrow that was shown on the cover for the US hardback of
Nightmares & Dreamscapes
. I just love that one!
Isn't there anything not so good in the book then? Well, there is. It's not much but the placing of the notes is confusing. I had a hard time finding them and since this is such a big book it would probably have been easier to just put them on the bottom of each page they are referred from. But as I said, this isn't a big problem. The book is gorgeous and I just love going through it looking at every illustrations. Actually you probably need to go through the book twice before you feel you have been through it once. The first time you forget to read the text since you get so fascinated by the illustrations themselves, I know I did.
Lilja's final words about Knowing Darkness - Artists Inspired by Stephen King
Knowing Darkness - Artists Inspired by Stephen King
is a beautiful book and it's a perfect Christmas gift. In fact, I think you should give one to a loved one and then give yourself one, you deserve that!
Knowing Darkness - Artists Inspired by Stephen King
is a pure labor of love by all involved and when you read it, you feel that love!