The Road of Trials #0 (color)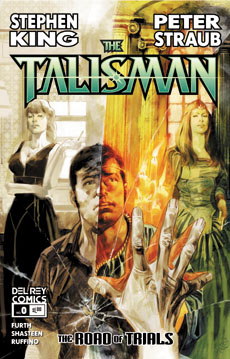 So, the first issue, or rather the issue before the first issue, issue #0, of
The Talisman
is here. It's the exact same issue as the black and white version that was given out to promote the series at Comic Con but with the difference that this version is in color and it looks really good.
As I said this issue takes place before the first issue and really deals most with Jack Sawyer's dad, Philip Sawyer, and his twinner and how Morgan sets both of them up to be assassinated. Morgan wants to bring electricity to The Territories but Philip refuses since most stuff looks different when it's moved from one side to the other. Off course Morgan is going to have it his way anyway and Philip and his twinner pays the price for it.
This issue is only a taste of what's coming and really don't tell you a lot about the actual story of
The Talisman
but it looks very promising for the future. I liked the
black and white issue
but this colored one looks so much nicer. The colors add the final touch to it and are very nice to rest your eyes on. Add to that a good story and scripting and you'll have a success. In other words, there really isn't anything to complain about so go out and find a comic store today and get your our own copy.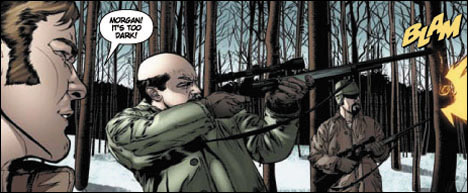 Lilja's final words about The Road of Trials #0 (color):
This issue #0 is, as I said, a preview and don't tell us much about the rest of the comic. It looks good but it's with the next issue the real test of how good this comic really is takes place.