Nightmares & Dreamscapes x 3 (part 2)
Posted: September 30, 2009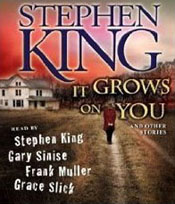 This week Simon & Schuster released the remaining three audio books that complete the
Nightmares & Dreamscapes
collection. Earlier this year
Dolan's Cadillac: And Other Stories
,
Chattery Teeth: And Other Stories
and
The House on Maple Street: And Other Stories
(
read review here
) where released and this time it's
It Grows On You: And Other Stories
,
The End of the Whole Mess: And Other Stories
and
Sorry, Right Number: And Other Stories
that completes the collection.
These three latest editions give us a total of 12 stories (24 if you count all six books) and an afterword by King. The mix of the stories are quite wide and
Sorry, Right Number: And Other Stories
is the one with the most different stories collected. Here you got everything from a full-cast dramatization with
Sorry, Right Number
, a hindu fable in
The Beggar and the diamond
and the afterword, narrated by King himself.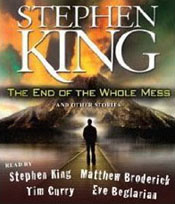 Nightmares & Dreamscapes
is a rather strong collection and it would be hard to pick just one of these books and leave the others. Most fans who buy them will probably end up buying all three (and here is the downside of these releases) books and that will probably cost more than if the collection had been released in one edition. But on the other hand, if you only want one or two of the stories you are going to save some money…but what fan wants' only a few? Not me that's for sure.
Among the narrators we find Stephen King himself who narrates both
Home Delivery
,
It Grows on You
and the afterword as well as Gary Sinise, Frank Muller, Matthew Broderick and Tim Curry. And they all have good voices for narration but it's when King narrates himself the magic appears. He is very good at narrating his own stories. And after all, he wrote them so he should be, right?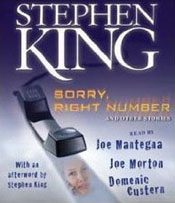 As I said there are many different stories in these three books. You'll find
Sorry, Right Number
that was written as a script,
The Fifth Quarter
that King wrote under the name John Swiften,
The Doctor's Case
that is an alternative Sherlock Holmes story and more. There is a story for everyone and whatever your favorite are I'm sure you will like the version you get here, I know I did.
Lilja's final words about Nightmares & Dreamscapes x 3 (part 2):
If you can, I would advise you to get all three of these audio book as they will entertain you for hours but if you have to select one I'd go for Sorry, Right Number: And Other Stories that has the biggest variety. Story wise the three are quite equal.