REVIEW
Fall of Gilead #2
Posted: June 18, 2009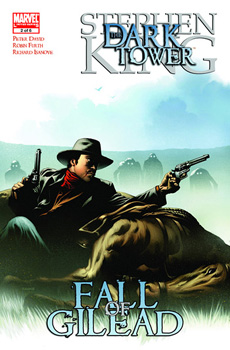 Issue #2 of
Fall of Gilead
continues where the first issue ended and as suspected Roland takes full responsibility for his mother's death and confesses to killing her. He does however say that he was manipulated by Marten to do it and all the evidences points in that direction as well. And while Roland has to be tried as anyone else committing a murder his father and his ka-tet sets out to catch Marten and his gang, convinced they can catch up to them and make them pay for what they have done.
I like this issue. It takes the story in the right direction and I love seeing Roland's father in action. The issue also ends with a cliffhanger and when we leave the gang in this issue there are no less then two characters that stares death in the face…
The look of the characters is, as in the last issue, a little different compared to what we're used to. That's because it's Richard Isanove and not Jae Lee who draws
Fall of Gilead
. Personally I don't mind but I think the difference is bigger this time then in issue #1.
The bonus material is mostly a text by Robin Furth in which she talks about the differences between the books and the comics and why there are differences between the two. We also get to see sketches by Isanove that shows how he created the issue and its pages. Interesting but it feels a little like we have seen all the sketches we need already…

Lilja's final words about Fall of Gilead #2
I like this issue and even though Isanove will never be able to replace Lee when it comes to illustrating
The Dark Tower
he is still doing a good job with it and I'm already looking forward to the next issue.