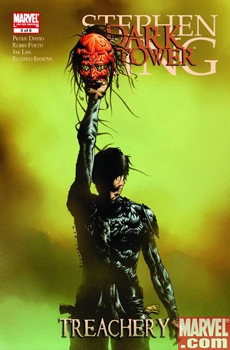 The ultimate treachery is getting closer and closer. I'm talking about Gabrielle Deschain's treachery against her husband and against her son. Her plans of having her husband, Steven Deschain, murdered so that she can be with Marten is getting closer and closer to being executed. The plan is set and there are just a few details left to sort out. Will she be successful? I don't know. I guess we'll have to wait until the next issue, the last in this story arc, to find out.
Meanwhile Alan and Bert is looking forward to getting their guns while Roland couldn't care less. He is still morning Susan and really don't care what guns his getting. He really feels like a broken man by now. Hurt by his lovers death, hurt by Maerlyn's Grapefruit and almost destroyed by the worries about what is about to happen to the world and his loved once.
The story is told slowly and we don't move forward much in this issue. You can however feel how there is a build-up for the ending of the arc. You can feel how something is going to happen. The only question is how bad it's outcome will it be?
The history lesson in this issue is about poison and it's cure. It's called
Regicide Poison Gardens and the Training of Apprentice Gunslingers. 1: The Red King's Garden
and here we get to learn about The Red King's poison and how a Gunslinger can avoid them. We also get a taste of all the stuff a Gunslinger needs to know in order to be a Gunslinger, and that is a lot.
Besides that we also get some sketch versions of pages from this issue, some sketches of different covers for the series portraying Roland and the third and final part of the interview with Robin Furth.
Lilja's final words about Treachery #5:
Treachery is about to come to an end. There is only one more issue to go before the third story arc is completed and even though this issue feels a little slow and like a build-up for what's about to come it gives us one of the most gruesome images of the entire series (so far) when it show us just how cruel John Farson can be. Don't miss out on this!