REVIEW
Captain Trips #2
Posted: October 7, 2008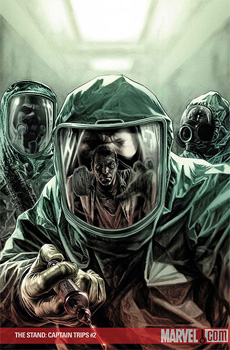 The second issue of
Captain Trips
is out and I'm happy to say that the series is just getting better and better. This issue continues where the first issue ended and we meet Stu at the center for disease control where he is the only survivor from his hometown. We also get to see when Fran tells her father that she is pregnant, when Larry wakes up in some woman's bed and we get to see Nick Andros being beaten up and almost run over.
And, we get to see Flagg for the first time. It's only a glimpse in Stu's dream but he will be a mean bastard in this comic let me tell you that. Mike Perkins has captured him perfectly and I can't wait until we get to see more of him.
Another thing that I really like about this issue is how the spreading of the virus is illustrated. It gives me the creeps and for a comic to do that you can tell it's extremely well done. Mike, Roberto Aguirre-Sacasa and colorist Laura Martin has done a wonderful job in bringing all the characters, and specially Flagg to life.
Besides just the comic we also get an interview with Roberto Aguirre-Sacasa, images of Nick Andros from the Sketchbook and a sketch of a cover for issue #1 by Lee Bermejo. All packed in a very nice issue that you really don't want to miss.
Lilja's final words about Captain Trips #2
Captain Trips
is rapidly becoming a favorite of mine and I can't wait to see what happens in the next issue. I just hope I won't catch a cold until then…