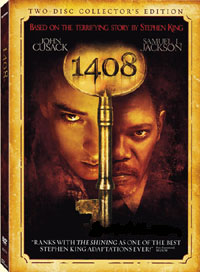 Today the DVD edition of
1408
hits stores in the US. The studio is releasing two versions of the DVD: a one-disc edition and a two –disc director's cut edition. Below is my review on the content of both versions of the DVDs. If you want my thoughts on the film you can find them
here
.
The single disc edition contains the theatrical version of the movie,
John Cusack on 1408
,
Inside room 1408
, and the theatrical trailer. The two-disc edition contains both the theatrical version of the movie and the director's cut of the movie along with a larger special features section. Personally, I like the director's cut edition a little better. I prefer the ending that the director's cut provides, which is a little sadder and a little darker. Another good part to the two-disc disc edition is that you can choose which ending you want to see—it's up to you!
The difference between the director's cut and the original theatrical version is a few additional scenes and as I mentioned, a different ending. The additional scenes add more on Mike's relationship with his father and his family. Some of the scenes that are a bit longer also explain more of the story for the audience.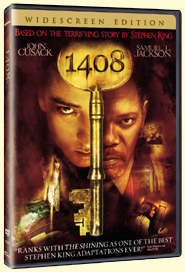 One scene that I enjoyed in its longer version is the scene where Mike is hunted by Kevin O'Malley's ghost in the vent above the room. Here we get to see more of O'Malley and even though director Hafstrom admits to be glad that they cut this scene I prefer the longer version.
All in all the director's cut is 8 minutes longer (112 compared to 104) then the theatrical version. Personally, I prefer the longer version but I can also see why some parts were shortened or cut. If you listen to the commentary track you'll get more background to these reasons from Mikael Hafstrom, Scott Alexander and Larry Karaszewski.
The extra features on the two-disc edition are a couple of webisodes, a trailer for the movie, 5 deleted scenes and the documentary
The Secrets of 1408 - A Behind-the-Scenes Look
(only the webisodes and trailer are on the single disc). We also get a very interesting commentary track (to the longer version) by director Mikael Hafstrom and writers Scott Alexander and Larry Karaszewski. This commentary is interesting because the trio discusses the deeper meaning of what happens on the screen as well as why some scenes were cut from the shorter version.
Lilja's final words about 1408 (DVD):
If you're getting this DVD I strongly urge you to get the two-disc edition. Sure, the price is a little higher but compared to what you get it's well invested money…take my word for it.