REVIEW
The Secretary of Dreams vol. 1
Posted: January 29, 2007
The Secretary of Dreams
is a big book, and I really mean BIG. It's big in size as well as in illustrations. The size is, as you can see on the image, very big [just for the record,
The Colorado Kid
is a paperback]. Maybe even a little too big? The book contains six stories and half of them are done as comics and the other half as regular text stories with illustrations. The text on those stories that isn't done in comic format is a little too big in size though if you ask me. Being that big makes reading them a bit strange…
It's also a big book if we talk illustrations. Glenn Chadbourne has done a very good job in illustrating the book. The illustrations are extremely detailed and sometimes they are almost too detailed. You find yourself stuck on a certain illustration to catch all the details instead of reading the text…
The three stories that really makes
The Secretary of Dreams
stand out is
The Road Virus Heads North
,
Rainy Season
and
Uncle Otto'sTruck
since they are the once turned into comics. Glenn has really captured the feeling of the stories and it's quite funny to see how much Richard Kinnell in
The Road Virus Heads North
looks like King himself. And the way the toads look in
Rainy Season
is just genius.
The only problem as I see it with those three stories is that they have put every single word from King's original text in there. Some of the explaining words don't need to be written in text since the situation is clearly to you when you see the illustration. I think that in those cases they should have let Glenn's illustrations done the telling and that would have given the text a better flow…but Cemetery Dance stated early that this book would contain every word in King's written text, so it did…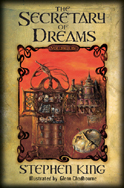 The three stories that only have illustrations are
The Reach
,
Jerusalem's Lot
and
Home Delivery
. At first I was a little disappointed that these weren't turned into comics like the other three but after reading the book it feels like a very good balance having half of them illustrated and the other half as comics.
Despite these reservations,
The Secretary of Dreams
is a very interesting book and actually one of the most interesting once done lately. Because whether you like the big text or not or whether you like that every word is there or not you can't deny that it's a beautiful book. It's very interesting to see King's stories turned into comic versions and illustrated by Glenn. What I would wish for in part 2 is that maybe some of the illustrations where in color. That would be very interesting to see.
The Secretary of Dreams
is released in three different editions. One that is a slipcased gift edition that will cost you $75, a signed and numbered limited edition that goes for $300 and a signed and lettered edition that will set you back $1,500. The last two sold out in less then three hours after they where announced though so if you want one of those you'll probably have to pay even more on the secondary market…
Lilja's final words about The Secretary of Dreams vol. 1
I know that $75 might be a bit much for a book but if you can afford it I definitely think you should get it. I think you'll find yourself regreting it if you don't!